HAMILTON STARTS OUT 2019 AS NO. 1 COTON ALL-BREED!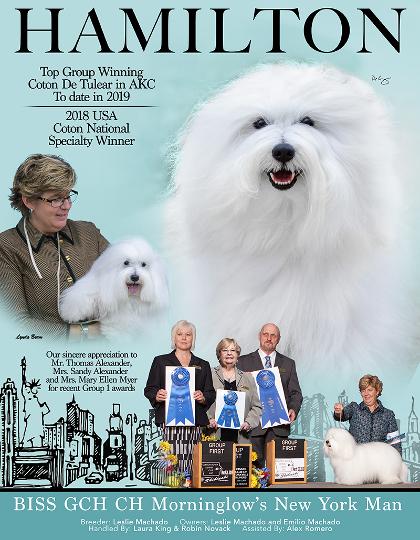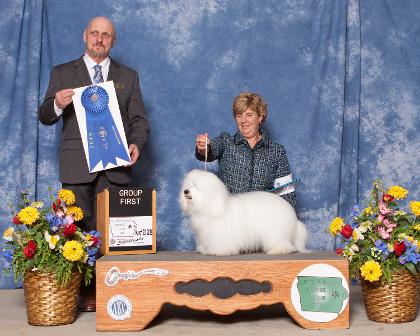 LEFT,
an online ad we ran in ShowScene magazine a little earlier this year to celebrate Hamilton's multiple 2019 Group One awards.
ABOVE, Hammie's official Group One win phone from the Clinton, IA KC show in March, 2019. Our thanks to Judge Thomas Alexander for honoring Hamilton with this ribbon.
I'm super proud to say that my Hammie, who took over as our top show dog after Nina retired at the end of December, has had an amazing year so far in limited showing. Hamilton is both the NUMBER ONE COTON in all-breed statistics as of 3/31/19, as well as the No. 1 Group Winning Coton de Tulear to date (late April 2019)! If you have read along with this page from time to time, Hammie is our keeper from Ruby's second litter in 2016, and distinguished himself last year at the United States of America Coton de Tulear Club National Specialty Show by winning Best of Breed in one of the bigger entries of the year, in Lexington, KY. You can read more about our Morninglow "sweep" of the top honors at that show, if you scroll further down this page. Our Nina, who won Best of Breed at the 2017 National Specialty, took Best of Opposite Sex to Hammie in 2018. Couldn't have been prouder. Hamilton turned three years old in mid-March, and continues to impress me with his exuberance, his sweet and loving nature, and his continuing maturation into a lovely show dog, in addition to being a fabulous sofa partner for us at home. Hamilton has won several Group Ones (top prize in the Non-Sporting Group) and has had a couple of trips around the Best in Show ring so far this year with his handlers, Laura King and Robin Novack of Daybreak Kennels. Some of Hammie's recent ads and win photos are above and below. Hamilton is approaching Bronze Level Grand Champion status and I'm very proud to say I have loved this dog from the moment he entered this world in my bedroom.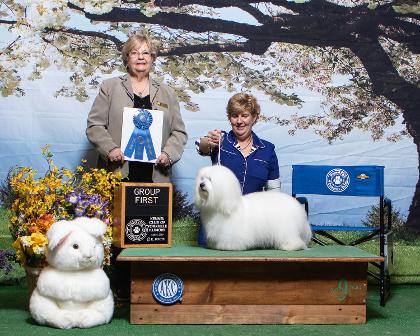 ABOVE, Hamilton's official Group One win photo from the Kennel Club of Yorkville, April 2019. A huge thank you to Judge Mary Ellen Meyer for this win. Judge Meyer also awarded Hammie Best in Specialty Show (BISS) last Labor Day weekend at the 2018 Coton National Specialty Show in Lexington, KY.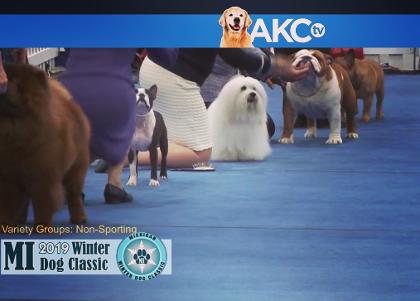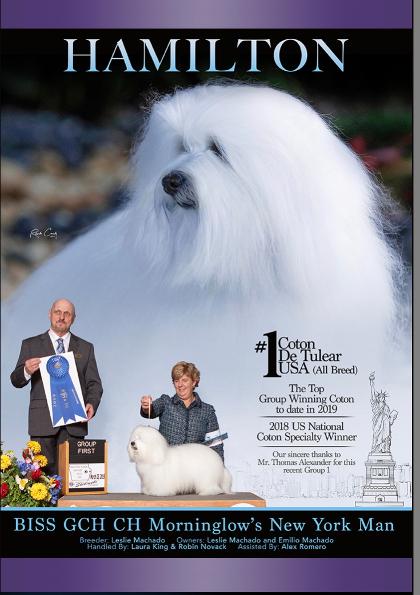 ABOVE
, another ad from ShowScene magazine to celebrate Hammie's NUMBER ONE all-breed status.
LEFT, I screen grab I caught of Hammie in the Non-Sporting Group ring during the 2019 Michigan Winter Dog Classic Cluster in Novi, MI in Janurary. The groups competition was being live streamed on AKCtv. Hammie placed in groups all three days that he competed in Novi.
REMEMBER THOSE CAMELOT PUPPIES FROM EARLIER IN 2018?
WELL, THE TWO WE KEPT ARE BOTH NOW AKC CHAMPIONS!!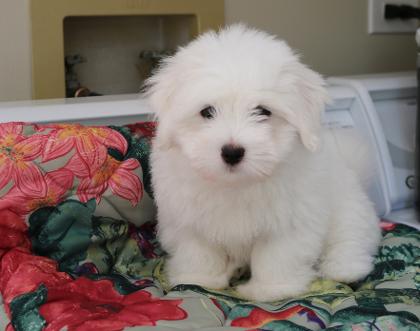 OUR CAMELOT PUPPIES, Artie, left at age 8 weeks, and Ava, right, at about six months old.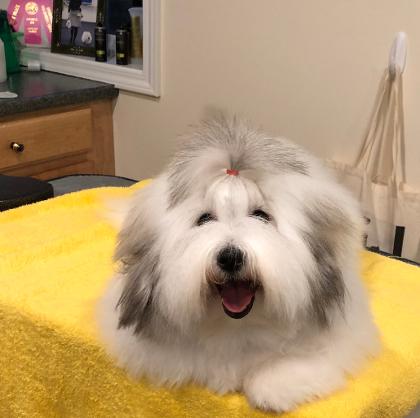 OUR BEAUTIFUL RUBY had her final litter in the wee hours of 3/3/018, blessing us with two beautiful girls and a boy. All three puppies were so lovely that I absolutely couldn't make up my mind what to do. In the past, I had always had a pretty early clue as to what I wanted to keep for our program, and usually had that opinion verified by other opinions once the puppies were 8 weeks old. This time I was flummoxed, and my mentors felt all the puppies had show potential as well. It was tough, but we eventually made up our minds that keeping and raising "triplets" was impossible, but that we might be able to try to raise two pups from the same litter. If you have noticed I haven't kept up too well with updating this website this year, that is the reason why! Two puppies are a ton of work, but we have reaped twice the reward!! We placed our little girl, Gennie, with a lovely family in Michigan last summer and decided to keep and show both the other girl, Ava, and her brother, Artie. We started their show careers locally the week after they became eligible to compete at the end of September, and quite quickly they got the hang of it and seemed to be natural "showmen". After accumulating a few points apiece in the Midwest and doing a bit of minor traveling, we set out in December for the AKC National Championship Presented by Royal Canin, the annual event in Orlando, Florida that I have written about in past years. Drove in the car for two days with two puppies who are excellent car travelers, and prepared ourselves for 8 shows in a 5 day-period. A little crazy, but it can be hard to find enough cotons to make "majors" and we knew we would have the biggest entries of the year down south. My babies did not disappoint. On the second day of competition, both Artie and Ava took the top male and female class animal prizes in the same show from the same judge with ME as the handler for each--almost unheard of--for their first major wins! I was so excited (and frazzled from running in and out of the ring and exchanging one puppy for the other) that I forgot to get win pics for both dogs. Poor Ava doesn't have a win photo for that first major. However, the very next day, Artie took the top class prize in the morning all-breed show, obtaining his second major win, and finishing his championship because of points earned prior to Orlando! I ran and got a photo. Now that he was done, I gave Artie to my husband for the afternoon show and focused solely on Ava. Thrilled to report that she won the top class animal prize in the afternoon specialty show (beating her brother-girl power!!) and finished HER championship as well on the very same day!! And I remembered to get her a photo!! I'm so thrilled and proud of have shown these two beautiful puppies to their championships completely owner/breeder handled. It's a thrill to watch a good dog win; it's an even bigger thrill to have it be YOUR dog who wins, and the best of all is to have that win be awarded to a dog you bred and handled completely by yourself--and then to have it awarded to TWO dogs you bred and showed yourself on the very same day! I don't have the words, other than "grateful" and "Florida mission accomplished," LOL. The day after the two puppies finished, I had entered Artie into a special non-pointed competition for puppies and junior dogs, and he took Best of Breed that day over competition to add yet another ribbon to the haul of rosettes and prizes we took home with us in the car. Super proud of these two babies, and very, very satisfied <3 I will be adding these two little ones to the "our cotons" section of this website very soon.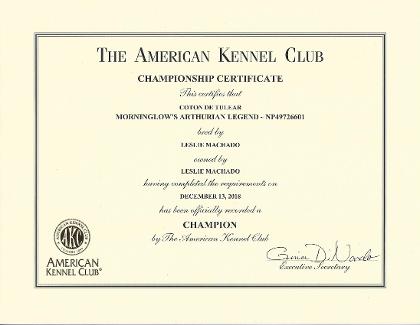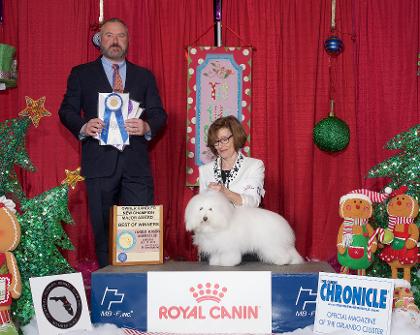 ABOVE LEFT and RIGHT, Artie's AKC Championship Certificate and his finish photo. Artie took Best of Winners for a 5-point major win to complete his title. Many thanks to Judge Jason Hoke for finding my beautiful boy in a large entry. BELOW, LEFT and RIGHT, Ava's finish photo and Championship certificate. My grateful thanks to Judge Brian Meyer for awarding Ava Best of Winners and Best Puppy in the afternoon show, for her own 5-point major. Note I have the same jacket on in both photos, if I had known it was going to be such a good day, I would have brought a costume change!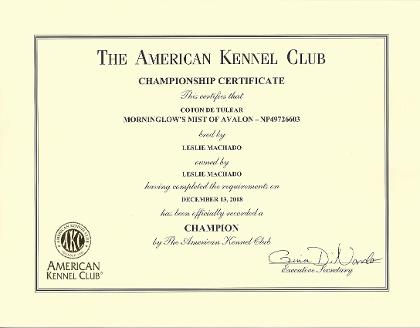 NINA FINISHES 2018
AS THE NUMBER ONE COTON DE TULEAR ALL-SYSTEMS!!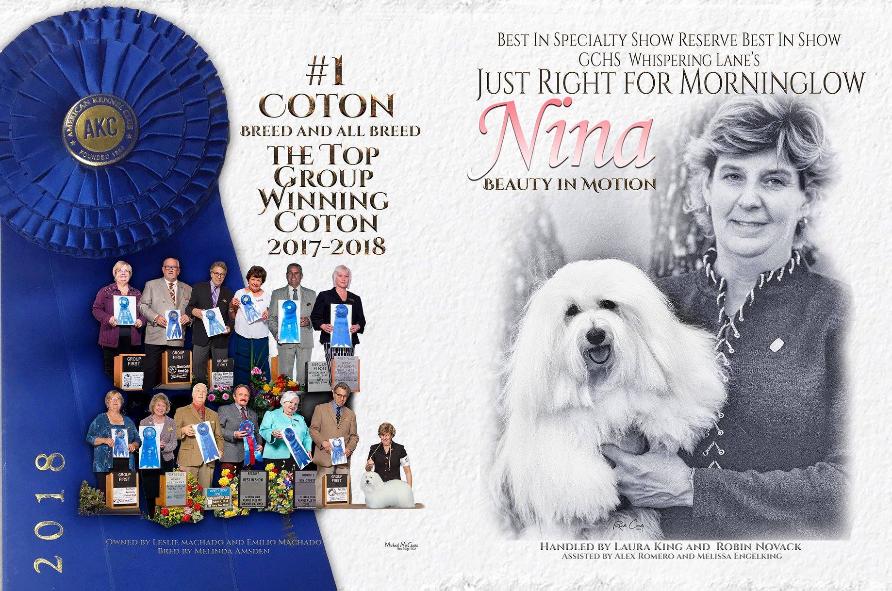 WE simply couldn't be more proud, more thrilled, or more grateful for having little Miss Nina in our lives!! She has always been a sweet dog with a delightful disposition, a quick study, and eager to please anyone who works with her. In mid 2017, we put her into the capable hands of Team Daybreak, consisting of professional handlers Laura King and Robin Novack, to see what she might be able to do on the national dog show stage, and the results were truly outstanding! From the moment Nina and Laura began to work together, they got spectacular results. Seven group placements in their first seven shows together! Nina went on in 2017 to become the top group-winning coton for the year, to win the Coton National Specialty, and to finish in the Top Five in Breed, those latter two items earning her invitations to participate in the Crufts show in England for 2018 and 2019, and the prestigious Westminster Kennel Club Dog Show last February. 2018 brought even more excitement, as Nina continued her winning ways, finishing as NUMBER ONE in every category in which AKC keeps statistics; breed (which is dogs of the same breed defeated); all-breed (dogs defeated in group competition) and grand champion points! Additionally once again, Nina was the NUMBER ONE group-winning coton for the year, earning an additional eleven Group One ribbons and a Reserve Best in Show! And we have more Crufts and Westminster invites, and Hammie does now as well! All told, our little princess ended 2018 with a Coton de Tulear career record EIGHTY-ONE regular group placements, and a career FIFTEEN regular Group ONE awards! Has been a dream come true, our sweet little puppy blossomed into a major force to reckoned with in our breed, without losing one ounce of the sweetness and charm that makes her so special! Huge thanks to Laura and Robin and their assistants, Alex and Melissa, for presenting her so beautifully and taking her to the top for us! The photo above is a really beautiful ad we had done near the end of the year and put into several difference online and print publications to celebrate her success. I'm crazy about it, and am having it framed as a special memento to hang in my grooming room near some of my other dogs' special keepsakes <3
MORNINGLOW SWEEPS THE 2018 COTON NATIONAL SPECIALTY!
I KNOW THAT I keep writing "this is so exciting and that is so exciting", but my dogs have really achieved some amazing things, and it has truly amazed me as well! The United States of America Coton de Tulear Club (USACTC), the AKC Parent Breed Club for Cotons, held its annual National Specialty Show in Lexington, KY over Labor Day weekend, and we stole the show!! My Hamilton won Best of Breed, and Nina (last year's BOB winner), took Best of Opposite Sex to him!! I wasn't able to travel to Lexington like I went to St Louis last year because of a wedding obligation, but I was fortunate that one of the other exhibitors was kind enough to "Facebook Live" the event, as so I got to watch it in real time as it happened! While I can tell you that it is a most awesome thing to have your dog win a National Specialty (and I have been incredibly fortunate to have had two dogs owned by me do so prior to this year), it is even more exciting, more thrilling and more meaningful when that dog is your very own breeding, born in your own bedroom!!! I really don't have the words to describe what it felt like to see the judge point to Hamilton and pull him out of the lineup, absolutely the thrill of a lifetime. And then, to point to my Nina next as BOS, and to have her place twice in two years, I was simply speechless. Huge thanks to Judge Mary Ellen Meyer, for choosing my dogs for these incredible honors! As an owner its a thrill, and as a breeder, it's an affirmation of everything that you have done. I haven't yet seen the beautiful ribbons or the lovely prizes provided by the Club, but I'm hoping to get them shortly. They will be provided a place of honor in my grooming area along with Nina's ribbon from last year, Besito's ribbon from the National in 2013, and Murphy's new champion rosette from 2016. I do have a few iPhone snaps here that my dogs' handlers, Laura and Robin, were kind enough to send along. These wins also qualify both dogs for the prestigious Crufts show in Birmingham, England for both 2019 and 2020. We were provided some beautiful certificates to commemorate that as well and to allow us to enter Crufts if we so choose. Not sure I'm going to travel across the pond for a dog show (although I DO love England), but it is truly an honor to qualify for the show as a foreign exhibitor. I still haven't come down from the high of this win, I'm so proud of both dogs! There were a total of six shows in Lexington over the extended weekend, and between Hammie and Nina, they took four of the six BOBs (two apiece) and Nina went on to win group placements both days that she won breed. Lexington is a big show, and its difficult to place in groups, especially for a newer breed, so that was also exciting.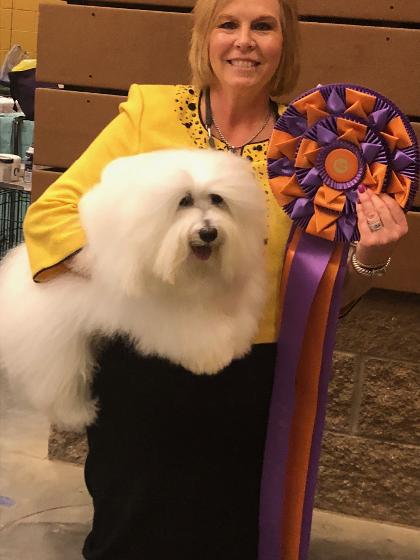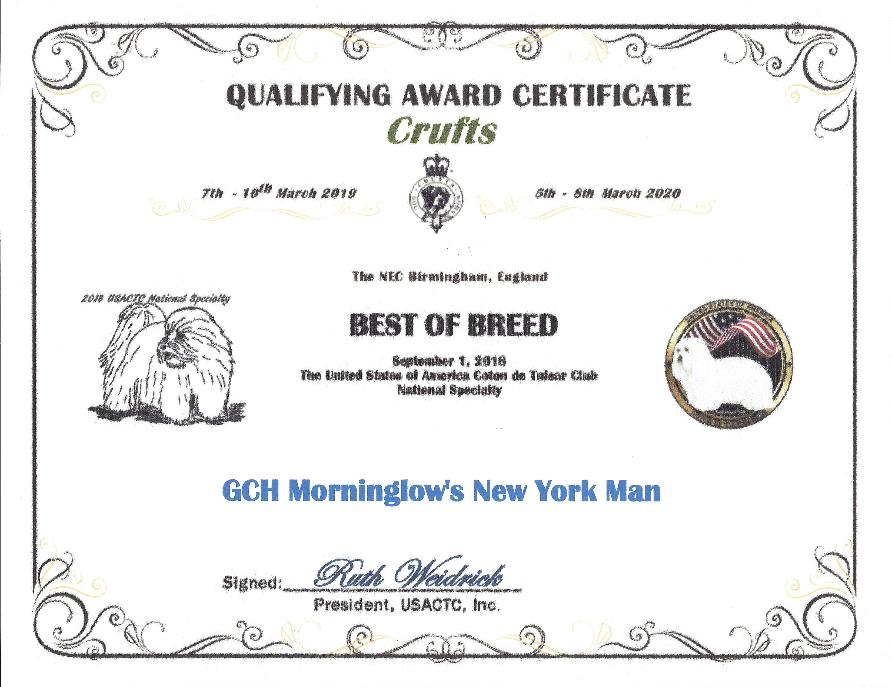 LEFT, Hammie with his handler, Robin Novack, and his BIG Best in Specialty Show ribbon! ABOVE, the commemorative certificate issued by the USACTC. We thank them for the lovely gesture
ABOVE, the commemorative certificate issued by the USACTC. We thank them for the lovely gesture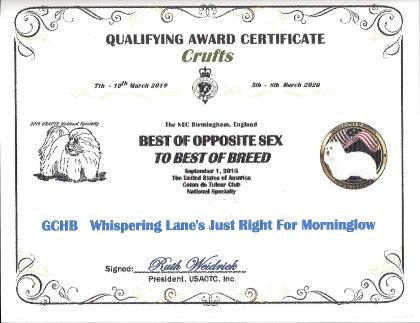 ABOVE, Nina's Best of Opposite Sex certificate
RIGHT, Nina and Laura with her beautiful BOS ribbon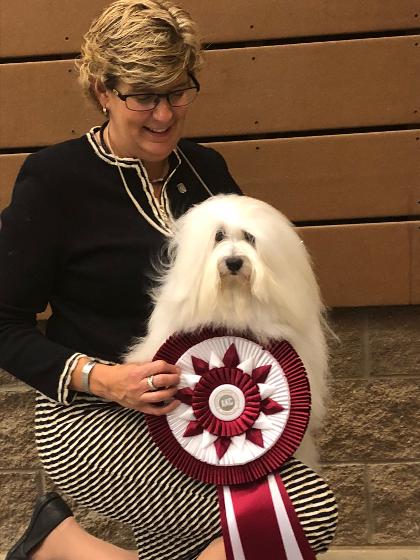 HAVING FUN WITH NINA and HAMILTON
IN THE NATIONAL OWNER-HANDLED SERIES!
HAMMIE AND NINA had been staying with their pro handlers while we were on a family vacation, and I decided to bring them home for a little vacation of their own at the end of July. We decided to run up to Wisconsin (not even an hour from home) for the Waukesha and Burlington Kennel Clubs shows over the last weekend in July, and I decided I wanted to play with both dogs again in the NOHS, or National Owner-Handled Series, which is a separate competition that excludes professional handlers, that I'm certain I've talked about below. On the first day we played, I handled Nina and won BOB and BOBOH, and won a Group 3 Owner-Handled and then gave her to a pro friend for regular groups, where she took a regular Group 4 in a huge group! We skipped the next day to stay home and just hang out, and went back for Days 3 and 4 of the cluster. For those last two days, I handled my Hammie, and on each day, I won BOBOH with him. On the first day, we also won the Owner-Handled Non-Sporting Group (Group 1 OH) and on the second day we placed again with a Group 3 OH! Hammie is now ranked in the Owner-Handled stats for the year, but the cycle ends in early October, and I don't know that we will get another chance to play, especially with puppies at home. None the less, it was fun, and I think the dogs had a good time spending time with me. I know I enjoyed spending time with them!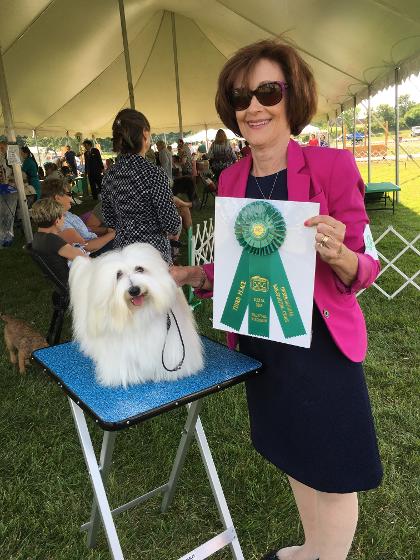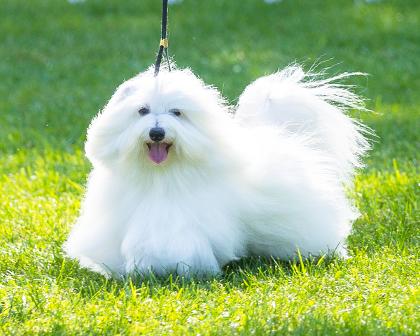 LEFT, Nina and I after we took an Owner-handled Group 3 in Waukesha, WI at the end of July, 2018. Many thanks to Judge Michael Canalizo for finding Nina in a big group of great dogs and their owners!
ABOVE, a pro photo of Nina in the regular group ring same weekend at the end of July. She always looks like she is having a great time showing and I think she is! Thanks to Lynda Beam of Canine Candids by Lynda for this adorable shot of my pretty princess.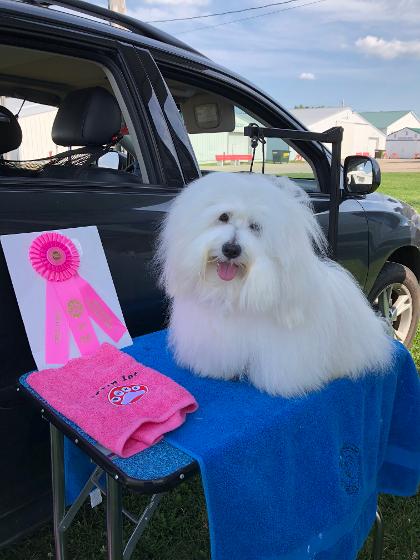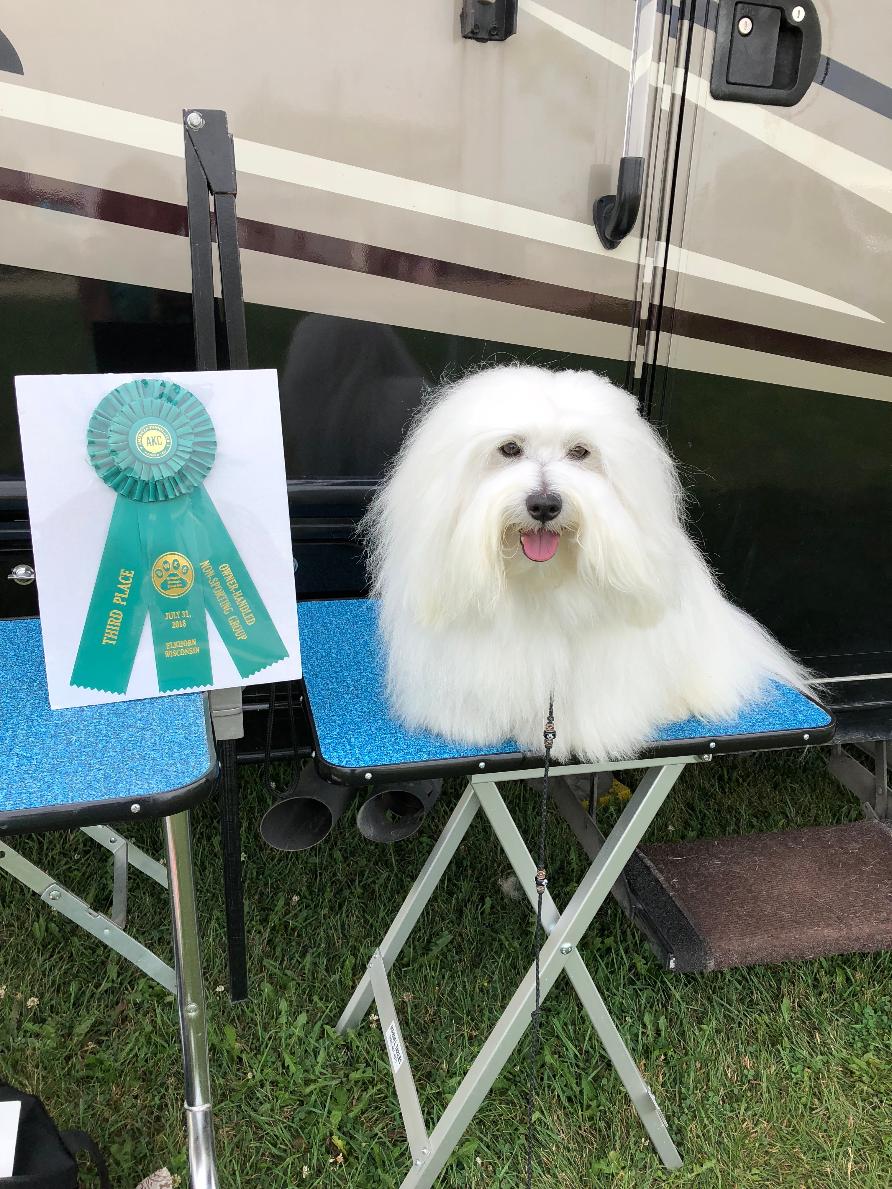 LEFT and RIGHT, above, a couple of my casual iPhone snaps of Hamilton after winning his Group One (hot pink) and Group 3 (teal) Owner-Handled placements at the Burlington Kennel Club shows in Elkhorn, WI. Our thanks to Judges Luc Boileau (G1) and Wendy Willhauk (G3) for recognizing us in the ring!
NINA, NINA, NINA--SHE JUST KEEPS ON WINNING!
Nina came out of the gate with a bang as we started 2018; we can scarcely believe what a magnificent show dog she has become! As of January 31, 2018 she was the Number One Coton de Tulear All-Systems, took Select Bitch at the Westminster Kennel Club Dog Show in New York City in February, and as of today (4.27.18) is still the Number One Group Winning and All-Breed Coton for 2018!! It has been a wild ride and a great deal of fun. Nina seems to love to show, she lights up whenever she enters a ring. At the end of March, Nina took both a Group 1 (winning the Non-Sporting Group) and then went on to take her very first Reserve Best in Show under Canadian judge Michael Gelinas!! Nina is the only coton to win a Group 1 to date this year and thus also the only coton to take a Reserve Best in Show. Please enjoy a few of the win photos we have from these last few months, and a few of the ads we have run in the trade magazines to celebrate her success!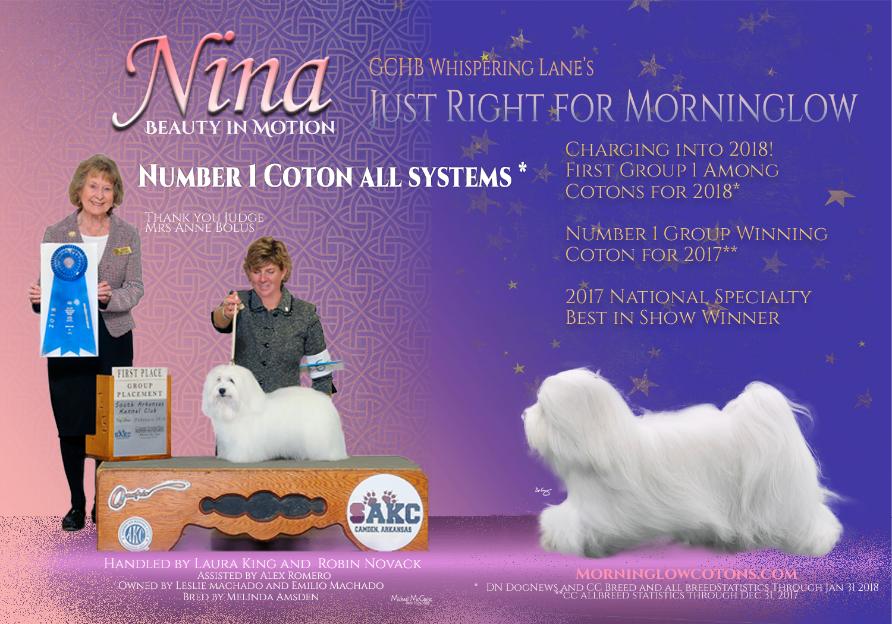 ABOVE
, an ad we ran in February after Nina took her first Group One placement of the year.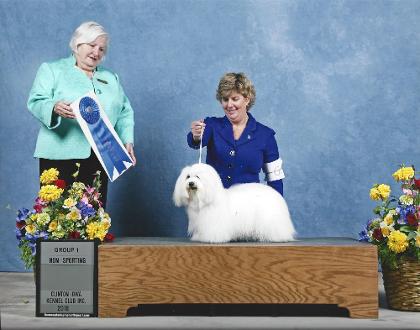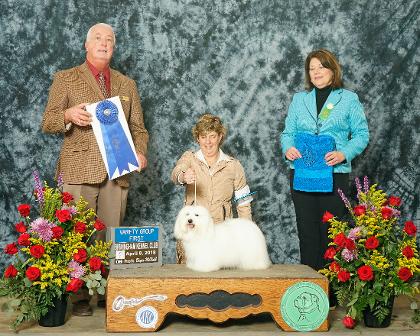 ABOVE, left and right, two more win photos from Group One wins in March and April. Thank you to Judges Gloria Geringer and Dr. Steve Keating for the honors.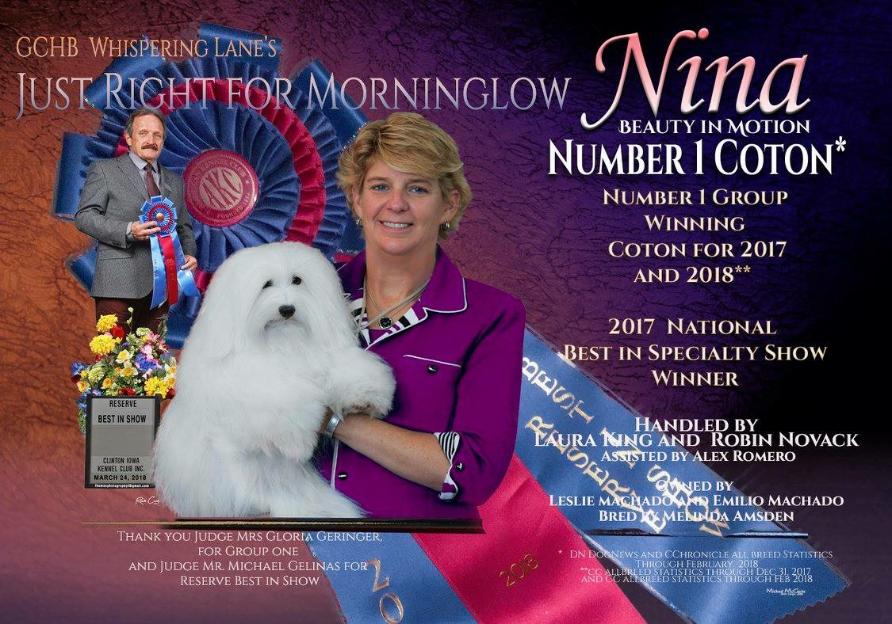 ABOVE, one of our more recent ads to celebrate Nina's Reserve Best in Show on March 24, 2018 at the Clinton, IA Kennel Club under Judge Michael Gelinas. What a thrill!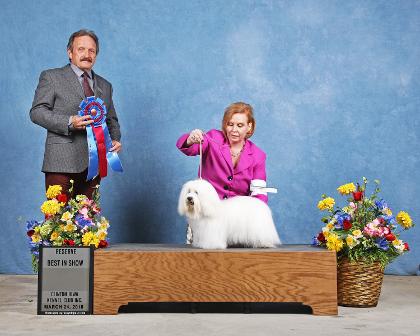 ABOVE,
Nina winning Reserve Best in Show on March 24, 2018.
RIGHT: A close-up of Nina's beautiful Reserve Best in Show ribbon from Iowa. I'm going to have quite the time deciding which of her many special mementos to frame and display. She also has a four-foot long ribbon from her win at the National Specialty last September and a beautiful ribbon and medallion from Westminster!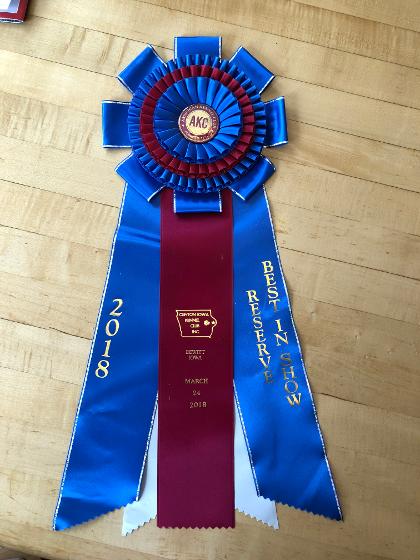 LET"S NOT FORGET HAMILTON!
HE HAS ALSO BEEN DOING SOME GOOD STUFF!
With all the attention on the amazing things that Nina has done in the show ring, it's been easy to forget that our own Hamilton, Morninglow's New York Man, has been doing some major winning of his own. In the time that I have been writing about Nina's spectacular 2017, our Hamilton finished his AKC Championship in September, 2017, in Kenosha, WI, handled by his human daddy. The following weekend he went into the ring, his first time showing as a champion, and he took Select Dog and a three-point major Grand Championship win with me as his pilot. Hammie went on to take Best of Opposite Sex to Nina's Best of Breed twice during the three-day Orlando show cluster in December, in the largest coton entry of the year. And then he finished his Grand Championship at my "home" cluster in Grayslake, IL on January, 26, 2018 under Judge Debbie Campbell-Freeman. In March, Hamilton took his first group placement in Kansas City, MO under Judge Eugene Blake. I couldn't be more proud of this boy, who was born in my bedroom, and he has been a good sport, waiting in the wings behind Nina for his turn to fly high. Despite all of Nina's wins, Hammie is currently ranked (as of 3/31/18) as the Number Five Coton in the all-breed standings, and the Number Two male. You can now call him GCH CH Morninglow's New York Man! And we adore him!!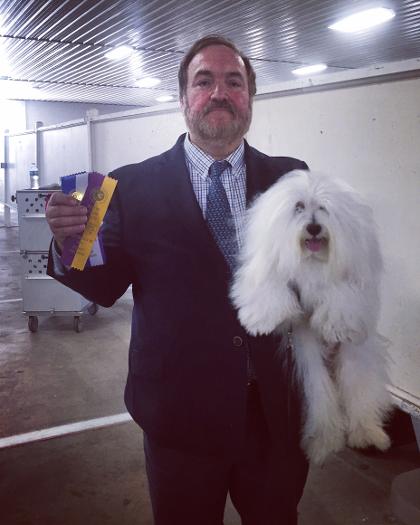 ABOVE LEFT,
Hammie and Emilio finish his final major win and his AKC championship, Kenosha, WI, September, 2017
ABOVE RIGHT, Hammie's first time out as a "special" and he brings home his first grand championship major win, going Select Dog in St. Louis, MO, the weekend following his championship.
RIGHT, Hammie and me together in the ring in St. Louis, September, 2017, the day he got that first Grand Champion major win.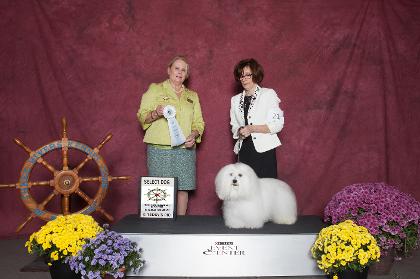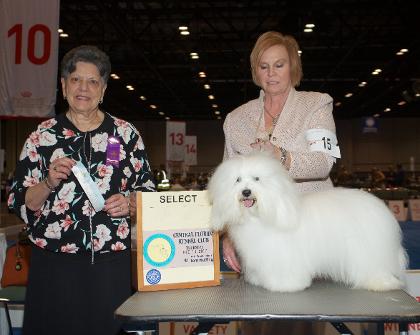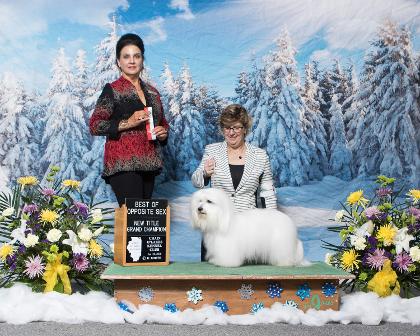 ABOVE, LEFT, Hammie takes Select Dog for a grand championship major in Orlando in December. ABOVE RIGHT, Hammie takes Best of Opposite to NIna in Grayslake, IL to finish his AKC Grand Championship.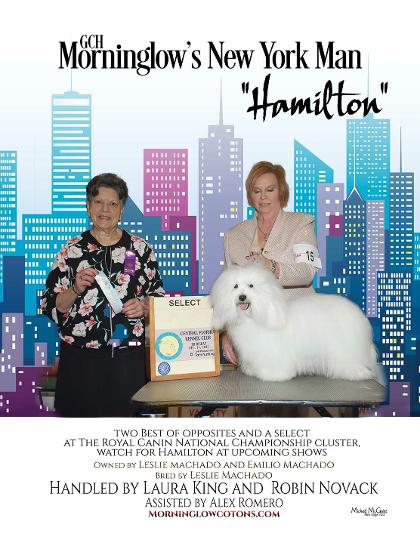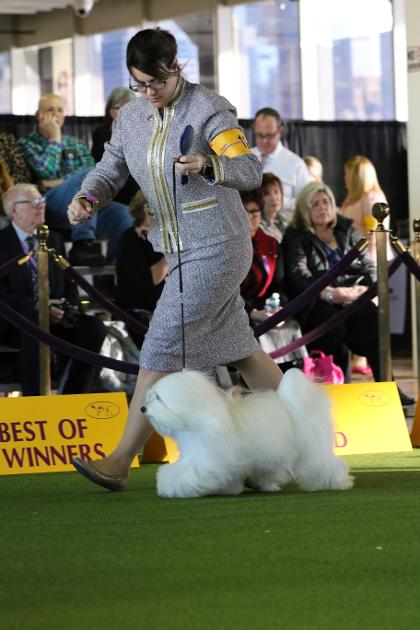 ABOVE LEFT
, to celebrate Hammie's Grand Championship, we took out his first ad in Dog News Magazine.
ABOVE RIGHT,
Hammie on the move in the show ring.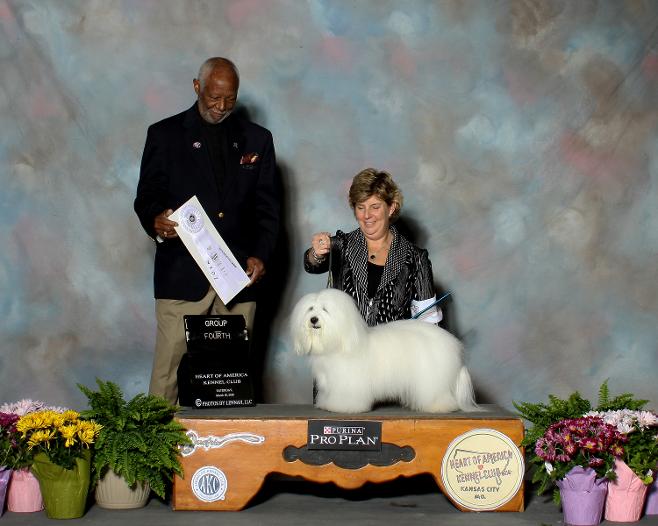 ABOVE, Hammie takes his first group placement at the Heart of America show in Kansas City in March. He is now back at home hanging out and enjoying some down time as a regular dog. We are very proud of him.
NINA ENDS 2017 AS THE NUMBER ONE GROUP WINNING COTON DE TULEAR IN AKC!
Miss Nina has continued to astound us with her great success in the show ring this year! In addition to the National Specialty Win in St. Louis in September, she has continued to consistently win Best of Breed against some formidable competition, and to place in AKC Non-Sporting Group Competition. As of 12/31/17, she has been recognized with over 30 group placements, and more Group Wins (Group 1, or First Place in group) than any other coton this year! We are extremely proud of this little girl who loves to show herself off in the ring, and extremely grateful to the judges who have recognized her stellar qualities. We are also extremely grateful to her handlers, Laura King and Robin Novack, for piloting her so close to the top. Nina just recently received not one but TWO invitations to the 2018 Westminster Kennel Club Dog Show next February in New York City (one for her National Specialty win and another for finishing the Westminster year as one of the Top Five Cotons de Tulear in the country), and has also qualified to participate in Crufts, which bills itself as the world's largest dog show, in Birmingham, England, for both 2018 and 2019 (takes place in March each year). We are overwhelmed with all the honors!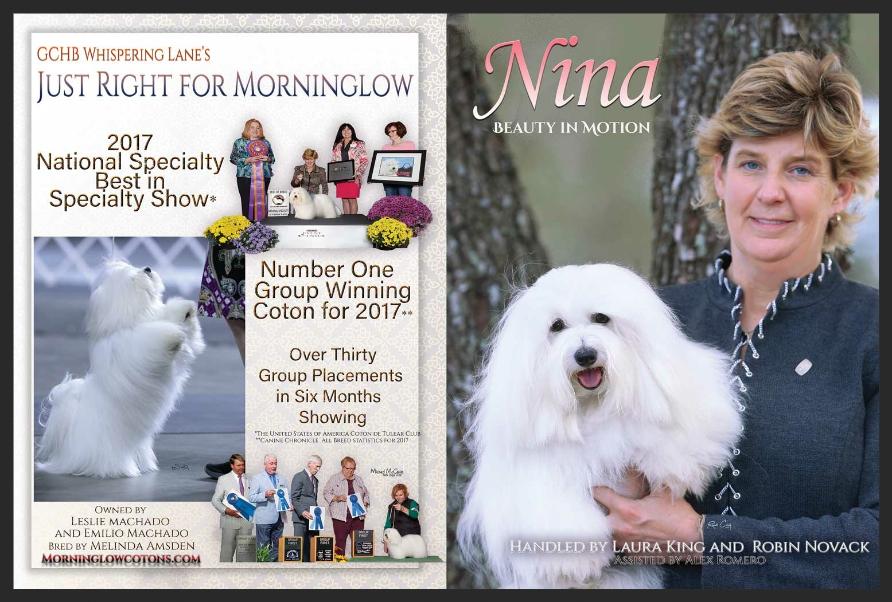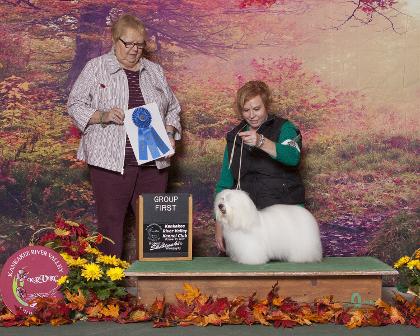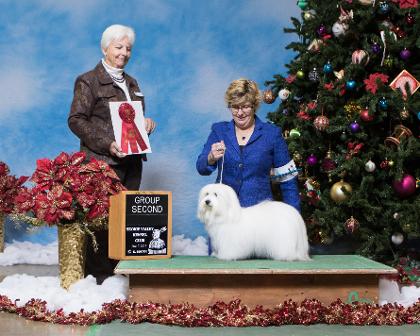 ABOVE, Nina's most recent ad from the February 2018 trade magazine "Canine Chronicle", which we love because we feel it shows both her beauty and her fun-loving spirit that is always on display in the show ring!
BELOW, a couple of the very nice win photos that we continue to receive that document Nina's success in the show ring.
SO MUCH NEWS ABOUT NINA!
The summer flew right by us and I hardly got to write about the amazing summer than Nina has had! I barely know where to begin!! Nina is now the 2017 United States of America Coton de Tulear Club National Specialty Show winner, which just happened a few weeks ago in Gray Summit, MO at Purina Farms (9.16.17). A thrill of a lifetime yet again! Our Besito also won the USACTC National Specialty back in 2013, where Cotons were still in the Miscellaneous Class. Besito's win was probably MY personal greatest thrill as an exhibitor given that I handled him to that victory myself, but given that Cotons are now in the big leagues in AKC, this win by Nina is a pretty close second!! In addition to winning the 2017 National, Nina has been tearing up the show ring all summer long; as of this writing (late Sept 2017), she is the only multiple-group winning Coton de Tulear in 2017, and has had a total of over 20 group placements since she started working with handler Laura King at the end of May. When Nina and Laura first started out together, Nina was the number 10 Coton de Tulear in the 2017 AKC all-breed statistics (where group wins for the year are tracked); by the end of August she had soared to the Number 2 spot! And this was with showing just a few short months; we did not begin showing in earnest until the summer began. Nina is a beautiful, easy-going, happy little dog and we couldn't be more thankful to everyone who has made up her team; to Laura, her partner Robin Novack, who has also handled Nina to a number of group placements this summer, to their assistants, Alex Romero and Anne Phillips, and of course to Nina's breeder, Melinda Amsden. Melinda and her husband Mark have been so incredibly supportive on this venture. It's so nice to have someone to call and send a photo to each time Nina gets a win! We are enjoying the ride and are so proud of our lovely little princess! Photos below of some of the highlights of the summer.....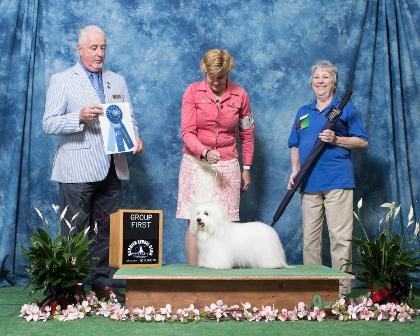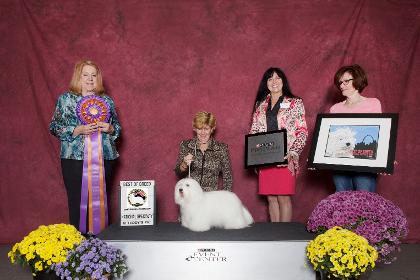 ABOVE LEFT; Nina takes her second Group First placement at the Berrien Kennel Club, South Bend Indiana on 7.23.17 Our thanks to Judge Steve Keating for the honor. ABOVE RIGHT; Nina wins Best in Breed at the 2017 USACTC National Specialty, Gray Summit, MO on 9.16.17. Our gratitude to Judge Jan C. Sigler for this most amazing win! Nina was handled to these and almost all of her wins this summer by either Laura King or Robin Novack.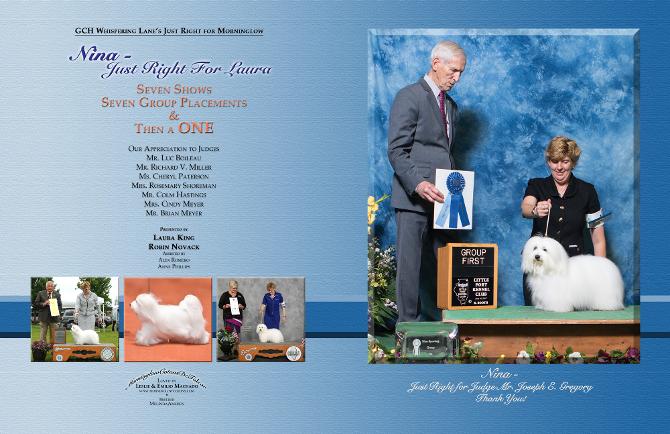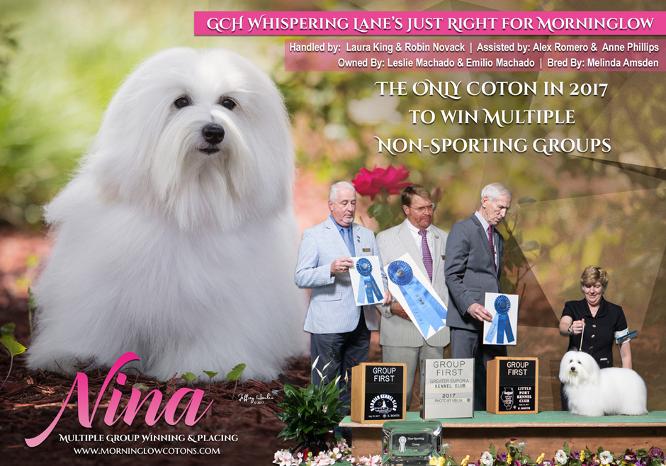 TO CELEBRATE Nina's big achievements this summer, we have taken out a number of ads in dog-related print and digital publications. Here are just a couple of them; TOP; an early ad we put in the Canine Chronicle, which is a printed monthly magazine, to celebrate her series of group placements and her first group win earlier this summer. JUST ABOVE, an online ad currently running on AKC Weekly Winners Gallery, which is a website exhibitors and fanciers visit to find out the latest same-day results from dog shows around the country. In this second ad, we are celebrating Nina's multiple blue ribbons (Non-Sporting Group First wins). We will have a new ad out soon to celebrate Nina's 2017 National Specialty win.
NINA MAKES HER DEBUT AS A SPECIAL--AND MAKES A BIG SPLASH!!
Now that Besito is enjoying a life of sofa-surfing leisure, it was time to see what Nina can do in the show ring--and WOW--it has been amazing! We started to put her out as our "special" in May, and since the 20th of that month, when she earned her first group placement of the year in Kokomo, IN, she has been on a tear and has earned 9 more placements in her last 13 shows, including a Group 1 placement this past Friday (June 16, 2017) at the prestigious Little Fort Kennel Club of Chicago show in Grayslake, IL! The twice-annual Grayslake show clusters are favorites of mine, as they are close to my home, and year in and year out, bring big turnouts of many of the top dogs in the country. To earn a group placement at one of these shows is an honor and a really big one! The Group 1 placement put Nina into the regular Best in Show ring for the very first time, and although she didn't win, I thought her performance was spectacular. Just getting into that ring meant that Nina was one of seven finalists, winnowed down from the original almost 1500 dogs entered into the show! We are just over the moon about Nina, who in addition to turning out to be a great show dog, is a wonderful, easy-going family pet. We can't wait to see what else she is able to accomplish this year!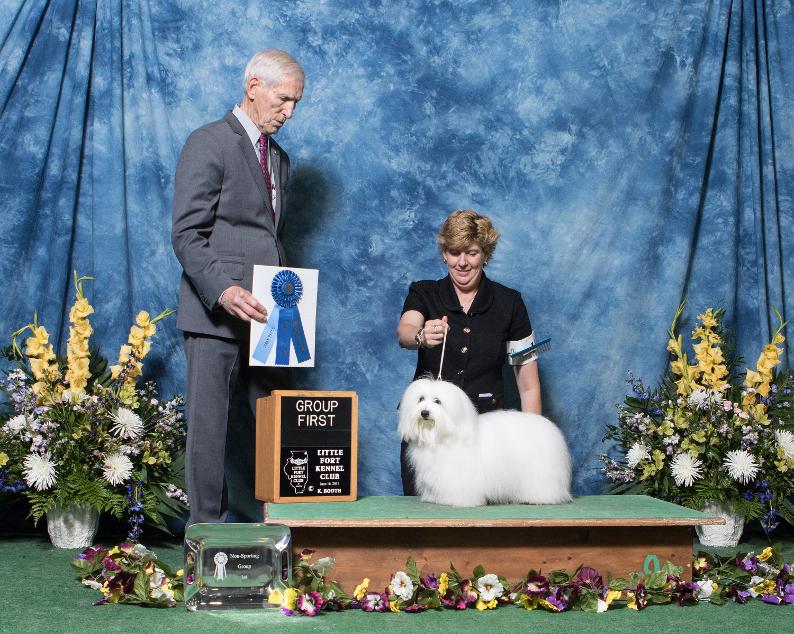 ABOVE, Nina's official Group One win photo from The Little Fort Kennel Club of Waukegan show on Friday June 16, 2017. Many thanks to Judge Joseph E. Gregory, who selected her for this honor from a large and tough entry of dogs in the Non-Sporting Group, and especially to Nina's new best friend and handler, Laura King, for piloting her to this victory. We are over the moon with the success of this team!!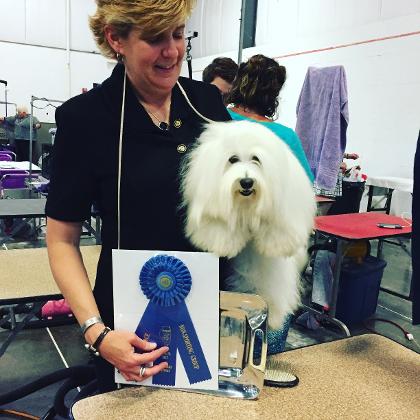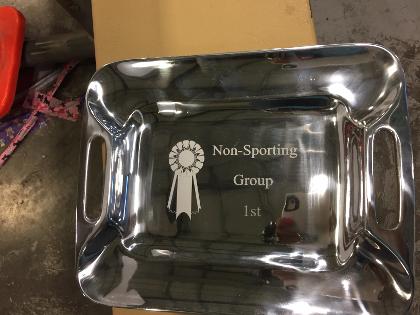 LEFT, an informal iphone snap of Nina's very exciting Group 1 placement at Grayslake, IL. ABOVE, the beautiful tray we received as a prize for the win. The blue ribbon has a place of honor on the mantel over the family room fireplace!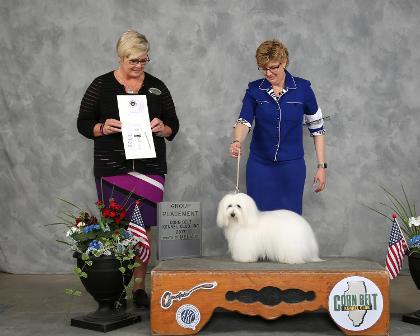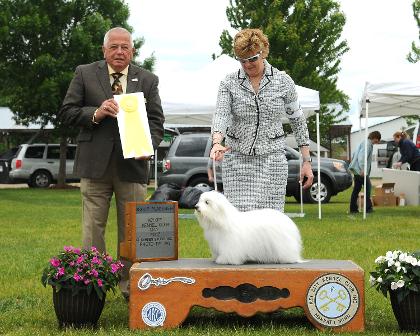 ABOVE LEFT and RIGHT, a couple of NIna's other new group placement photos from the end of May, 2017, taken in IL and MN. Thank you to Judge Cheryl Patterson and to Judge Richard V. Miller for these wins.
BESITO EARNS HIS NEXT TITLE--CANINE GOOD CITIZEN!
My Besito is an amazing dog; a fabulous show dog who knew exactly what to do the very first time he entered a ring, as well as being an extraordinary housepet! Always happy, always wanting to please.....he was the only dog I had never taken to a class other than to show training, because he seemed instinctively to know how to behave in almost every situation. While I would like to start doing obedience work with him (I don't think it will be a big stretch for him, but it's fun nonetheless), I decided to take a chance and go to an AKC Canine Good Citizen Test and see if he could pass it. Canine Good Citizen (CGC) is a title that any dog with an AKC registration number can earn, whether intact or neutered, and I believe even mixed-breed dogs with AKC Canine Partners numbers (a program that lets mixed breed dogs participate in AKC performance activities) can play; its a ten-part test of how well your dog is socialized to the everyday activities and distractions of life. For many dogs, earning this title can be a challenge, and thus the need for training classes to try to teach these skills. Some of the testing requirements are obedience-based, such as sitting on command and holding a stay while the handler moves 20 feet away from the dog, and coming when called. A dog must also allow a friendly stranger to groom him and handle him around the face and ears without reacting, and be able to walk through a group of unknown people without lunging towards them or reacting in any way. You can read about the test and its 10 different components by clicking here. I figured Besito's storied show career had taught him a lot of these things; he has spent time maneuvering through crowds at show sites, and certainly knows how to be still for grooming. Well, he certainly had learned these things and more; we walked in, asked the evaluator to test him and he passed with flying colors--stone cold!! I was so proud of him! He is such an even-tempered, sweet, happy, loving dog. So now we have another title at the end of his name. His official moniker is now "MBISS GCHS CH Dior's Besame Mucho Morninglow CM2 CGC"! His name keeps getting longer, but he will always be our well-loved "Babycito" in our home!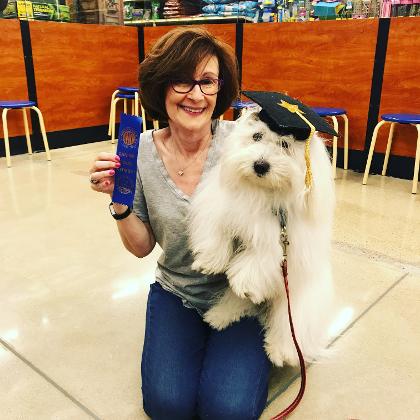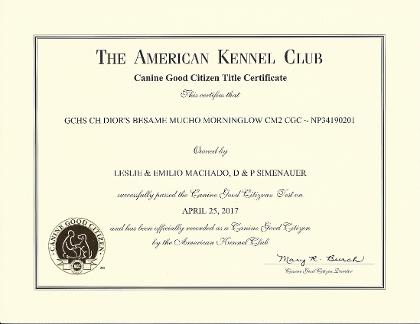 LEFT,
Besito and me posing just after he passed his Canine Good Citizen Test, with his brand-new ribbon. I love the graduation cap!
ABOVE, Besito's official AKC Canine Good Citizen Title Certificate with his newly-acquired full "kennel name".
BESITO ENDS THE YEAR 2016 AS THE NUMBER ONE MALE COTON DE TULEAR
We are very pleased and proud to announce that our Besito finished the year 2016 as the Number One Male Coton de Tulear in AKC Breed Standings. A very nice way to wind down a multi-year show career, we couldn't be more pleased with all that he has accomplished during his time in the show ring. We took out a final ad to celebrate all his achievements, that you can see below. Congratulations to MBISS GCHS CH Dior's Besame Mucho Morninglow CM2 on a fantastic run! Besito appeared in his final show at the prestigious Westminter Kennel Club in New York City on February 13, 2017, and did not disappoint, taking the Grand Champion Select Dog award for the second year in a row. We traveled to New York to watch him in the ring with his handler, Ryan Wolfe, and we couldn't have been happier with their performance! Going forward, Besito is going to get to try out some new activities, including obedience training and Canine Good Citizen, and have more time to play with his best friend, Ruby, and his son, Murphy, and all of our other dogs! He also recently sired his second litter, up in Canada, and now has four more adorable little boys ( in addition to the three boys in his 2015 "Irish Litter") to claim as his own. Besito has always seemed to really light up when he enters a show ring, so although he is officially "retired" and no longer chasing a spot in the national standings, it is still entirely possible that he might turn up at a show or two occasionally just for the fun of it. We love this dog so much, and we can't wait to see what additional fun he will bring into our lives!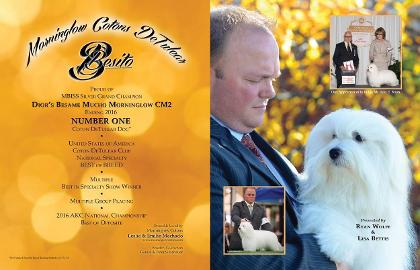 ABOVE LEFT, Besito's final ad, which appeared in the February, 2017 issue of the Canine Chronicle magazine. He is pictured in these photos with his handlers and good buddies, Ryan Wolfe and Lisa Bettis.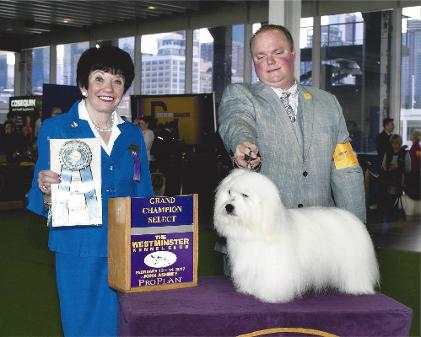 ABOVE, Besito's 2017 Westminster win photo. Many thanks to Judge Barbara Dempsey Aldermann for recognizing our beautiful, sweet boy as Grand Champion Select Dog.
THE AKC NATIONAL CHAMPIONSHIP SPONSOR CHANGES FROM EUKANUBA TO ROYAL CANIN FOR 2016, BUT MORNINGLOW STILL HAS FANTASTIC RESULTS!
Morninglow dogs traveled down to Orlando for the fourth time for the AKC National Championship in December (formerly known as the "Eukanuba" and this year for the first time, the "Royal Canin AKC National Championship." Ever since we first started attending this show with Besito as a little puppy, it has been good to him. In 2013, he took Best of Breed and won the USACTC National Specialty show held during that week, and also took a Group 2 placement in the Open Show of which the specialty was a part, all handled by me. In 2014 and 2015, he was recognized by the judges each year with an Award of Excellence. Last year, Murphy also came along, and handled by me, was awarded Winner's Dog for his very first major, in only his third time entering a show ring! This year, we decided to take Nina along to see what she could do. The National Championship is a huge show, with close to 5,000 dogs entered in conformation, agility, dock diving and other activities. In 2016, Besito beat out all the other male Cotons de Tulear entered to receive a Best of Opposite Sex award from respected Judge Edd Embry Bivin, and Nina received a Judge's First Award of Excellence, also from Judge Bivin, on her very first time participating at a show of this scale!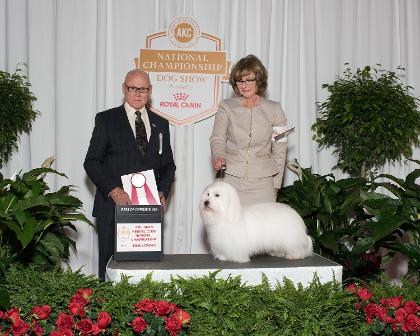 ABOVE,
BESITO
,
with Judge Bivin and handler Lisa Bettis, and his Best of Opposite Sex riboon.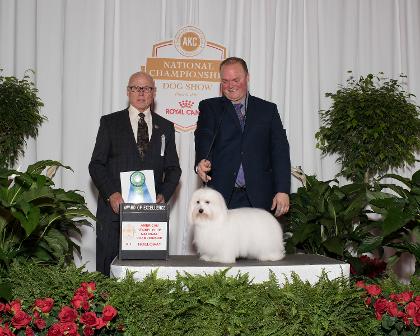 ABOVE, NINA, also with Judge Bivin, and handler Ryan Wolfe and her First Award of Excellence Ribbon.
The actual National Championship show is held on a Saturday, and there is a cluster of other shows preceding it during that week. Besito took home a Best of Opposite Sex in two out of those three other shows, and Nina received a Select Bitch award in one of the shows as well! In addition, Nina and I participated in the National Owner-Handler Series (NOHS) Finals, which is a show held on the day before the Championship. Nina qualified for this special show by ending the 2016 NOHS year among the top ten finishing Cotons in the competition. We didn't win the NOHS show, but we had a lot of fun participating, And after all, isn't that what all of this is supposed to be about? :-) Please enjoy Besito's and Nina's official win photos from the Royal Canin AKC National Championship, below. I thought that they just turned out beautifully. Besito was handled to his BOS win by Lisa Bettis, and Nina was handled to her win by Ryan Wolfe. Many thanks to Judge Bivin for recognizing my dogs.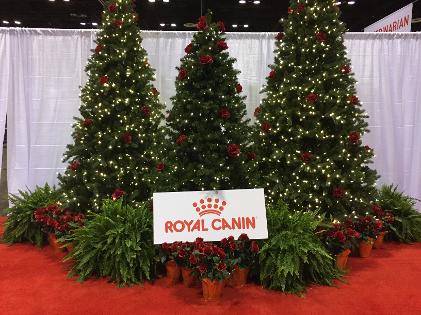 NINA BECOMES AN AKC GRAND CHAMPION IN NEXT TO NO TIME!!
NINA finished her AKC Championship at the end of August, in Illinois, and then went on to FLY through the hoops needed to obtain the next title, her GRAND CHAMPIONSHIP, in just a handful of shows! Nina finished her GCH on November 19, 2016 at the Lima Kennel Club Show in Columbus, OH under Judge Elaine Lessig, by taking a 5-point Grand Champion Major Best of Breed win. We were absoutely thrilled as Nina bested several other Grand Champion dogs that day to win the title. Here is the official win photo from that day. Nina is pictured with Judge Lessig, and with her handler Ryan Wolfe! Way to go Nina!!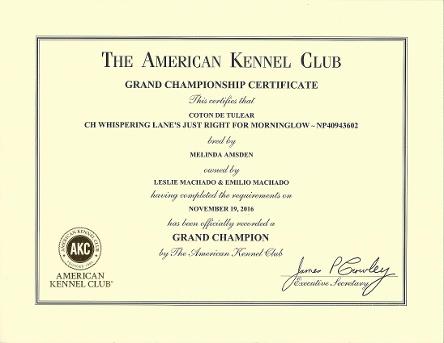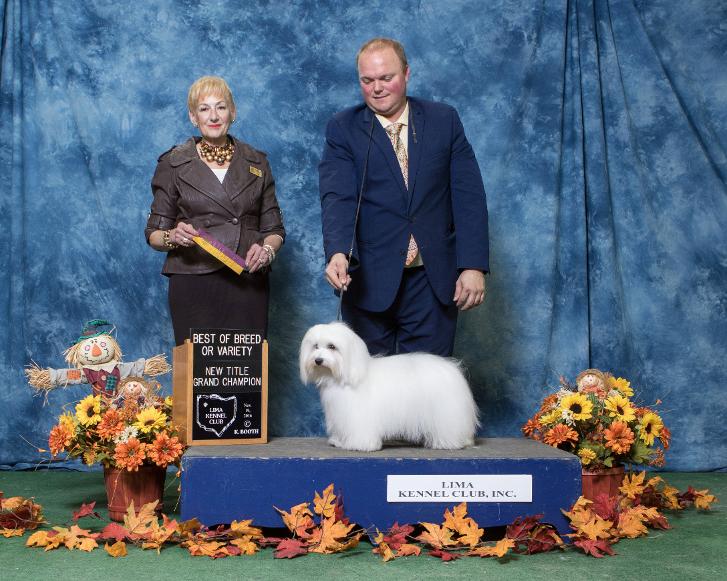 A BUSY, BUSY SUMMER!
We have been showing a lot this summer (a lot for us, anyway)! We started Nina out in her first show in early June, and in August, we were proud to announce that Nina has become an AKC Champion, our precious Ruby has become an AKC GRAND CHAMPION, and our Besito has become and AKC SILVER GRAND CHAMPION!! I handled Nina completely by myself to her championship, and the super-fun part was that the finishing points for each of these awards to these three dogs were put on the dogs by the two of us, and all happened in the same show weekend, at the Elgin Kennel Club Show in St. Charles, IL (August 27 and 28, 2016). Besito is only the second dog in the history of the breed in AKC to achieve Silver GCH status! It shows his ability to win over time consistently, with a large number of different judges. We are thrilled with all three of these much-beloved dogs. Here are my iPhone snaps of our achievements! Both Nina and Besito have gone on in the month of September to additional major wins!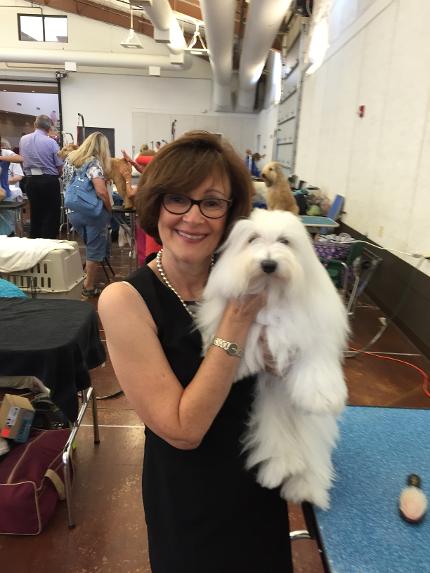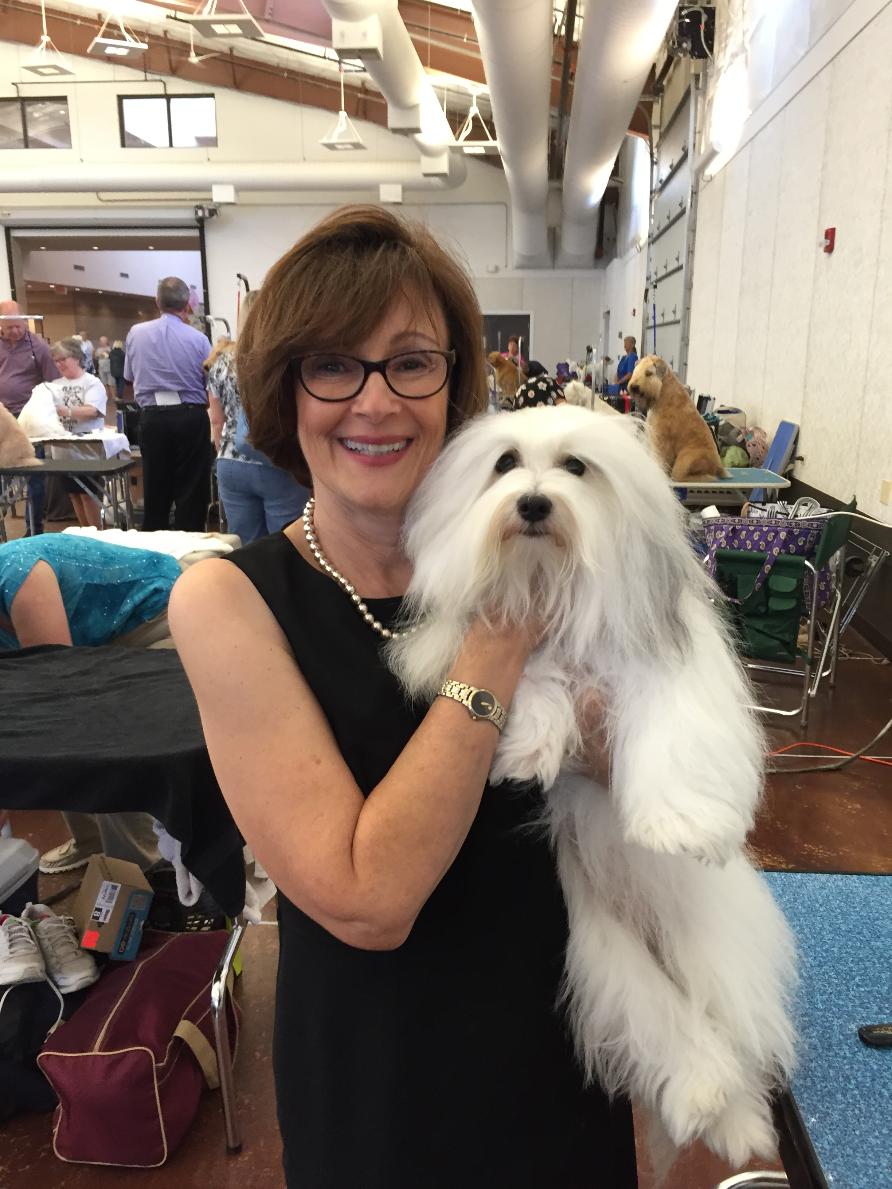 ABOVE, Miss Nina with her human mommy (me) just after she finished her AKC Championship on 8/27/16
ABOVE, My Princess Ruby with me just after finishing for AKC GRAND CHAMPIONSHIP, also on 8/27/16. It was a very special day!!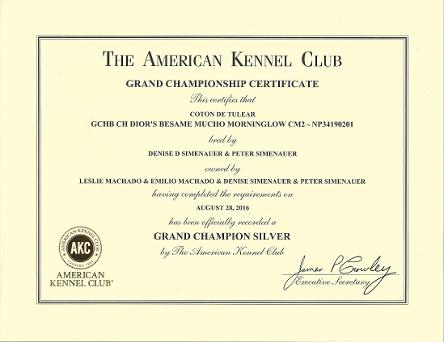 ABOVE, LEFT, Besito's Silver GCH certificate, and, RIGHT, with his human daddy, who handled him to his final 5 point major Best of Breed to finish that very special SILVER GRAND CHAMPIONSHIP!
NINA ALSO TRIES OUT OWNER-HANDLED GROUPS AND TAKES GROUP 1!
We drove up to Marshfield, WI (quite a hike) in August, and it was well worth it! Our little Nina took regular Best of Breed under well-respected Judge Edd Bivin, along with a Best of Breed Owner-Handled, and went on to take an Owner-Handled Group 1 (first place in the Owner-Handled Non-Sporting Group) her very first time in a group ring! Nina had already won a couple of Owner-Handled breed ribbons, but we had always had a human family commitment on each of those show days and weren't able to stay for group competition. This time we had the opportunity, and it paid off! Nina is a very happy little girl, and a joy to show. It was a super long day for a puppy, but she was a real trooper through both regular and owner-handled groups, and the Owner-Handled Best in Show Ring. She didn't win the show, but I thought that she did fantastic for a first-time puppy, and I couldn't have asked for more! What a good girl!!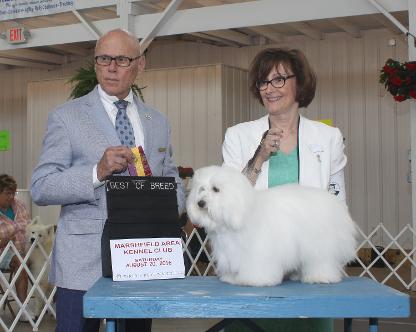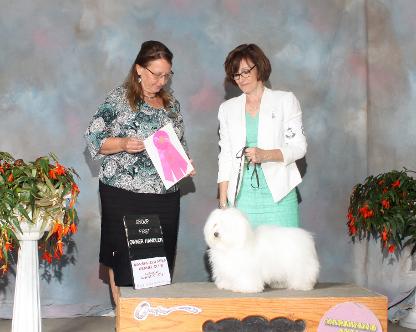 MURPHY BECOMES OUR FIRST BRED-BY AMERICAN KENNEL CLUB CHAMPION!!
We are beyond thrilled to announce that our very own Murphy (Morninglow's Irish Lullaby) is now an AKC Champion! Murphy finished his title on April 30, 2016 at the Fort St. Clair Kennel Club Show in Eaton, OH by going Winners Dog/Best of Winners for a three-point major win! Murphy is the youngest son of our Besito x Ruby litter born on St. Patrick's Day 2015 and was able to complete the title at the age of 13 months with only limited showing. I'm super proud of this baby who was born in my bedroom and is now my first bred-by champion. I hope he will follow in his daddy Besito's footsteps. Many thanks to Judge Robert Hutton for the win, and to his handler, Ryan Wolfe.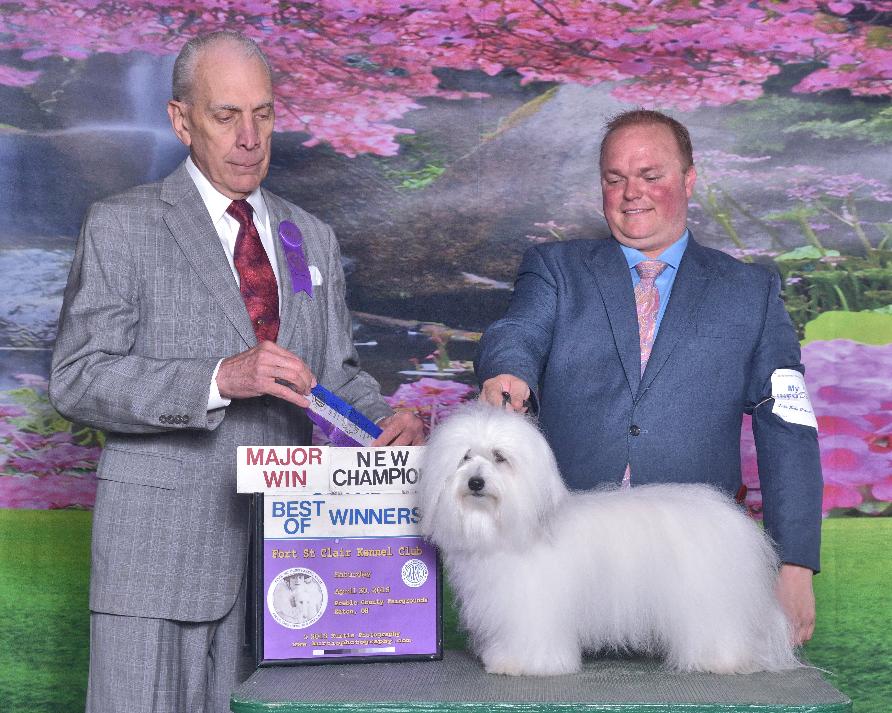 BESITO TAKES SELECT DOG AT 2016 WESTMINSTER KENNEL CLUB DOG SHOW
We were thrilled to be able to be in New York City on February 15th to watch our beloved Besito once again enter the coton ring at the legendary Westminster Kennel Club Dog Show, a show that predates the formation of the American Kennel Club. Besito was awarded "Select Dog" by Judge Norman Patton and he just looked smashing in the ring! Two invitations to the show, two recognitions by two different judges two years in a row! He and his handler, Ryan Wolfe, did an amazing job and I couldn't have been happier with their performance! After we got back home, Besito became somewhat of a local celebrity. I was interviewed by our local newspaper about his award at WKC, and was super surprised to bring in the paper and see that they had not only written a lovely article about him, but also put his win photo on the front page! See some of our photos from that great day below.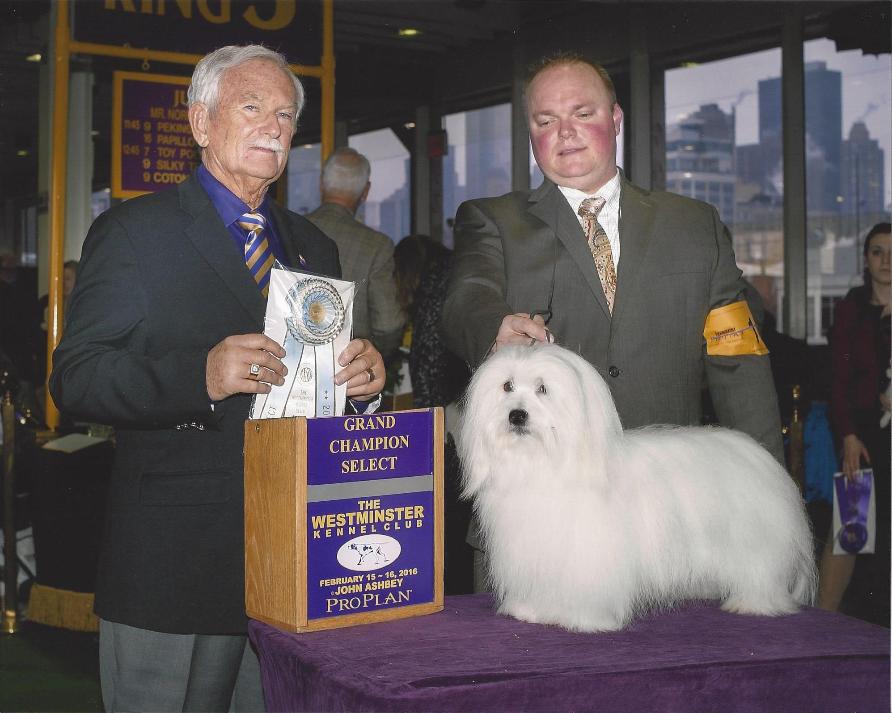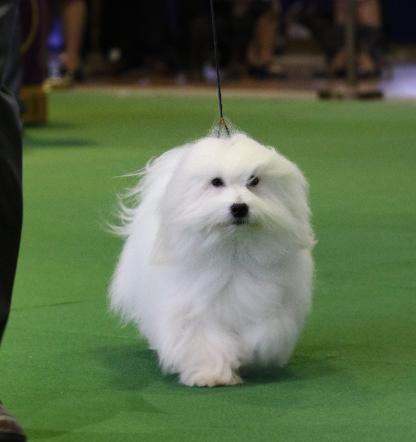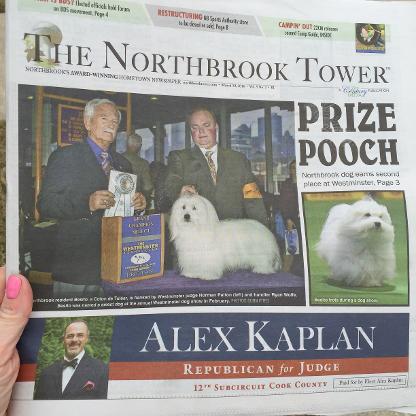 TOP, Besito's official Westminster win photo with his beloved handler, Ryan Wolfe, and Judge Norman Patton.
ABOVE, left, Besito stutting his stuff in the ring. ABOVE, right, our local paper with Besito featured on the cover page. Story was inside on page 3.
MURPHY TRIES OUT THE NATIONAL OWNER-HANDLER SERIES AND TAKES A GROUP 1
After Murphy's big win at Eukanuba in December, we decided it was time to let him fly. At the Coool Cluster in January 2016, in Grayslake, IL, he showed us some more of the great stuff I saw in him since the time he was our tiny puppy. Because I am a member of one of the hosting all-breed clubs in this cluster, we were only able to participate in three of the five days of shows, but Murphy did us proud. He took a Best of Winners on Day 1, a Best of Breed over multiple specials (dogs who are already champions) on Day 3, and on Day 5, he and I participated in a newer AKC program called the National Owner-Handler Series (NOHS). NOHS is offered alongside regular shows and allows people who are handling their own dogs at the show a separate chance to win breed, group placements and Best In Show without having to compete in the ring with professional handlers. It's a popular program, and The International Kennel Club of Chicago decided to offer it on the last day of the cluster, so we decided to play. Such fun! Murphy won (a Group 1 Placement) the entire Non-Sporting Group that day, and it was a BIG group! Got his first chance to play in a Best in Show ring at only nine months of age! Murphy didn't win the show, but I was super proud of his performance! Can't wait to see what else he can do as he grows!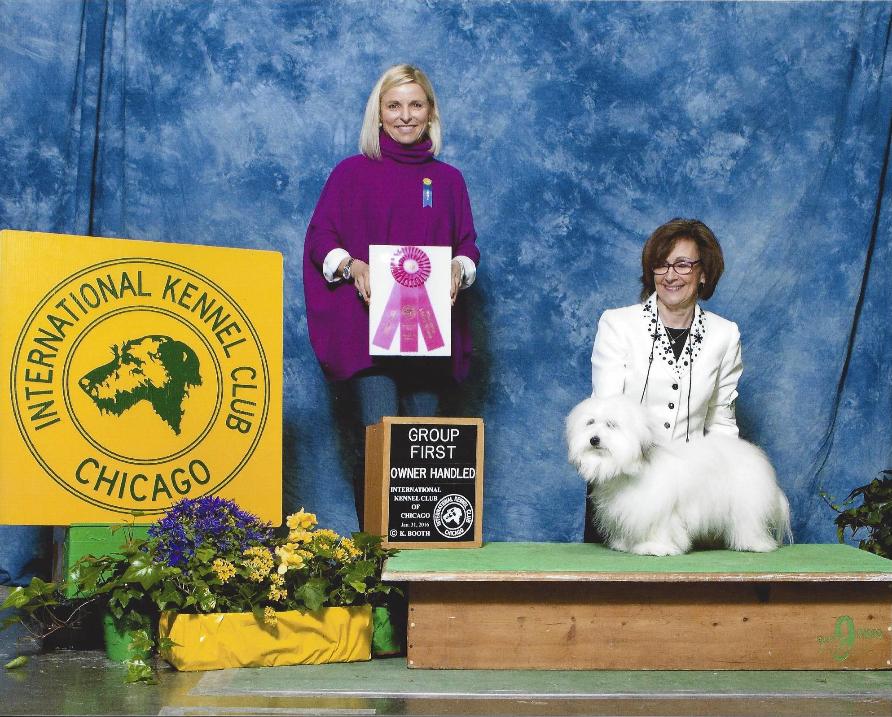 ABOVE, our official win photo. Many thanks to Judge Evalyn Gregory for choosing Murphy for this honor. RIGHT, my husband snapped a candid of one happy dog momma and her baby!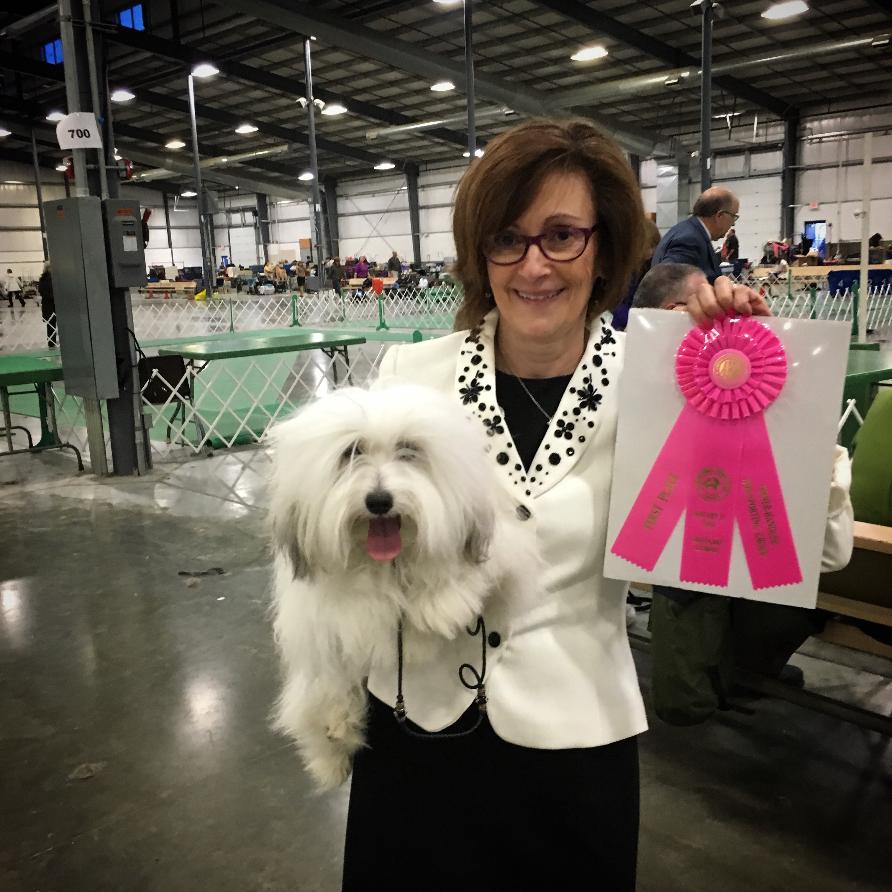 2015 EUKANUBA NATIONAL CHAMPIONSHIP WAS AWESOME FOR MORNINGLOW!
Besito and Murphy both went to the AKC/Eukanuba Week this year, our first time taking two dogs, and both of them had a great run! Besito came home with a Best of Opposite Sex, two Grand Champion Selects, all for five-point Grand Champion majors and an Award of Merit. Besito was also honored with Grand Champion Select Dog in the USACTC's first specialty show since entering the AKC Non-Sporting Group in July, 2014, which has held on Thursday of Euk week. Our baby Murphy took Reserve Winners's Dog at the Specialty, and WINNER's DOG at the Eukanuba show itself, for his very first major win!! I handled Murphy myself in a group of professional handlers in the winners class, and was just over the moon when Judge Dr. Anthony DiNardo chose Murphy for the honor! Murphy's official win pic from that day is in his section of this website, found by clicking the "our males" tab above. All in all, a great week, fun with dogs, warm weather and meeting up with friends. We brought home some great ribbons and prizes, which are currently decorating my family room and some of which are shown below!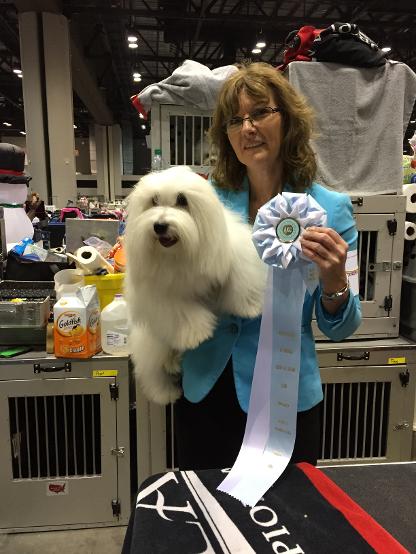 ABOVE LEFT, Murphy and me after being selected as Winners Dog at the 2015 Eukanuba; I am one HAPPY DOG MOMMA!
ABOVE RIGHT, Besito is happy to show off his fancy ribbon from the USACTC Specialty show with his handler, Lisa Bettis.
BELOW, LEFT, Murphy's fancy ribbon from the USACTC Specialty
BELOW RIGHT, Besito's fancy trophy from the USACTC Specialty, a hand-painted wooden bowl on a stand.
BOTTOM, a look at just one corner of the Eukanuba show site. It is held at the Orange County Convention Center in Orlando, Florida and there were more than 4,600 dogs competing in conformation, agility and other events this year. Dog-lovers' heaven!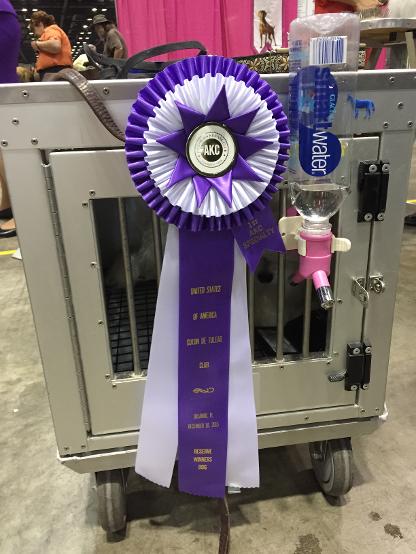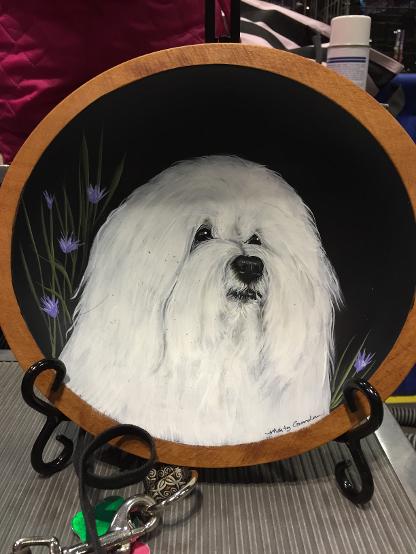 ABOVE, some iPhone video taken by a friend of Murphy and me taking Winners Dog at Eukanuba on Saturday morning. I am the only non-professional handler in the ring. Was a pretty exciting day!
OUR BABY MURPHY
WINS PUPPY CLASS AT MORRIS & ESSEX KENNEL CLUB DOG SHOW!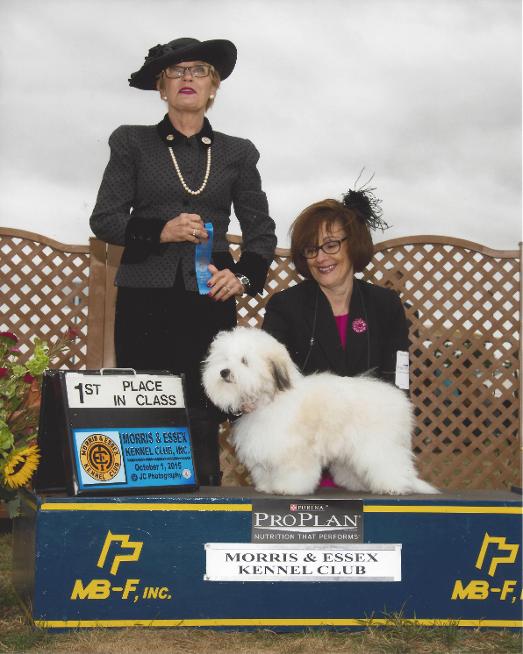 Murphy and I flew out east at the end of September to participate in the historic Morris & Essex Kennel Club Dog Show. M&E, as it is commonly referred to, is a special event in the dog show world, designed to bring back the glamour of the "Golden Age of Dog Shows." The show had been held yearly from 1927 until 1957 and was organized by Mrs. Geraldine Rockefeller Dodge, who was known for always putting on a grand and elegant show. M&E was resurrected about 15 years ago, and is now held once every five years in New Jersey. It is an enormous outdoor affair, with grand tents and box lunches for exhibitors. Many exhibitors also dress in period costume, and just about EVERYONE wears a hat! If you would like to read more about the historic Morris & Essex show, you can click here. This year's show had the largest number of entries of any AKC dog show ever held in the U.S., with the exception of a prior M&E show held while Mrs. Dodge was still in charge of the affair. Murphy did great at his first outdoor show, gliding through the grass like a pro, and got a blue ribbon for winning the puppy class. He was also a fantastic airline traveler; I was super proud of him all-around!
BESITO EARNS A BRONZE GRAND CHAMPIONSHIP!
Our Besito took the Coton world by storm on September 13, 2015, in Lebanon, IN, by becoming only the second Coton de Tulear in AKC history AND the youngest ever to date to earn a BRONZE GRAND CHAMPIONSHIP title!! This title requires a dog to acquire 100 Grand Championship points (in addition to the points collected to earn a normal AKC Championship) and shows that a dog is a consistent winner in front of a very large number of different judges. Please see the lovely certificate and the win photo from the day he "bronzed". We also received a small bronze medallion from AKC to commemorate the acheivement! We thank Judge Mrs. Susan St. John Brown for awarding Besito his 100th GCH point. Besito was handled to this win by Ryan Wolfe.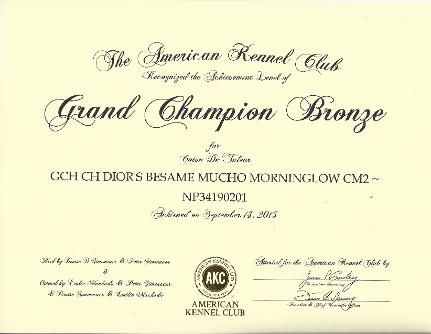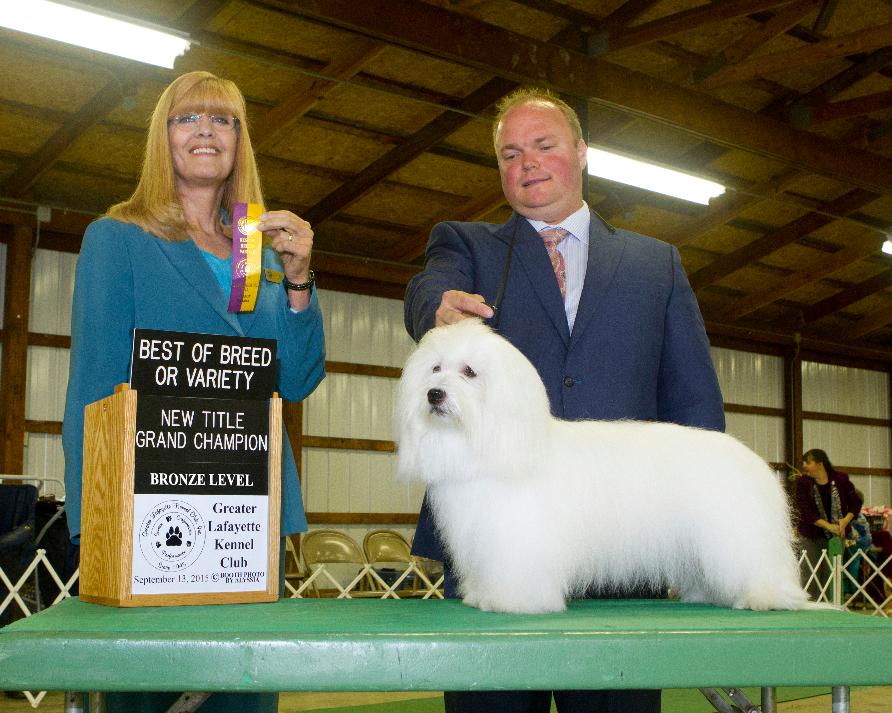 PIPPIN EARNS OUR FIRST MORNINGLOW PERFORMANCE TITLE!
If you think that Cotons de Tulear are simply fancy little fragile white show dogs, think again! They can also be magnificent athletes. There have been a number of well-known coton agility dogs over the years, but I think we may have earned the very first title for a Coton de Tulear in the AKC sport of lure-coursing! If you scroll down to the bottom of this "News" page, you will find a video clip from the first time that we took Ruby and Pippin running, just for fun. We could tell immediately that he had found his calling! As soon as we were able to find some local AKC trials, we entered him. He took home two ribbons last fall, and on this past May 9th, he finished his title at the Cudahy, WI Kennel Club Coursing Ability Trial! We are thrilled, he was thrilled (you have never seen a dog SO happy to be able to chase a plastic bag over a 300-yard course) and he has a brand new title ribbon. Additionally, you can now call him "UKC CH Fluffy Acres Morning Glow, CA" (Coursing Ability)!! When Ruby is recovered from new motherhood, I hope to take her to earn a title as well; she loves to run as much as he does!! Below is a photo of the triumphant little man at the end of his run, and a photo of his new title ribbon. We are anxiously awaiting the uploading of his title to the AKC website and the receipt of his title certificate!!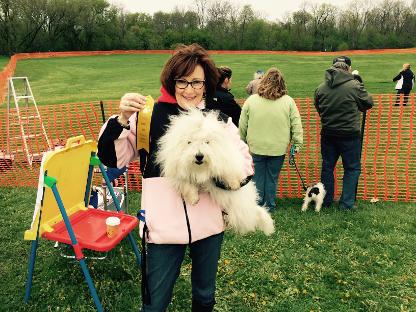 ABOVE, Pippin and I are thrilled with the results of his run!! Does he look wind-blown or what?
RIGHT, Pippin's CA New Title Ribbon. It shall be displayed in a place of honor at home!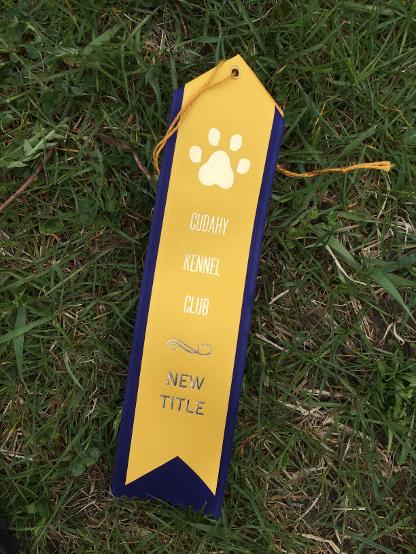 WE HAVE BEEN BUSY!!
BESITO EARNS AWARDS OF MERIT AT BOTH THE 2014 EUKANUBA NATIONAL CHAMPIONSHIP AND THE 2015 WESTMINSTER KENNEL CLUB DOG SHOW!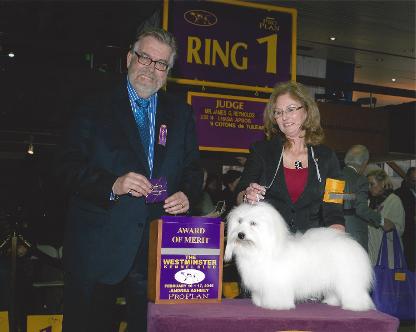 ABOVE, left: Besito's official win photo from the Westminster Kennel Club Dog Show, 2.16.15. Thank you to Judge James Reynolds for the recognition. Besito was handled at the Westminster show by Lisa Bettis.
RIGHT, Besito in the breed ring at the Westminster show in NYC.
We are very happy to announce that our Besito was recognized by the breed judges both at the 2014 Eukanuba National Championship, held last December (2014) in Orlando, Florida, AND at the 2015 Westminster Kennel Club Dog Show, held just a few weeks ago (February) in New York City! At each show, he received an "Award of Merit" (sometimes called an "Award of Excellence"), which the judge has the discretion to bestow upon what he or she thinks is an outstanding breed entry. There were 22 cotons entered at the Eukanuba show, and only four male dogs recognized. The Westminster Kennel Club Show is the "Super Bowl" of the dog show world in the U.S., and 2015 was the very first year that Cotons de Tulear were eligible to participate. Only three male dogs were recognized and Besito was the youngest of those three! Besito was also "invited" to attend both the Westminster AND the Eukanuba shows, an honor which is only bestowed on the top five dogs or bitches in each breed each year For purposes of calculating breed rankings for these shows, Besito finished as tied for the No. 2 spot in the country. In addition, he was also the youngest of all of the invitees. We are beyond thrilled by what this precious boy has accomplished before the age of 2 years! Couldn't be happier!! Now taking a well-deserved break, and relaxing!!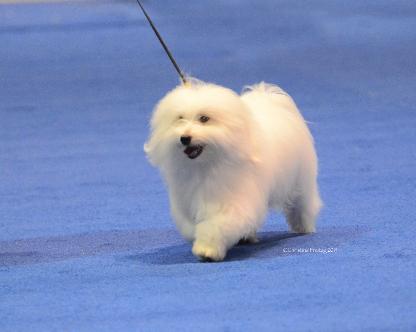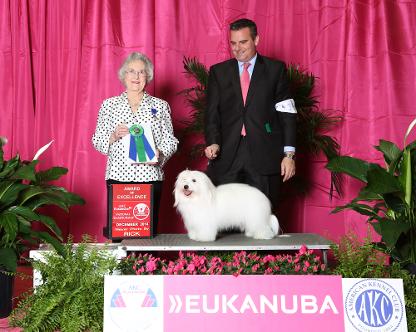 ABOVE left, Besito struts his stuff in the ring at Eukanuba during breed competition; ABOVE, right, Besito's official Eukanuba win photo with Judge Kathleen Kolbert.. Besito was handled at Eukanuba by David Stout.
BESITO EARNS HIS AKC GRAND CHAMPIONSHIP!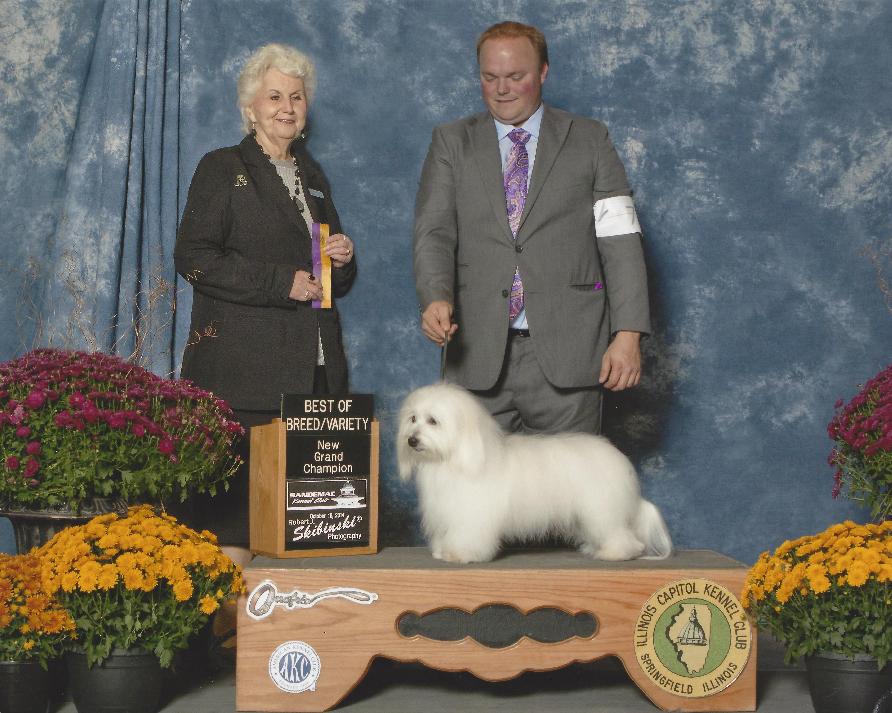 Morninglow is thrilled to announce that our Besito finished his AKC Grand Championship on October 18, 2014, at the Sandemac Kennel Club Show in Springfield, IL under Judge Ann Hearn. Besito took Best of Breed in a major win that day to put him over the top, and it was also the second major win under Judge Hearn. We thank her for recognizing the same great qualities we see in the little guy! Besito swept Best of Breed all four days of the Springfield cluster and was handled for us by Ryan Wolfe.
BESITO GETS ANOTHER AD IN DOGS IN REVIEW
TO CELEBRATE HIS CHAMPIONSHIP!
To celebrate Besito becoming the fourth Coton in the history of the breed (third male) to finish an AKC Championship, we took the plunge and placed another ad, in the September issue of our favorite dog magazine, Dogs In Review. Here it is!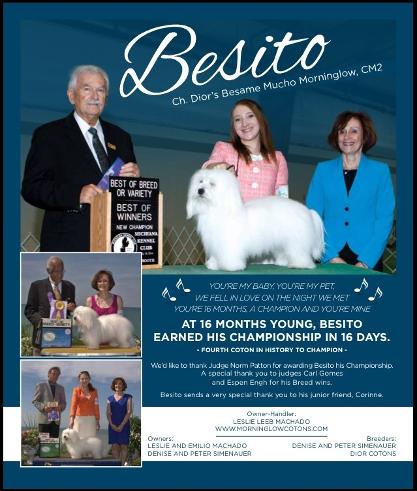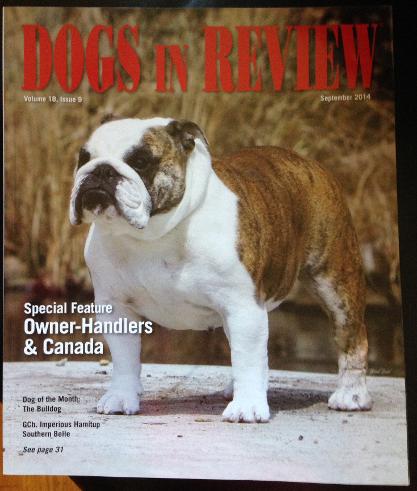 RUBY BECOMES AN AMERICAN KENNEL CLUB CHAMPION!!
We are beyond thrilled to announce that Spirit Bear Jewel of Versace, CM ("Ruby") is now also an American Kennel Club Champion!! Ruby finished her championship on August 9, 2014 at the Cudahy Kennel Club show in South Milwaukee, WI. Ruby was the tenth Coton de Tulear in history to earn an AKC Championship title, and the very FIRST foreign-born female to do so! She accumulated all of her championship points and her major wins over the course of just five individual shows! We would like to thank Judge Mrs. Polly D. Smith for the Best of Opposite Sex win that put her over the top! I am super proud of this tenacious little girl who owns my heart!!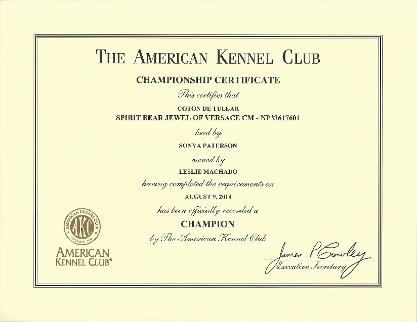 ABOVE, Ruby's official AKC Championship Certificate
RIGHT, my personal favorite Ruby win photo, from the Canfield, OH show on July 31, 2014. I handled Ruby myself to a Best of Breed over ten other Cotons de Tulear for a 5-point major victory!. Many thanks to Judge Bradley Jenkins for selecting Ruby for this honor on the first day of the four-day Canfield show cluster.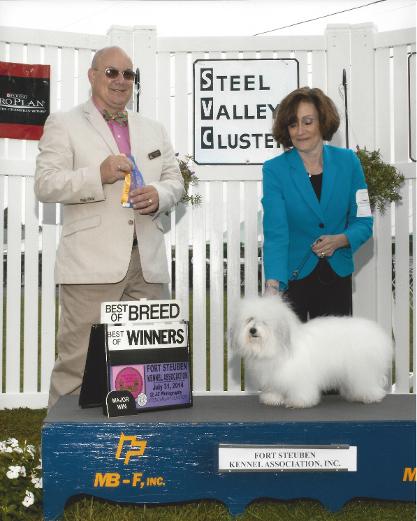 BESITO BECOMES AN AMERICAN KENNEL CLUB CHAMPION!
Morninglow Cotons is thrilled to announce that Dior's Besame Mucho Morninglow, CM2 ("Besito") is now an American Kennel Club Champion! Cotons de Tulear became eligible to compete for regular championships as a part of the AKC Non-Sporting Group on July 2, 2014, and Besito finished his title on July 18, 2014, in his seventh show, at the Hoosier Tire Cluster, in South Bend, Indiana. Besito is only the fourth coton (and third male coton) in history to earn an AKC Championship, and he did it on the 16th calendar day after our entry into regular classes, AND on his sixteenth-month birthday as well! He earned points toward his Championship in every single show entered after the breed went into regular classes, earning one Best of Opposite Sex, and SIX Best of Breeds in those seven shows! We would like to thank Judge Norman Patton for awarding Besito the Best of Breed that put him over the top! . Since July 18th, Besito has participated in another 4 shows, and has taken Best of Breed in each and every one of them! He is now well on his way to earning his AKC Grand Championship and we will be thrilled when we are able to make that announcement. We are super proud of this beautiful little boy whom I like to call "the happiest dog in the world"!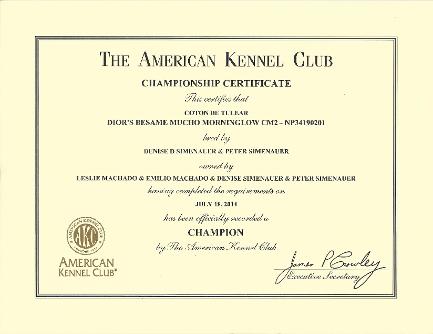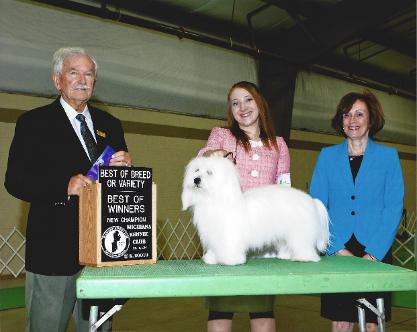 LEFT, Besito's official AKC Championship Certificate
RIGHT, Besito's official "win" photo from his Championship Day! Thank you to Corinne for handling him for me, and to Judge Norm Patton, who honored him with Best of Breed that day!
BESITO'S VERY FIRST AD RUNS IN THE JUNE 2014 ISSUE OF DOGS IN REVIEW!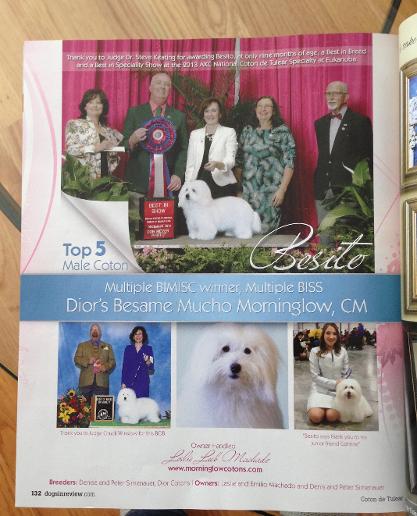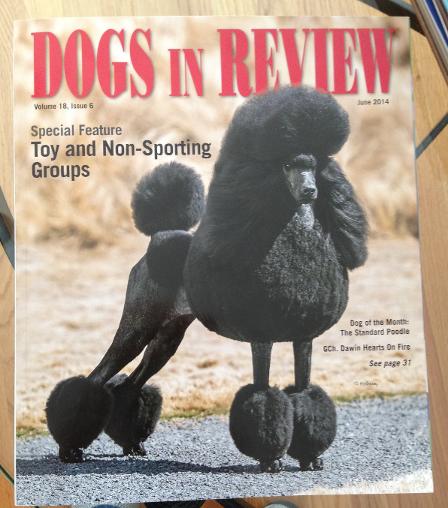 We decided to take the plunge and place out very first ad for Besito in the June issue of Dogs In Review magazine. This was a special Toy and Non-Sporting Group Issue that included a wonderful article on the history of the Coton de Tulear, written by longtime breeder and fancier Pat Enright, in honor of the breed's full acceptance into the AKC Non-Sporting Group, which will occur in just a couple of weeks on July 2, 2014. We decided to highlight Besito's big win at the 2013 National Specialty Show (see below) and the fact that he also recently took another Best in Specialty Show (in February, 2014, at the International Kennel Club of Chicago). We especially like his cute head shot in the bottom row center!
BESITO WINS THE UNITED STATES OF AMERICA COTON DE TULEAR CLUB (USACTC) NATIONAL SPECIALTY 12.13.13
ORLANDO, FLORIDA!!
Besito and I totally surprised ourselves by taking Best of Breed at the United States of America Coton de Tulear Club Open Show (the USACTC Coton National Specialty) in Orlando, Florida on Friday, December 13, 2013, during Eukanuba week! I know that my Beso is a great dog, but he was the youngest coton entered in the show (still in the 6-9 month puppy dog class), and I did not think a new baby had much of a chance to beat the many established champion show dogs that were entered in this show. Yet we beat 24 other cotons to a Best of Breed, and then took Reserve Best in Miscellaneous Class, ultimately beating 74 other dogs of various breeds that day, second only to the Mini American Shepherd who took BIMISC!! A very proud, very exciting day, and I handled him all by myself! Many thanks to Judge Dr. Steve Keating, who apparently also sees what I see in Besito, and to his breeders, Denise and Peter Simenauer, of Dior Cotons, for entrusting him to me, and to the USACTC and all the competitors, for putting on a fine show. Who says Friday the 13th is unlucky?? See some photos from the National Specialty, the trophy and ribbons we won, and other highlights of our very first Eukanuba week below.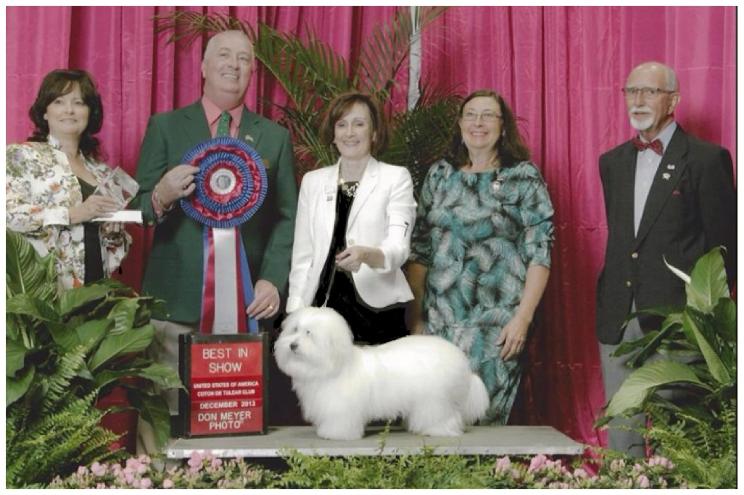 Our "official" win photo for Best in Specialty Show for the 2013 Coton de Tulear National Specialty. Pictured with me from left to right, are : Debra Newrow, President of the United States of American Coton de Tulear Club, Judge Dr. Steve Keating, me, and Denise and Peter Simenauer of Dior Cotons, Cape Coral Florida, who are Besito's breeders and the owners of both his sire and his dam. Many thanks to all of them for a very special day I won't ever forget!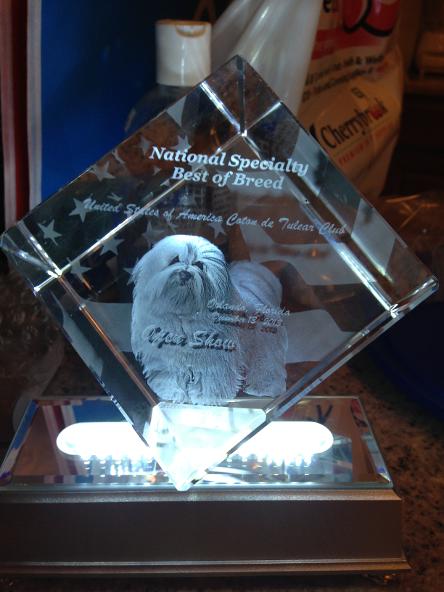 ABOVE, magnificent crystal trophy cube awarded to us for our Best of Breed
BELOW (LEFT), Besito and I doing a "down and back" for Judge Dr. Steve Keating.
BELOW (RIGHT), stacking for the judge in the breed ring at the Sunday Eukanuba show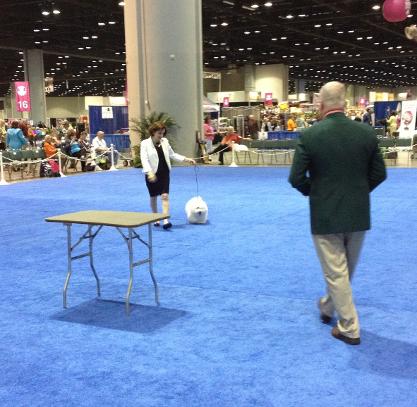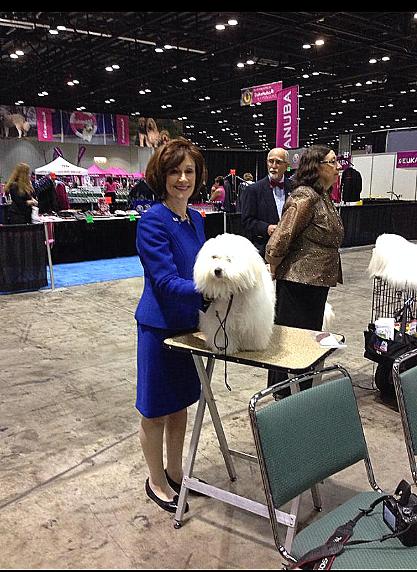 ABOVE (LEFT), hanging out with Besito waiting for our turn in the ring
RIGHT, Besito is very relaxed greeting the public at the Coton de Tulear "Meet the Breed" booth at Eukanuba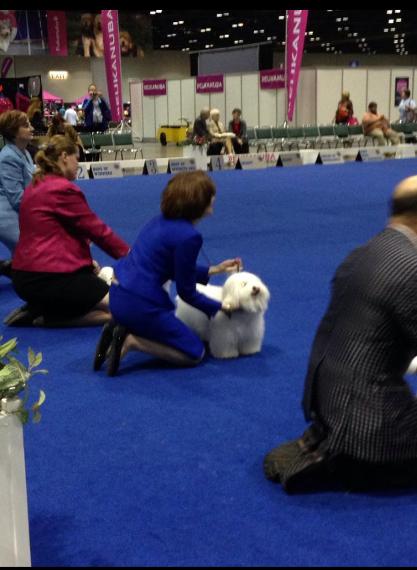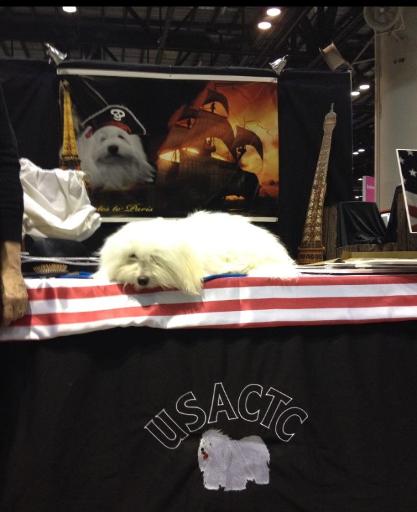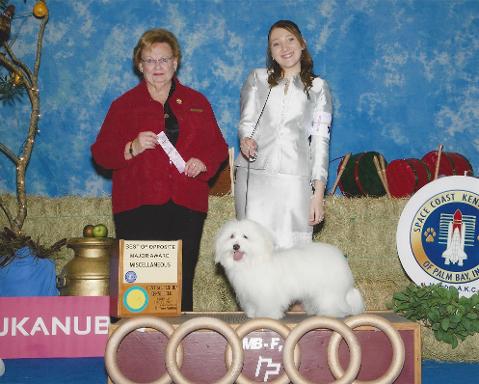 ABOVE, Besito also took Best of Opposite Sex the day before he won the "big one," handled by my friend Corinne. Here the two of them are pictured with Judge Judy Webb. Many thanks to both of them!
RUBY FINISHES HER AMERICAN KENNEL CLUB (AKC) CERTIFICATE OF MERIT 12.8.13
Ruby earned her AKC Certificate of Merit (the highest award that can currently be granted to a Miscellaneous Class dog in AKC) on December 8, 2013, by taking Best of Breed at the Edwardsville, IL Kennel Club Show in Belleville, IL. Many thanks to Judge David Kirkland, who chose her for the win.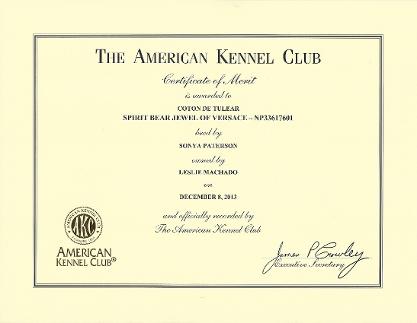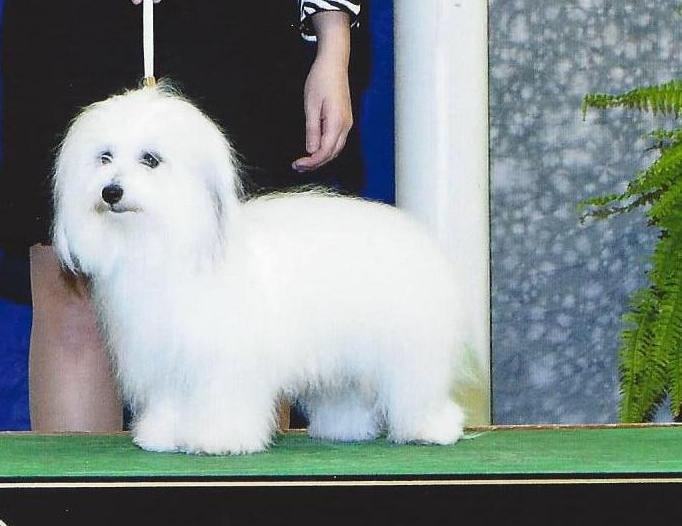 RUBY is our very first CM winner and we are incredibly proud of her!!
PIPPIN and RUBY TRY OUT A NEW SPORT! Lure-Coursing! 8.31.13
Pippin has always been my natural athlete, so we thought we'd try something new and took him up to Kenosha, WI to try out the lure-course! Watch the video below to see what a natural he actually is--he is the one in the lead, Ruby was just along for the ride! This was the very first time either or them had ever seen a course or a lure--they just started it up and off they both went! I think we may have to start entering Pippin in a trial or two!!