MORNINGLOW DOGS DO HAVE PRETTY FACES,
BUT WE ARE NOT JUST SHOW DOGS!
WE LOVE SHOWING OUR DOGS, and winning in the ring, But even more, we just LOVE our dogs!! They are our constant companions, and we like to do other things besides showing. Several of our dogs have tried the sport of lure coursing, and one of them (Pippin) became the first Coton de Tulear in AKC history to win a CA (coursing ability dog) title. We hope to have fun with the sport with some of the others as well. In addition, I love to train the dogs in obedience, and we have several basic and intermediate graduates. Hoping to create some new Canine Good Citizens soon, and perhaps check out rally obedience as well! Here are a few pictures of some of our other activities and accomplishments.....
THREE MORE CANINE GOOD CITIZENS!!
WE ARE EXCITED TO ANNOUNCE THREE new AKC CGC titleholders in our Morninglow family! Our Sophie, our keeper from our 2019 "Mamma Mia" litter (Hamilton x Nina) was just awarded the Canine Good Citizen title in January 2022, after walking in to take the test without any formal practice whatsoever.. She passed with flying colors on the first try! Additionally, Sophie's younger full brother Gus (formerly "Sonic" from our 2020 "Bohemian Rhapsody" litter), also passed the test last year (2021). Gus is in a pet home, but one I am pleased to say in which his family takes training seriously and aims to make Gus the very best-behaved dog he can be!! Our Hamilton (father to both Sophie and Gus) also just completed his own Canine Good Citizen title in June 2022. Just thrilled with all three of them! Pics of the dogs and their new title certificates below.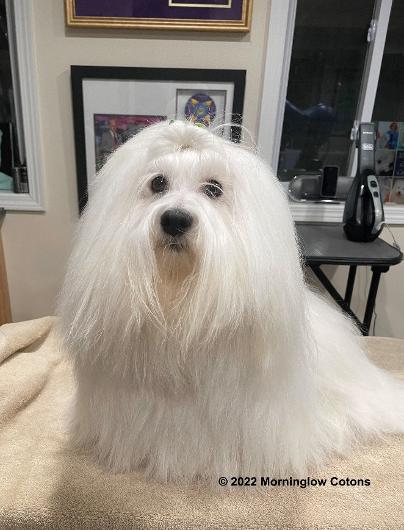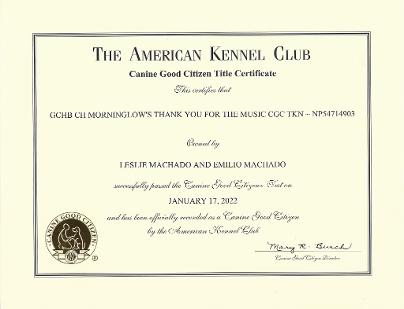 LEFT,
Sophie in February 2022 just after a grooming and
ABOVE
, her brand-new Canine Good Citizen title certificate!
BELOW, Gus (formerly our "Sonic") posing with his brand-new title certificate.
Very pleased to see this full brother and sister sired by our Hamilton out of our Nina succeed as good canine citizens. I'm also told by the owners of their other siblings that this pairing has produced fabulous temperaments all-around whether they have been formally tested or not. Good, stable laid-back temperament is what I most want to see from my puppies so I'm very happy <3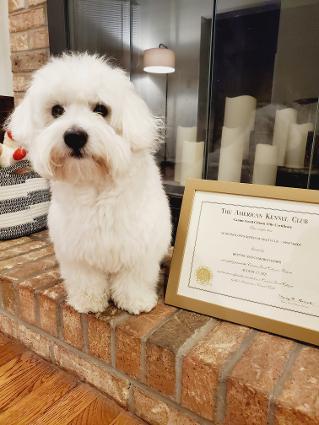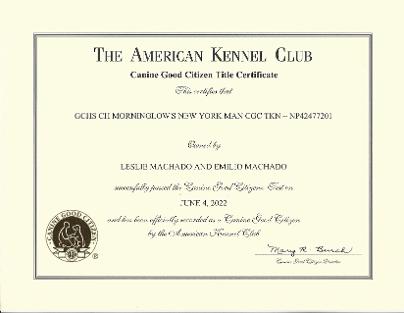 ABOVE
, Hamilton's new Canine Good Citizen Title Certificate, adding a few new letters at the end of his formal registered name. Hamilton is daddy to BOTH of Sophie and Gus, above.
RIGHT, Hammie and me posing with his new CGC title ribbon right after he passed his own test <3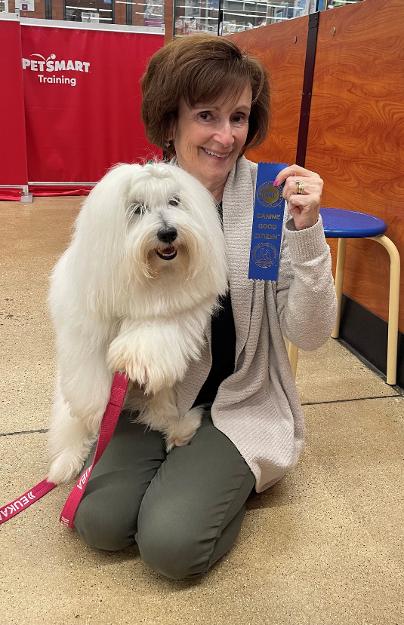 UPDATE:
WE ALMOST HAVE AN ENTIRE HOUSE FULL OF TRICK DOGS NOW!!
WHAT TO DO WITH A BUNCH OF DOGS trapped at home during a pandemic lockdown? Well, thanks to AKC deciding to let their Trick Dog program go "virtual", I was finally able to teach my Ruby (mom of Hamilton), now retired from the show ring, what she needed to learn to finish her Trick Dog Novice Title (TKN)! Ruby is smart and follows direction quite well, and I had over the years, taught her a number of tricks, but not quite enough to qualify for the title. With a little assistance via text message from my obedience school trainer as to how to teach one or two of the tricks, my husband videotaped Ruby's performance and we sent it to an AKC evaluator, who gave her the thumbs up! We are now the proud owners of a brand new certificate that adds a few extra letters to the end of Ruby's registered name, as well as pretty rosette to mark the achievement. If you enjoy training your dog, earning a Trick Title is loads of fun, and it certainly strengthens the bond between owner and dog! There are multiple levels of Trick Titles; Ruby received the first in the series a "Trick Dog Novice" or "TKN". Ruby is now seven and a half years old, a seasoned show dog, mom, grandmother and now also a trick dog; proof you CAN teach an older dog new tricks!! Since some class options picked back up again in the Chicago area over the winter, I decided to take Hamilton through intermediate obedience and then thought "why not tricks for him, too?" So in February 2021, we enrolled in a class. Hammie picked this stuff up so quickly that he was able to pass the title exam after the third class. I brought housemate Besito along for the test, and he passed it cold, just as he did for his Canine Good Citizen a few years back. He had picked up a lot of the skills needed over the years from training provided by my youngest daughter. Besito turned eight years old the week after he passed the test! Another older dog picking up new skills! And then, since I was really enjoying practicing with the boys, I decided to teach little Sophie after class each week everything I had worked on with Hammie, and so by week 4 of Hammie's class, Sophie also earned her own TKN title! Four of the six that live with me are now officially "Trick Dogs", and our lovely Miss Nina is essentially just a single skill away from earning the title, too. We may even try to see if our little senior man, Sammie, remembers enough to pass the test this summer. The Morninglow traveling circus troupe just may be coming to a neighborhood driveway near you soon! Awfully proud that my canine kids can do more than just smile at the camera! :-)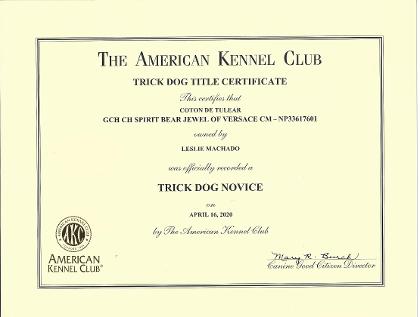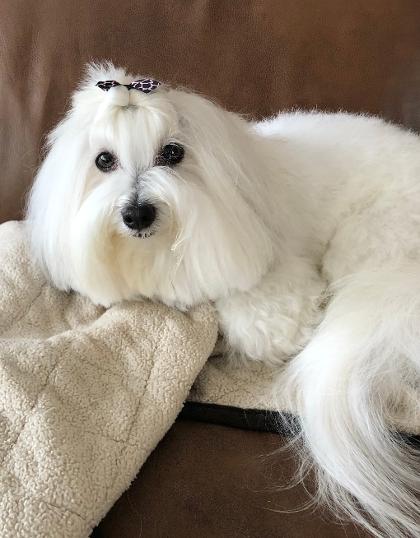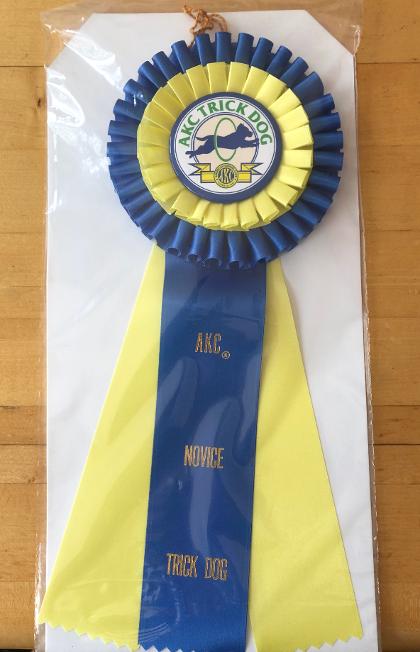 ABOVE LEFT
, Ruby's new Trick Dog Novice Certificate
ABOVE RIGHT, Ruby's TKN rosette
LEFT, my princess Ruby enjoying her retirement at home, May 2020
BELOW, our three new TKN certificates (clockwise from upper left, for Sophie, for Besito and for Hammie), and a little video snippet of Hammie in class attempting to show off some of what he had learned. He makes me laugh because his first instinct is always to offer me his paw, even when it is not what I'm asking for (he's a sweet little gentleman lol), but only does his "push ups" (going from sit to down and back again multiple times) if I use both hands clasped together. Note in the video that when I only use one hand to direct him, he doesn't move. We will continue working to perfect our communication so that he is always able to understand exactly what I am asking from him <3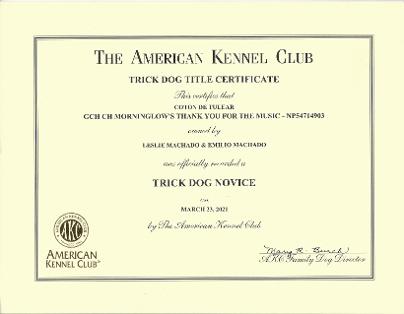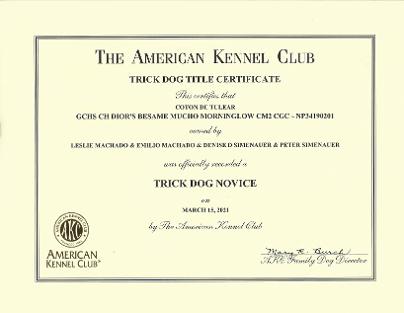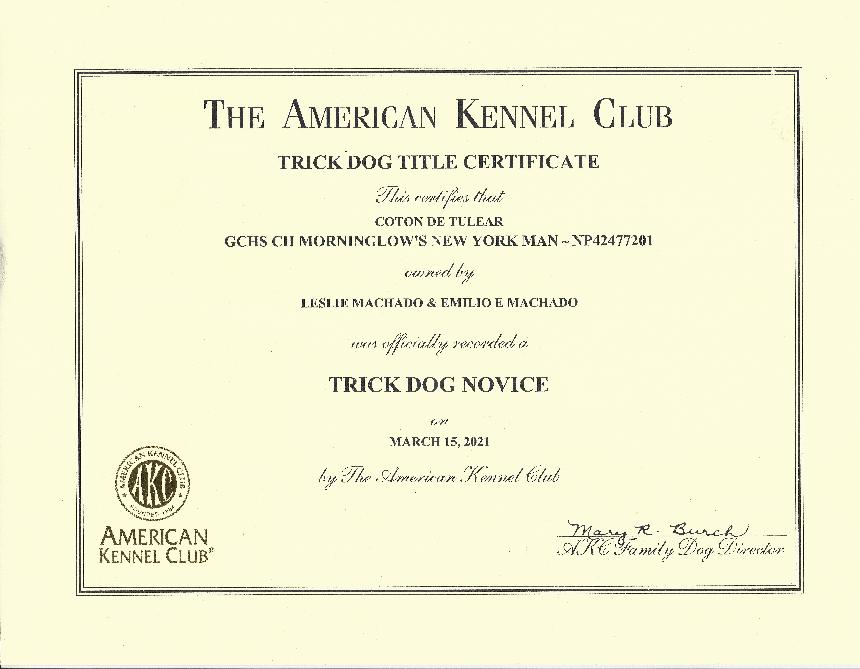 LURE COURSING
LONG RECOGNIZED AS A SPORT FOR SIGHTHOUNDS, both AKC and UKC have offered titles in lure coursing. Eventually it was discovered that many other breeds of dogs also LOVE to chase a lure, and both venues have developed programs to encourage and award those dogs in non-sighthound breeds that can successfully run the course. For a dog the size of a Coton, the course consists of a 400-yard fenced run, with a plastic bag (the modern-day lure) attached to a wire that is usually run off of a car battery around the edges of the course in various twists and turns. To successfully complete a run, a Coton would need to finish the course within 90 seconds of the start, all while following the trajectory of the lure and maintaining proper focus on it, as determined by an AKC or UKC-approved judge who is up on a ladder, watching the fun. Each completed run earns the dog a ribbon, and a "leg" towards a title. The first title (CA) is granted after the dog completes three qualifying runs. Titles continue to accrue at the 10-run level and upwards beyond. Dogs who love this sport REALLY love it, and it is so much fun to just hang around a lure coursing trial and listen to the dogs waiting their turn to fly! It's almost as if they cheer for the ones going before them!! The barking and bellowing and howling while they wait their chance to shine is just fantastic. You can tell that the owners who take their dogs to these events are truly doing it for the dogs' enjoyment. It's probably my own personal favorite thing to do with a dog, and I'm hoping that some of my other dogs besides Pippin will also want to play!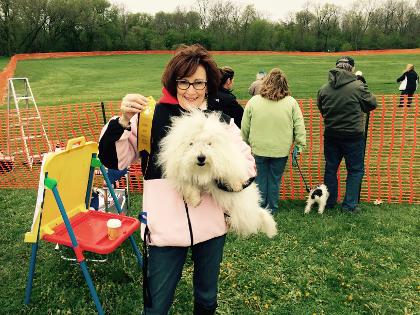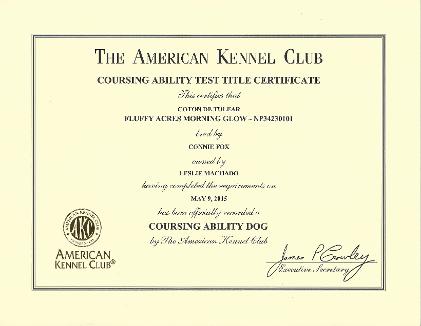 ABOVE LEFT
, our Pippin (UKC CH Fluffy Acres' Morning Glow CA), on the day (2015) he won the first CA title awarded to a Coton de Tulear by the AKC.
ABOVE RIGHT, a photo of his CA (Coursing Ability Dog) Title Certificate. Our daughter's and son-in-law's dog ( a golden retriever) has also been awarded a CA title, and we got to watch!
OBEDIENCE TRAINING
I FIRMLY BELIEVE THAT EVERY DOG, whether he or she is destined for the show or performance ring, or is just destined to be your lap dog, should receive several rounds of obedience training! Every dog, regardless of breed, is a better dog if they learn to understand what you expect of them as a part of your household. And both you and the dog benefit from the bonding that takes place in a classroom setting. It's really a thrill to learn to work with your dog as a team, whether it is in the ring or just picking up the newspaper from the end of the driveway! I practice what I preach, so I take all the dogs to school. I don't have photos of everybody, as I never thought to take photos in some of the other classes I have attended, but the instructor at the Petsmart facility where I now do my basic classes LOVES to shoot everyone and put the photos on the store's Facebook page, so now I have some basic obedience brags :-)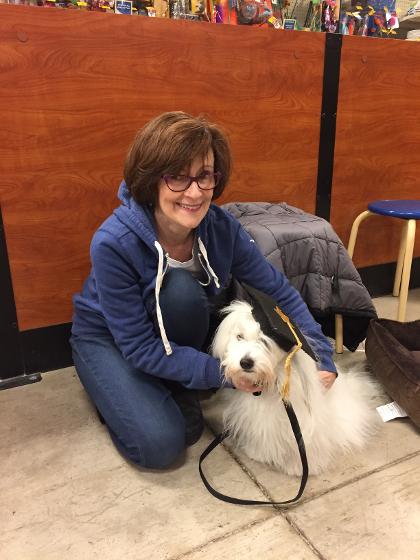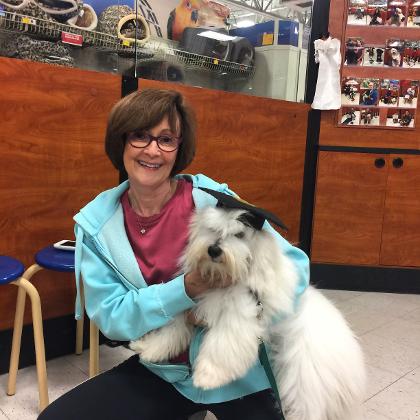 ABOVE, Hamilton (MNBISS GCHS CH Morninglow's New York Man) graduates his beginning obedience class in September, 2016,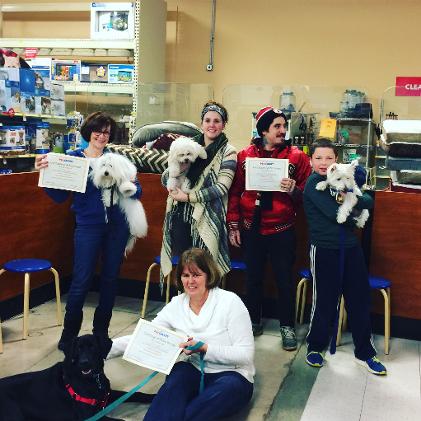 LEFT
, and
ABOVE RIGHT,
Murphy (CH Morninglow's Irish Lullaby) graduates intermediate obedience class, in December 2016.
BELOW, Murphy holds an extended "down stay" for the class instructor in November, 2016.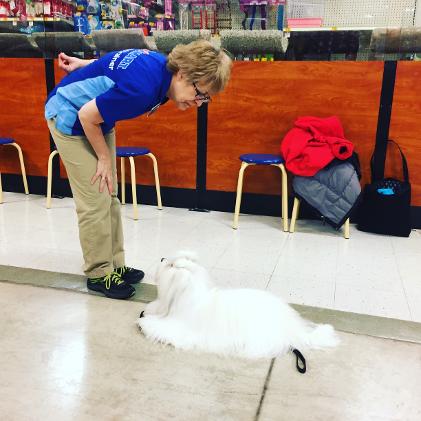 BELOW, LEFT and RIGHT, Nina (BISS RBIS GCHS CH Whispering Lane's Just Right for Morninglow) participates in her beginner puppy graduation, in February, 2016. Although the graduation photo makes it looks like it was a class for white fluffies only, Nina was the only Coton de Tulear in the group!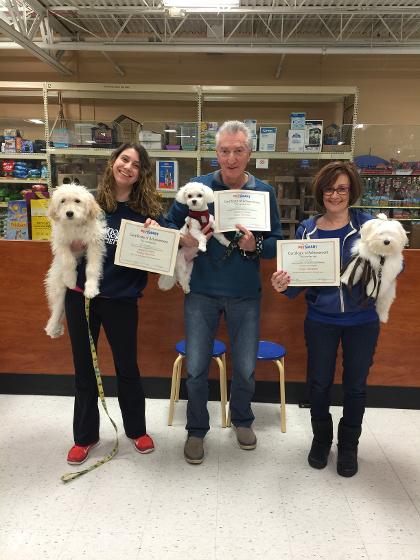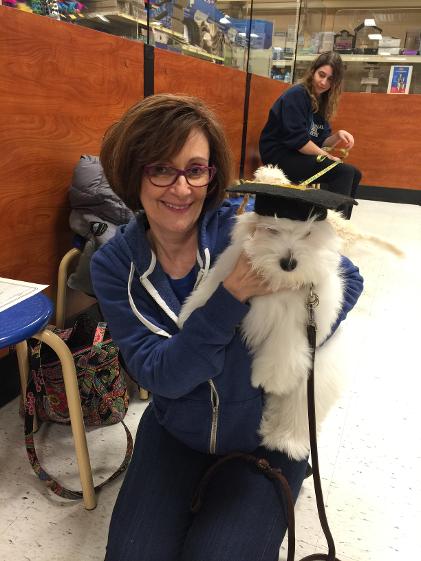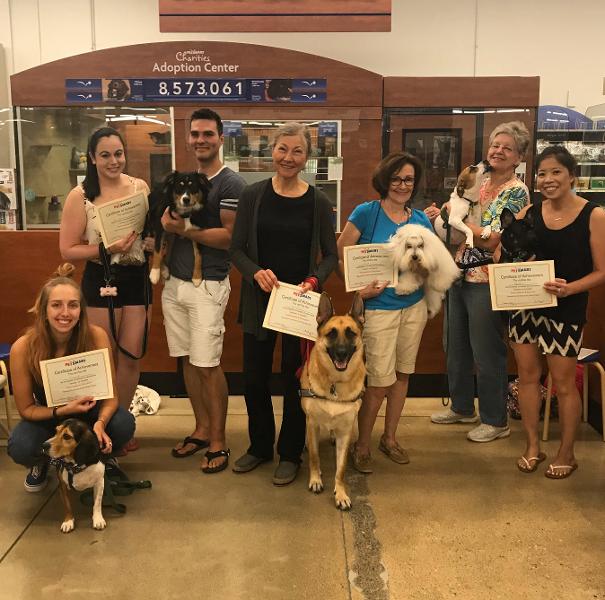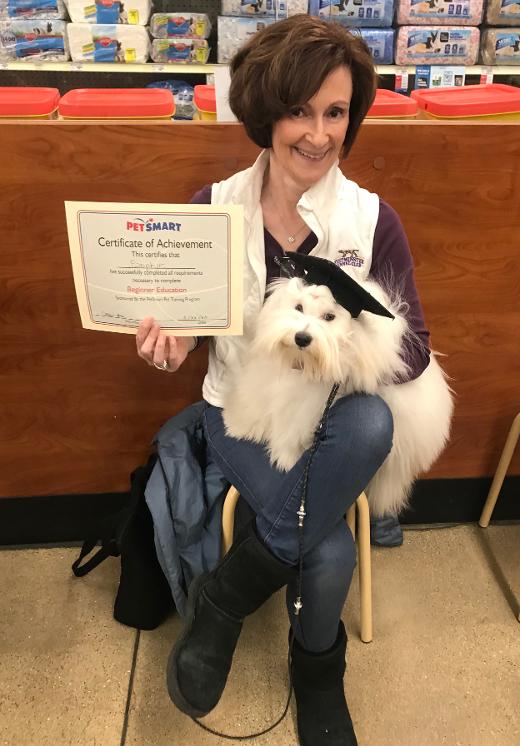 ABOVE LEFT
, Ava (CH Morninglow's Mist of Avalon) is also more than just a pretty face in the show ring. This is our group photo from graduation from Intermediate Level Obedience in July 2019. Ava completed both basic and intermediate levels in record time this past spring/summer. She won a couple of the contests held in class, including holding the longest "sit/stay" of the group on numerous occasions!
ABOVE, RIGHT, our newest basic obedience graduate is also our newest AKC conformation champion--Sophie (CH Morninglow's Thank You For The Music)! Sophie graduated basic level in late February, 2020, just before she and I left for Nashville and finished her show championship at the Music City Cluster in Tennessee during the first weekend in March. We have started Intermediate Level already, but classes have been suspended due to the COVID-19 pandemic......hoping all our fans stay safe and healthy, and that we are able to get back to classes soon. Sophie seems to be a very smart little girl, and picks up the obedience commands quickly. We are trying to continue to work on our lessons from home......after Intermediate, we plan to start an Advanced class!
In Advanced Level, we work on "bomb-proofing" the skills learned at the earlier levels, so that the dog is responsive to what you ask of it, even in the presence of multiple distractions, including people, other dogs, shopping carts, small children and loud noises, etc. Note the wide variety of types of dogs in the photo from Ava's class. Sophie's class was the same, but our teacher chose to shoot individual photos at her graduation rather than a group photo. It has been a great experience for each dog of mine to have to work to pay attention to me even in close proximity to much larger and very different-looking types of animals. This is one of the reasons I recommend to my puppy families to make sure to do group classes. It is so much easier to learn from a private trainer at home. But there are limited distractions at home, and thus the training is of somewhat limited value. I also use private training for my dogs, and know and have worked with multiple wonderful private trainers, but if I had to pick the one single best thing you can do to prepare your dog to be the best dog it can be under almost any circumstances, I would always recommend a series of multiple group classes from an excellent group trainer. Nothing can beat learning to obey commands in real life situations outside the home. If your dog is reliable outside your house, think about what a full, exciting life you can lead together!
It is a great joy to have worked with each of my dogs in these classes, and really incredibly satisfying to be able to teach my dogs skills that really can save their lives, as well as make life much easier for me as a pet owner at home.
AKC CANINE GOOD CITIZEN NO. 1
OUR BESITO IS NOW A CANINE GOOD CITIZEN; I took him in for a test without any training, and he passed on the first try with flying colors! Very proud of him, you can read more about the test and what is needed to pass it on our "News" Tab! I hope to be able to report that I have a few more "Good Citizens" by the end of this year. You can see his title certificate and new ribbon below :-)