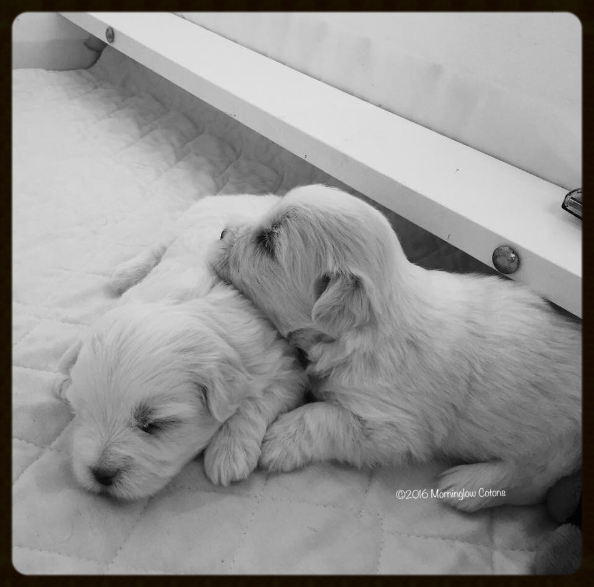 Morninglow puppies are bred with care, knowledge, and lots and lots of love! We are very small-scale breeders, looking to produce quality rather than quantity. All of our breeding dogs (and any outside dogs we use in our breeding program) are thoroughly health-tested and the results of the testing posted on the public website of the Orthopedic Foundation for Animals (www.offa.org). I breed primarily for health and for temperament. While science is not so advanced as to be able to control EVERYTHING, we do try to control for anything that we can. Additionally, we test our dogs in the show ring for conformation. Babies spend their first few weeks of life in my bedroom with round-the-clock monitoring by both me and their mom, and then move downstairs to get used to the sights and sounds of a home environment. As they progress and grow, they are exposed to different people, car travel, visits anywhere a puppy can legally be taken (i.e., the bank, the dry cleaners, homes of friends and family members). We rotate different toys and surfaces into their playpen for them to explore, and as they start to develop some independence from mom, they learn to interact and play outside the pen with the other dogs in our house. By the time they go to their new homes, they are well started on their socialization journey; however it is of the utmost importance that this journey be continued by their new forever families. Puppies are like little sponges and soak up their environments. The more situations and people they are exposed to (subject of course to safety and vaccination protocols), the better and more well-adjusted they will be as adult dogs. We require our forever families to provide formal training to our puppies, at least two series of classes. One should be an obedience training class within the dog's first year of life, the other can be a class of your choice. There are a large variety of classes to choose from at many different facilities. Healthy Cotons de Tulear are active, athletic dogs that enjoy exercise and mental stimulation. There can never be too much training. My mantra is, the more you do with your puppy, the happier you will be with the adult dog your puppy will eventually become! If you are interested in a puppy from a future Morninglow litter, please contact us and we can send you our puppy questionnaire to see if a Morninglow puppy might be a good fit for your and your family!
Our 2018 "Camelot Litter"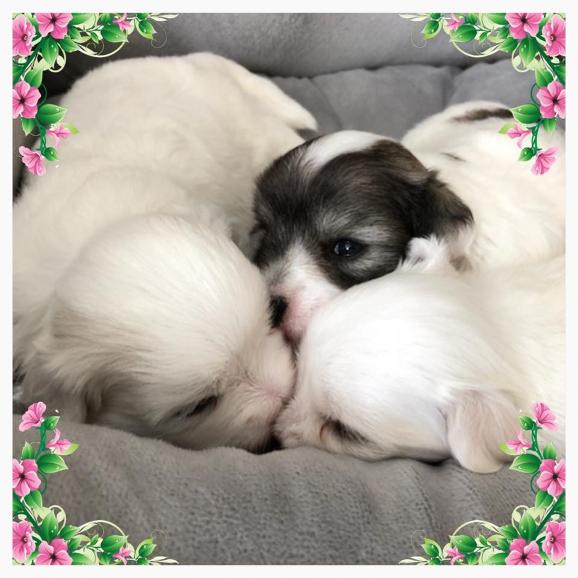 Ruby blessed us with her final litter in the wee hours of the morning on Friday March 30, 2018 with a beautiful group of three puppies, one boy and two girls! As I am traveling to the south of England this summer and visiting the area of that country from which the legends of King Arthur and the Knights of the Round Table hail, I knew my inspiration this time around would be the wonderful 1960's Lerner and Lowe musical "Camelot", the story of King Arthur, his knight Sir Lancelot, and his lovely Queen Guinevere. Our puppies, left to right in this photo, are Morninglow's Arthurian Legend (Artie), Morninglow's Mist of Avalon (Ava) and Morninglow's Queen of Camelot (Gennie). I'm busy caring for the little ones right now as they are growing and learning, but I will post more pictures as they mature. PLEASE NOTE: This litter is already reserved, no one is available. The photo above was taken at three weeks of age. Photos of mom and dad are below.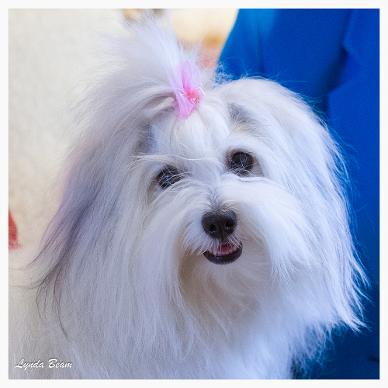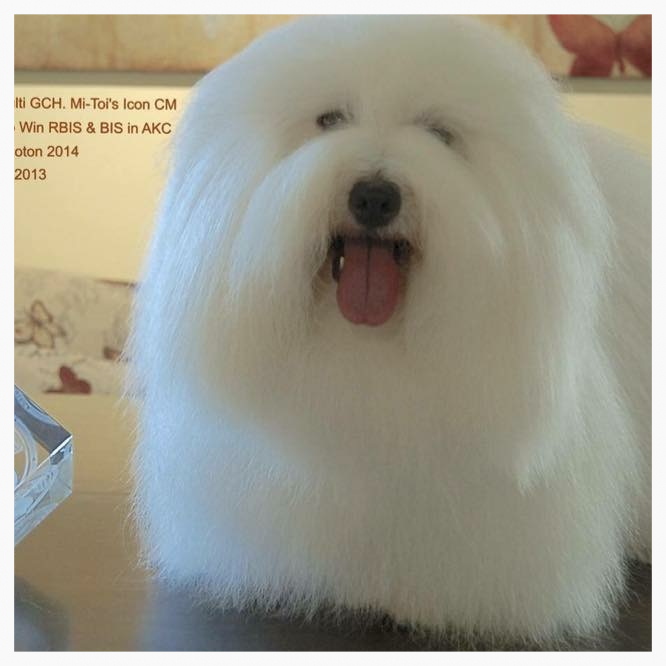 ABOVE, our precious "Ruby"-- GCH CH Spirit Bear Jewel of Versace CM, dam to this litter.
RIGHT, BIS GCHB CH Mi-Toi's Icon CM, sire to this litter. Icon is the only male Coton de Tulear to receive an all-breed Best in Show award to date in American Kennel Club competition. We thank Luis Ortiz of Mi-Toi Cotons in Florida for lending Icon's good looks to our program. We think the two of them made a lovely combination! More photos to follow......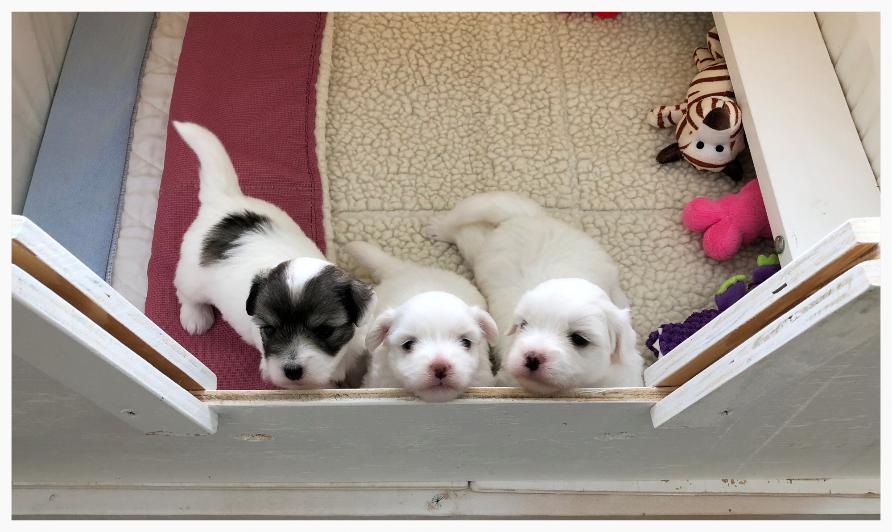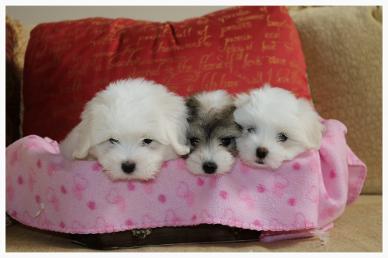 UPDATE ABOVE! NEW PHOTOS
LEFT, puppies at three weeks old, ready to jump out of their first home and start exploring the world! Left to right, they are Avalon, Gennie and Artie.
RIGHT, puppies at seven weeks old, after their first baths, posing in a basket. Left to right they are Artie, Avalon and Gennie. Growing up much too fast :-)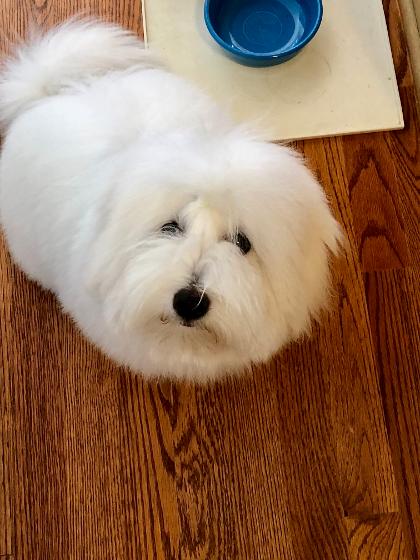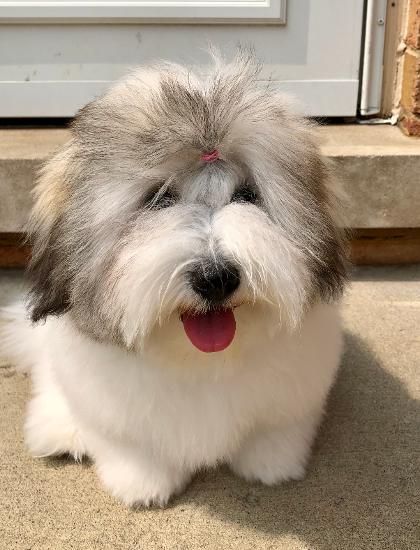 ABOVE LEFT and RIGHT, Artie (Morninglow's Arthurian Legend), the boy puppy, and Ava (Morninglow's Mist of Avalon), the tri-colored girl, at 21 weeks in August 2018. The third girl, Gennie (Morninglow's Queen of Camelot), left us for her forever home back in July, and is adored by her new family, which includes an 8-year girl who built her a doll bed to sleep in. Must find that photo and post it! We like Artie and Ava so much that they are both staying here with us for the time being, while we grow them out a bit more. Two adorable, sweet and loving pups; they are exhausting me, but worth every minute! Notice how much Ava's jet black coloring at birth is fading out! I will post more photos as she grows and continues to change in appearance.
OUR 2017 LITTER HAS ARRIVED!!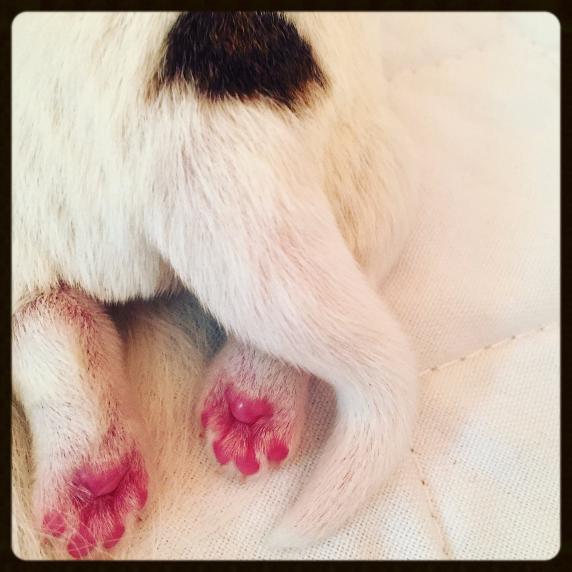 Introducing the "Chicago Cubs Championship" Litter
We are thrilled to announce the arrival of a new litter for 2017, born in the morning of Saturday, July 15th! We decided on a repeat of our 2015 breeding of Besito x Ruby, and were rewarded with a lovely tri-colored male and a beautiful snow-white little female, the first little girl that Ruby OR Besito has ever produced! I have been a life-long baseball fan, and particularly of the Chicago Cubs; it was a long-suffering passion that I have shared with my late father and my younger sister, and their World Series win last fall was an emotional dream come true, as it was for many other Chicago baseball fans. So I had to honor the end of the 108-year championship drought with puppy names! The little boy is named Morninglow's Lets Play Two ("Ernie") in honor and memory of the best Cubs player of my lifetime, Mr. Ernie Banks, and the little girl is named Morninglow's Swinging for the Ivy ("Ivy") in honor of Wrigley Field's classic outfield walls. Both puppies were reserved before birth, so neither is available, but I wanted to share some of their early photos. I will add more as time goes on. Puppy time is very precious and goes by far too fast.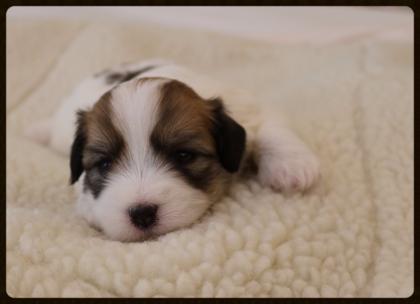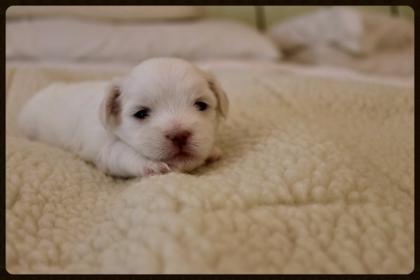 LEFT, Ernie (boy) at two weeks old; ABOVE, Ivy (girl) at same age.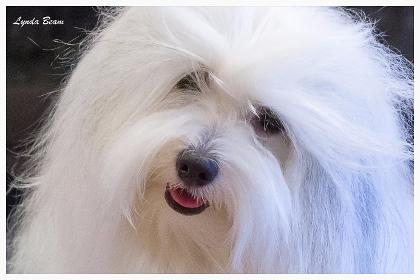 ABOVE
, GCH CH SPIRIT BEAR JEWEL OF VERSACE CM (RUBY), the mother of this litter.
RIGHT, MBISS GCHS CH DIOR'S BESAME MUCHO MORNINGLOW CM2 CGC (BESITO), the father of the litter.

If you are familiar with our site, you probably already know a lot about these two. If you are not, you can find out more about their accomplishments both in and out of the show ring by going to the "Our Cotons" tab, and then to "Our Males" or "Our Females". There is also information about both of them in the "News" tab. Aside from the fact that we adore both of them, they also seem to adore each other. We have had other males in the house, and Ruby has always only had eyes for Besito! And Besito follows her around adoringly :-) They make a very happy couple! Ruby has been an outstanding mother to all of her offspring, and has continued to be so with this litter. Besito is also an amazingly good dad, especially to the ones he seems to know instinctively are his own!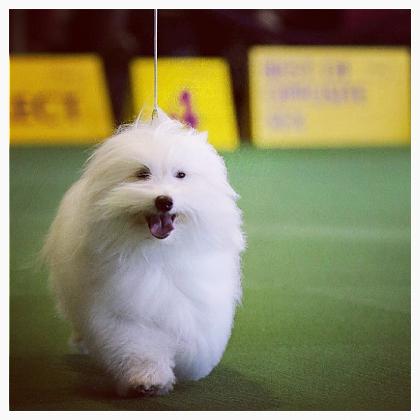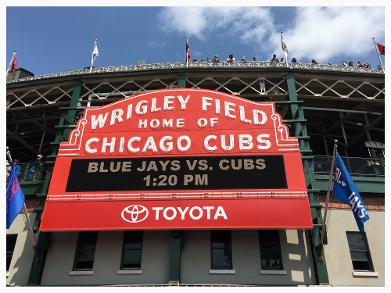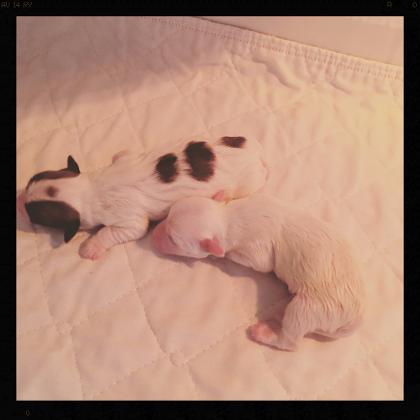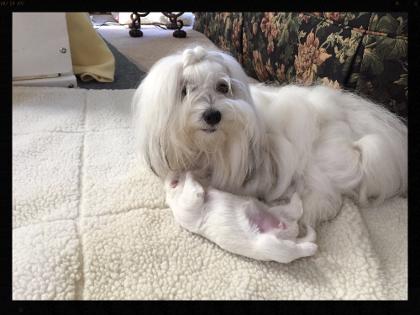 LEFT, puppies about 12 hours after birth. Ruby does her usual great job cleaning them up; ABOVE, Ruby attending to her very first little girl, Ivy, about ten days after birth. More to come......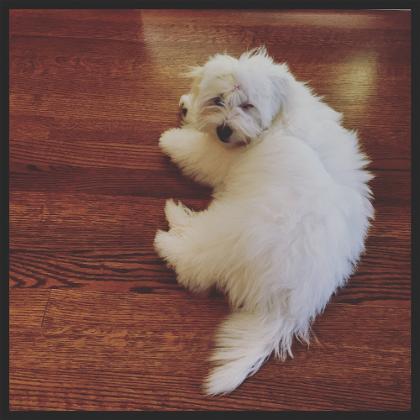 ABOVE,
Ivy at about 18 weeks old, a few weeks before she left us to join her new family. She lives close by with her big brother from our "Irish Litter", Chubs, in a wonderful family and we get to visit both of them regularly.
RIGHT, Ernie at about 10 weeks old, before he left for his new family.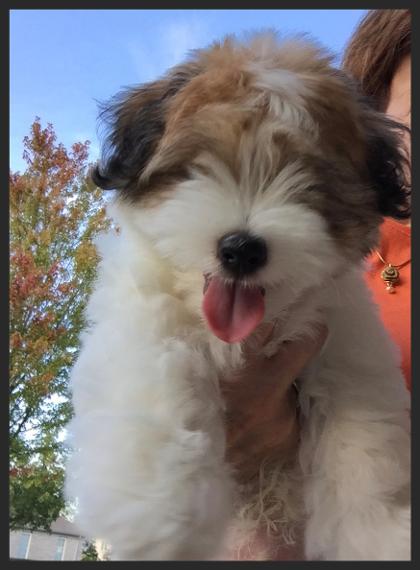 OUR 2016 "Hamilton Litter"
Our Ruby is proud to announce the birth of her second litter on the afternoon of March 13, 2016! She and the daddy, World Dog Show Winner 2012 GCH Sugar's Bay's Beringer, owned by my friend Beverly Kohler, are the proud parents of two beautiful pure white baby boys! Ruby and the babies are doing well and are currently twelve weeks old. If you have poked around on this website, you will have discovered that we are American musical theatre geeks around here, and named our breeding program "Morninglow" after a beautiful song in the famous Broadway show "Pippin"! Continuing the tradition of looking to the theatre for inspiration, this year's litter is named in honor of the hottest ticket currently playing on Broadway, Lin-Manuel Miranda's brilliant and revolutionary telling of the story of our founding fathers, "Hamilton-An American Musical." We were fortunate enough to be able to see this spectacular show on Valentine's Day, the day before Besito took Select Dog at the Westminster Kennel Club Dog Show in New York, and I decided right then and there that I had my theme! Immediately below are photos of mom and dad, and below that, photos of the new babies. We have loved watching them grow and develop, and watching momma Ruby take her usual EXCELLENT care of her young.
THE PARENTS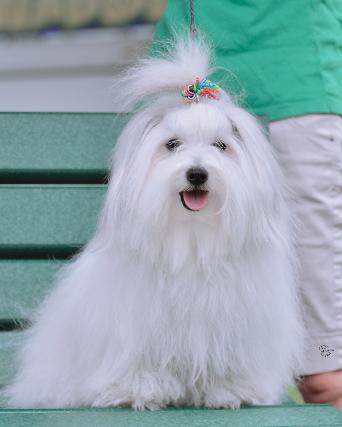 MOM
CH Spirit Bear Jewel of Versace CM ("Ruby")
You can find a link to Ruby's extensive health testing on record with the Orthopedic Foundation for Animals by clicking here.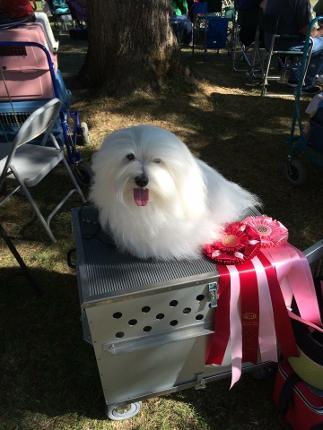 DAD
WDW 2012 GCH Sugar Bay's Beringer
You can find a link to Beringer's extensive health testing on record with the Orthopedic Foundation for Animals by clicking here.
......AND THE KIDS........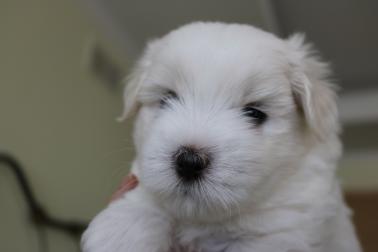 OUR FIRST-BORN, Morninglow's New York Man ("Hammie)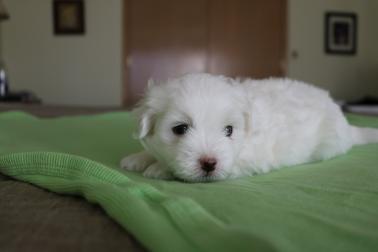 OUR SECOND-BORN, Morninglow's Here Comes The General ("Georgie")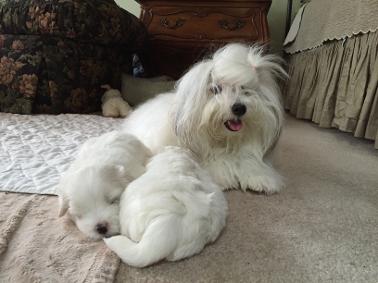 MOMMA RUBY hanging out with the babies at about two weeks old . Hammie is the one facing the camera.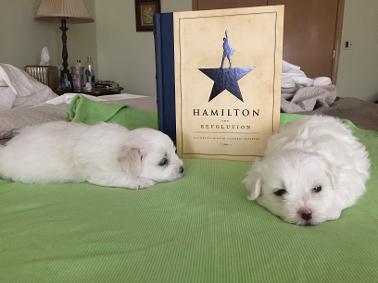 HAMMIE, left, and Georgie, hanging out with the "Hamiltome", the book about the show that inspired their names :-)
Enjoy some cute video I shot of the pups playing with their new baby gym!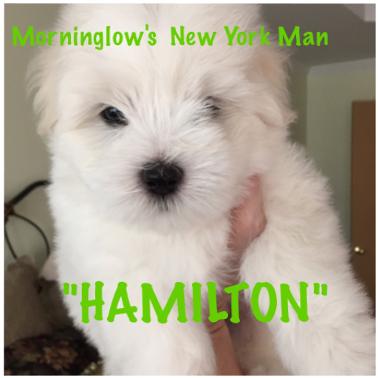 HAMILTON at seven weeks of age, end of April, 2016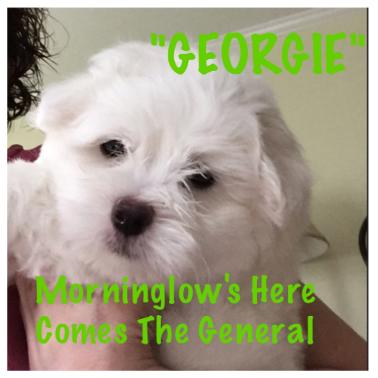 GEORGIE at seven weeks, end of April 2016
PUPPY TIME PASSES MUCH TOO FAST!!
Murphy has been staying with his other momma for a few weeks while I have been busy with the puppies, and we recently brought him over to meet Hammie and Georgie for the very first time. Little brothers seemed non-plussed by big brother, and big brother was both gentle and sweet with the little ones! Nice for Murphy to meet some baby dogs, and nice for the little pups to get accustomed to yet another member of the family. Win-win!! Enjoy the video below....
OUR 2015 "IRISH LITTER"
Our first Besito x Ruby litter arrived late in the evening on Tuesday March 17, 2015. Mom had a routine labor and natural delivery, and turned out to be a fantastic mother to her three little boys. I loved helping Ruby deliver and raise this litter, watching the pups grow and develop their own personalities, and to see how easily and naturally Ruby took to first-time motherhood. All pups were sold and have moved on to their new forever homes. We have kept a co-ownership on our litter pick, Morninglow's Irish Lullaby (Murphy), and he has not disappointed us! Before the age of nine months, with only a few times in the show ring, he received Winners Dog (best class male) three times, one of them being a three-point major win at the 2015 Eukanuba National Championship!! He is now "CH Morninglow's Irish Lullaby", having completed his AKC Show Championship at the age of 13 months with only limited showing. You can find more photos of Murphy by clicking on the "our cotons" tab and then clicking on "our males". He is listed under his daddy Besito.
Please enjoy some baby photos from the first few months, and a funny video of two of the pups playing below.
ABOVE LEFT, our "first-born"; arrived at about 9:30 pm, weighing 5.6 ounces. He is the smallest of the litter, although not by much, but is full of friendly spunk!
ABOVE RIGHT, our "second-born"--THE BIG GUY--born at 10:30 pm and a whopping 8.1 ounces!! We nicknamed him "Chubs" for a few weeks until we could decide on his registered kennel name!
ACROSS RIGHT, our "baby", the last-born, weighing in at 6.5 ounces at 11:15 pm. After delivering big Bailey, mom hardly noticed this one's arrival :-) However, she soon figured out that Murphy is the snuggler of the bunch! He is super affectionate, loves to be held, kissed and cuddled!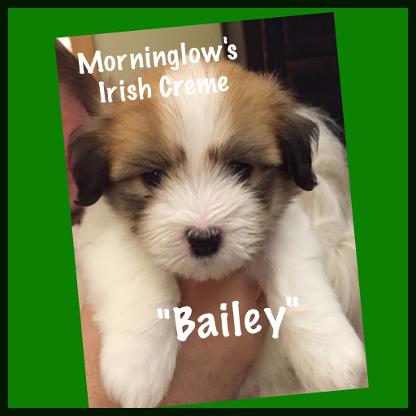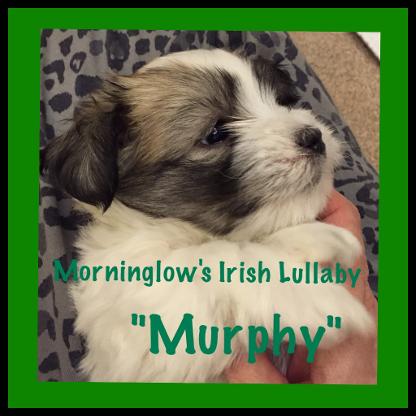 SOME ADDITIONAL BABY PHOTOS FROM THE FIRST FEW WEEKS!!
CLOCKWISE, FROM LEFT, Bailey cuddling a toy; Murphy giving me quite the intense stare on the day he opened his eyes for the very first time; Murphy yawning just before nap time; and the entire group a day or two after birth.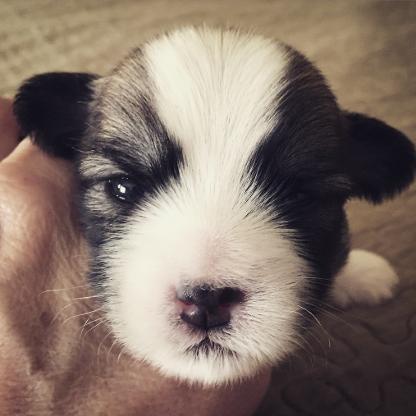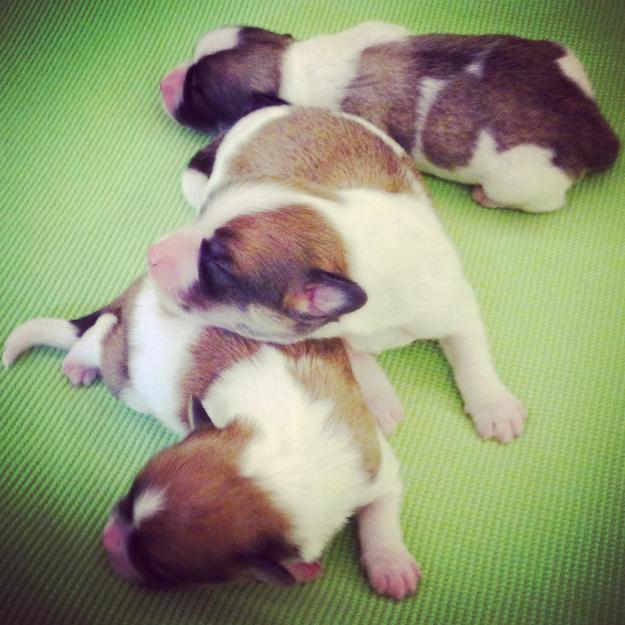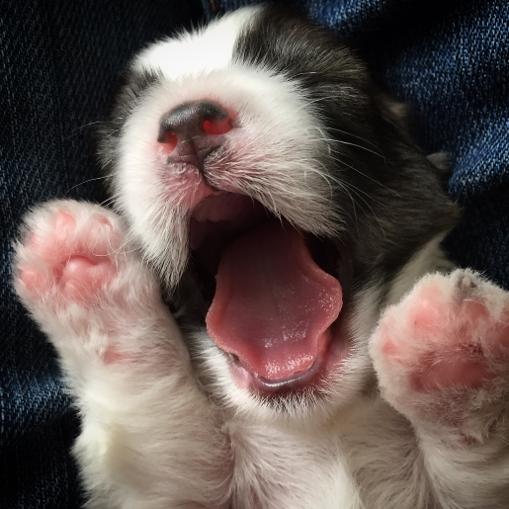 Our Irish Litter started leaving home at Memorial Day, here is my last photo with all four of us together, also some photos of the boys between 9 and 12 weeks of age. Enjoy!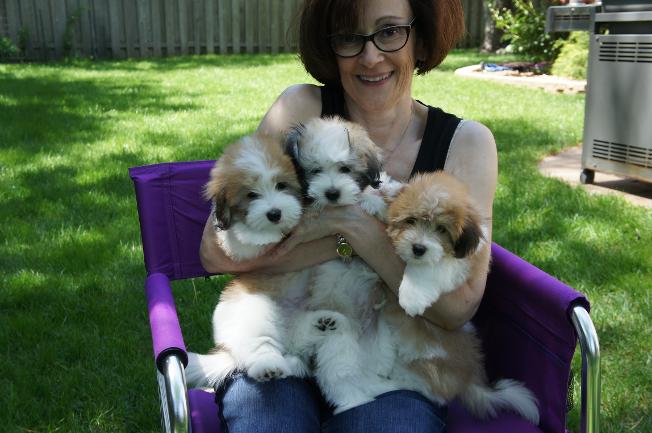 ABOVE, LEFT TO RIGHT, CHUBS (formerly "Bailey", we tried, but that name wouldn't stick), Murphy and Finn.
BELOW, LEFT, Chubs in his new forever home. His mom was kind enough to send this to me.
BELOW, RIGHT, Finn in our house at about 12 weeks of age, just before he left for his new family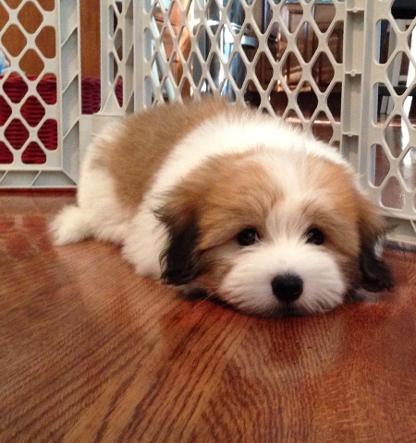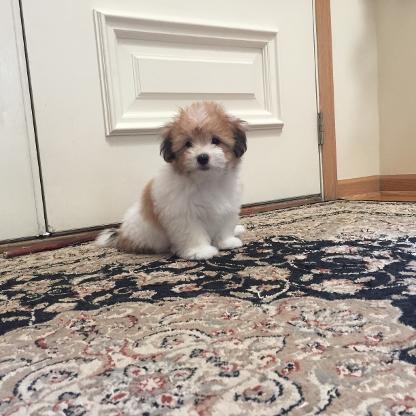 BELOW, LEFT AND RIGHT, Murphy, who will stay with us part-time as we co-own him with another family and continue to watch him fade! Should be fun!!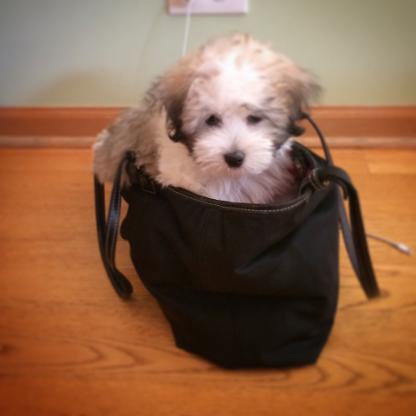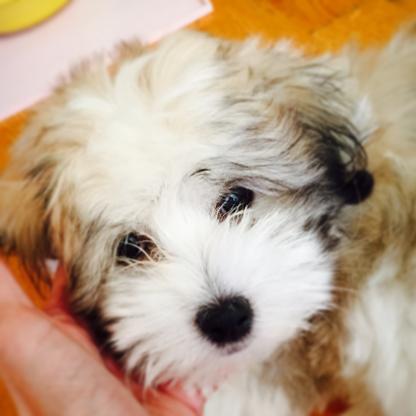 THE IRISH BOYS @ 9 months old!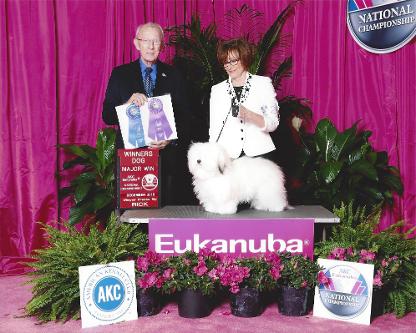 ABOVE, Murphy's official win picture from the 2015 AKC/Eukanuba National Championship in Orlando, Florida. Murphy was handled to this very exciting win by the lady who helped Ruby bring him into this world--ME!! :-)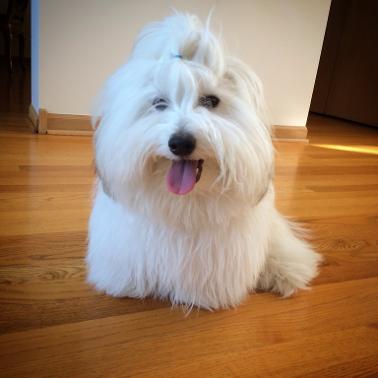 ABOVE, Murphy at home. This is the same dog with the black mask across his face above! Now an almost completely white Coton de Tulear!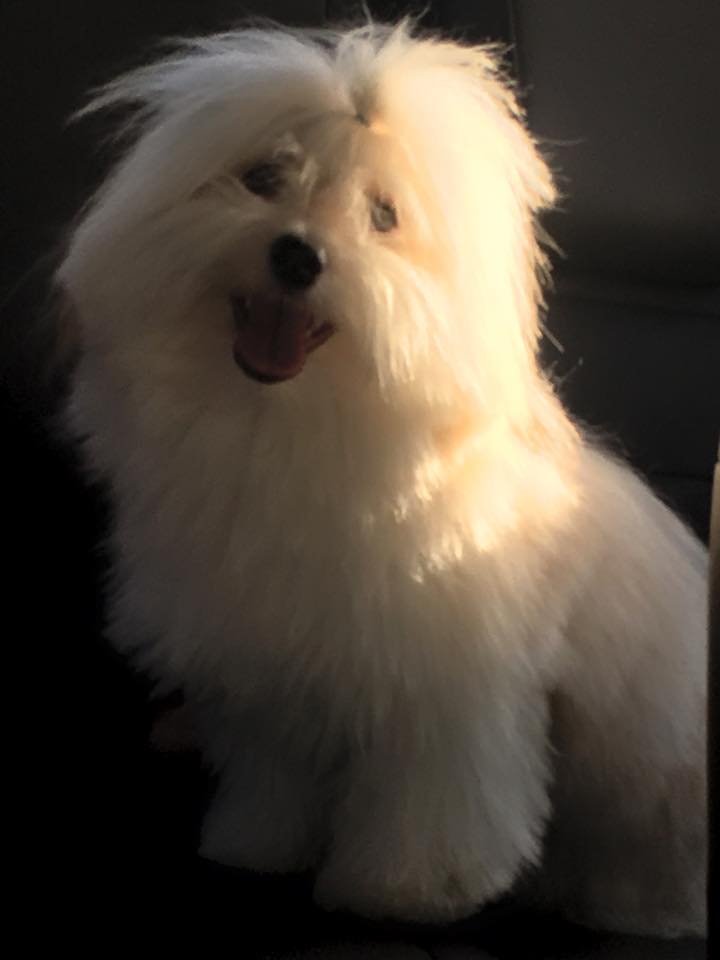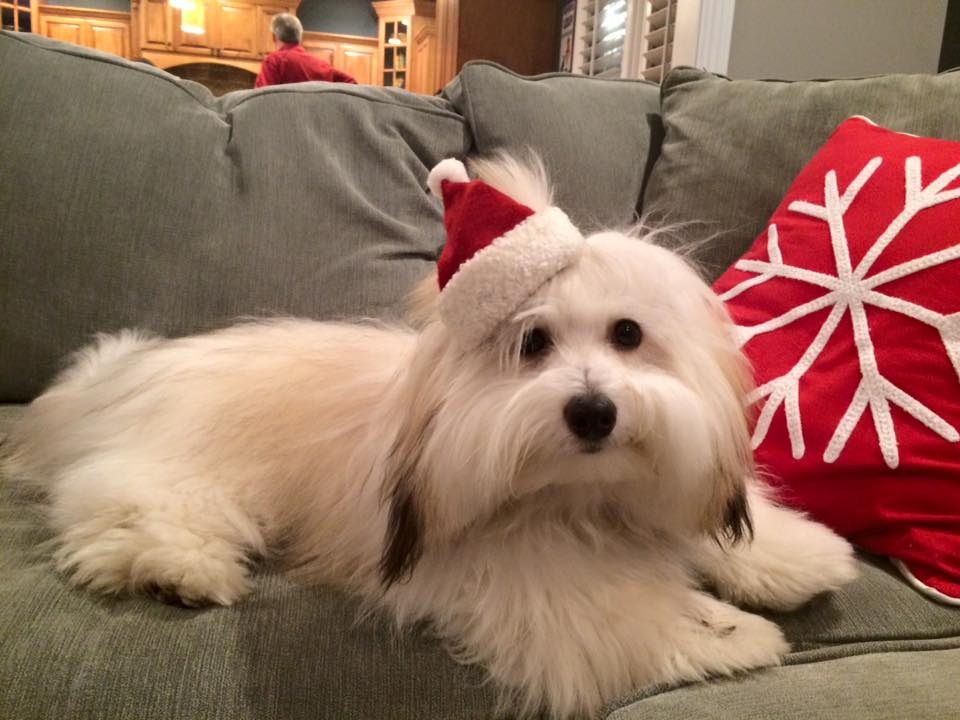 LEFT, Finnie at nine months. Almost all his reddish color is gone as well!
ABOVE,Chubs celebrates his first Christmas with his forever family! Chubs seems to have kept the most color out of the three boys, but is still fading each time I see him.
BELOW, a cute video of Finnie showing off his singing skills. According to his forever mom, he only accompanies classical music, never pop or rock!!