THE 2017 UNITED STATES OF AMERICAN COTON DE TULEAR CLUB NATIONAL SPECIALTY SHOW WINNER,
BRONZE-LEVEL AKC GRAND CHAMPION
and
NUMBER ONE GROUP WINNING COTON for 2017!
NINA
RBIS BISS GCHB CH WHISPERING LANE'S JUST RIGHT FOR MORNINGLOW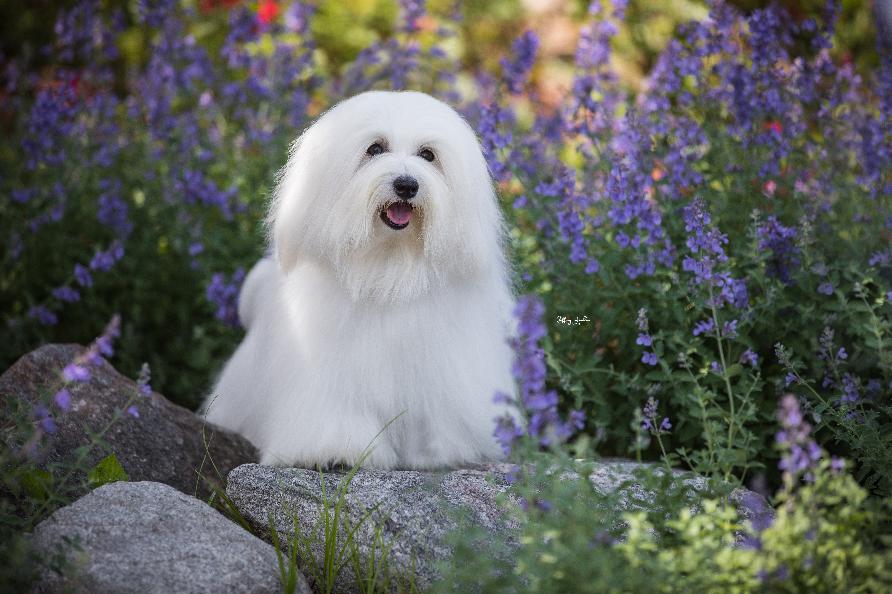 NINA comes to us from the suburbs of Phoenix, AZ and our good friends Melinda and Mark Amsden of Whispering Lane Cotons. Nina was born in September, 2015 to GCH Cowboy's Buffalo Hunter, CM and CH Jespersen's Melancholia CM. She is a darling little princess with super white coat, very black nose pigment and an ultra-feminine expression. Has exactly the temperament we want in a Coton; playful and active, yet still easy to settle down and very cuddly. She and Murphy and Hamilton have become fast friends and LOVE to race around the house together! Nina began her show career with a weekend in Wheaton, IL, in June, 2016, with a Best of Opposite Sex win over "specials" (dogs who have already earned their championships)! She has also taken Best of Breed Owner-Handled four times, three of those times over specials. Unfortunately on two of those four occasions,, I had family commitments and couldn't stay to show her in Owner-Handled Groups....but on the first day I did, she won the OWNER-HANDLED Non-Sporting Group! . I love handling her, and she seems to love being in the ring with me! She finished her AKC Championship on August 27, 2016, exclusively owner-handled, at the Elgin Kennel Club Show in St. Charles, IL and went on the next day to earn her first Grand Championship major win on her first day out as a new "special"! Nina then went on to finish her Grand Championship title less than three months later, in mid-November, 2016. Nina completed her Bronze Level Grand Championship on 12.12.17, by going Best of Breed on the first day of the 2017 AKC National Championship Royal Canin cluster in one of the largest coton entries of the year! Nina is also the reigning 2017 AKC Coton National Specialty Show winner, again taking a Best of Breed over one of the larger entries of the year outside St. Louis, MO in September, 2017! Nina had a stellar year in the show ring in 2017, has been ranked in the Top Five in National Breed Points, All-Breed Points, and Grand Championship Points, and has received invitations both to the 2018 Westminster Kennel Club Show in New York City and to the prestigious Crufts Dog Show in Birmingham, England! In 2018, she has spent the entire year as either the NUMBER ONE COTON DE TULEAR in AKC all-systems, in national breed, national all-breed (group placements) and grand championship points, or in one or the other of those categories!! It's been a remarkable ride; she has exceeded all of our expectations and then some; you can read about her various exploits as they happened if you click on the "News" tab, and there are also many more photos there. Nina turned two years old in September 2017, the Monday immediately following her National Specialty victory, and we have completed all of her preliminary health testing and most of the final testing. You can click here to see what has been performed to date, as well as see the extensive health testing that HER breeder has performed on each of her parents!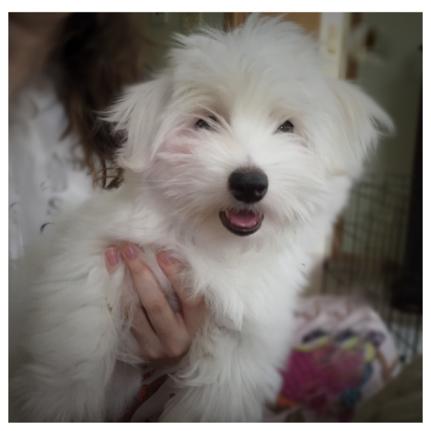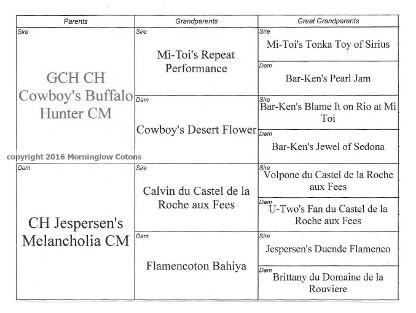 LEFT, Nina as a little pup, just arrived at our house, December 2015.
ABOVE , Nina's 3-generation pedigree.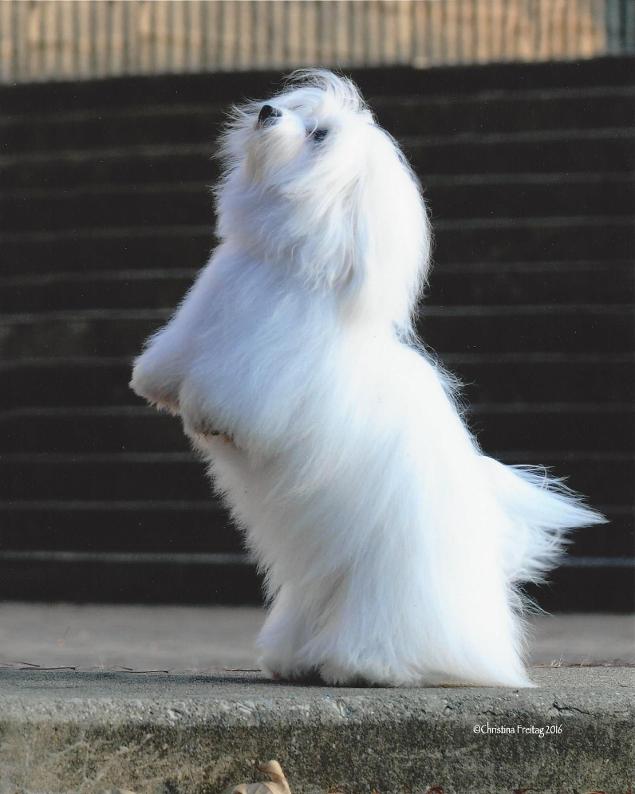 ABOVE
, Nina clowning around in typical Coton de Tulear fashion, in November 2016, outside on the grounds at a show in Ohio.
ABOVE,
Nina at 14 months old, as captured by professional photographer Christina Freitag.
Please enjoy a little video of our Nina and Murphy at play! These two are absolute best friends, and so totally display the "joie de vivre" or "joy of life" that a properly-bred Coton de Tulear pup should have. I can watch these two enjoying each other's company for hours.....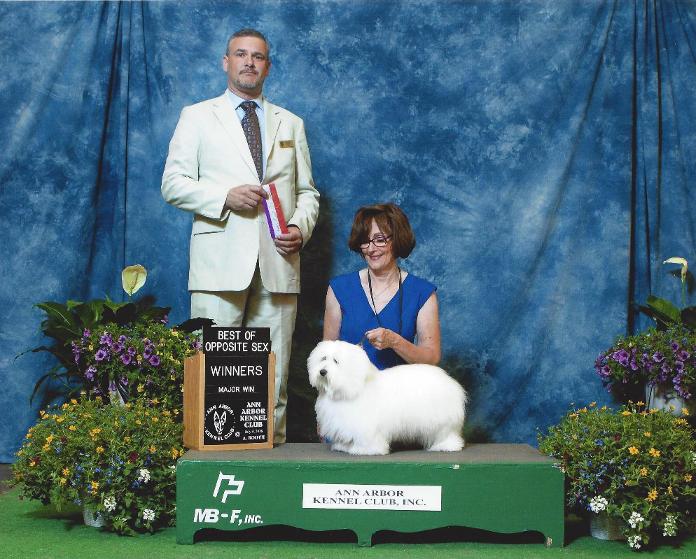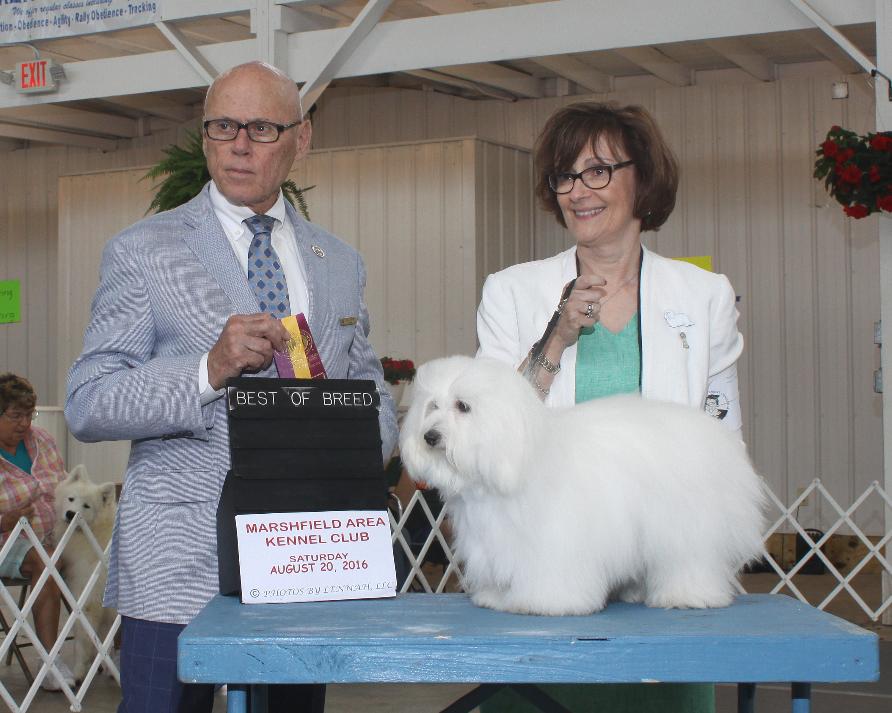 ABOVE LEFT and RIGHT, some early photos of some of Nina's first wins as a puppy in the ring with me as her handler, in the summer of 2016 in Michigan and Wisconsin. Nina was owner-handled exclusively by me to her AKC Championship. Many thanks to Judge Shawn James Nichols and Judge Edd Bivin for these wins! On the day pictured at right, Judge Bivin also awarded Nina a Best of Breed Owner Handled (BOBOH) which allowed her and me to go on into the Owner-Handled Non-Sporting Group competition, where she took a Group 1 placement (first place), and then into the Owner-Handled Best in Show ring! Was a wonderful, fun, exhausting day!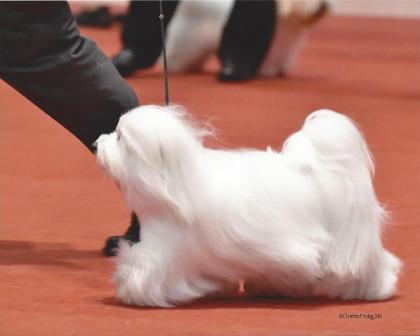 ABOVE LEFT and RIGHT, Nina in motion in the ring during the 2016 AKC National Championship week in Orlando, Florida, and seeming to glide across the floor with one of her handlers, Robin Novack, during a show in the summer of 2017 in Topeka, KS, where she received a Non-Sporting Group 1 (first place among all Non-Sporting Group dogs entered in the show). These are both favorite photos of mine, as they really highlight how beautifully and fluidly she moves.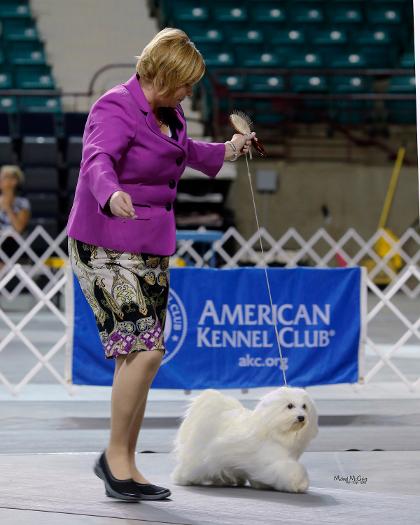 NINA IS THE NUMBER ONE GROUP-WINNING COTON IN 2017 AND IN 2018!
In addition to earning many Best of Breed wins, and earning an AKC Grand Championship, Nina has accumulated a large number of regular Group Placements as well! After a dog competes and wins the top spot in their breed at a show, they are entitled to go on to complete in 'groups' competition. AKC divides all of its recognized breeds (approximately 190) into seven different groups. The breed winner in each breed goes on to compete against all the other breed-winning dogs in their assigned group, and first through fourth place honors are bestowed by the group judge at each show. All of these placements (first through fourth) accumulate what are called "all-breed points" for the winners, but the First Place dog in each group (called the "Group 1" winner) gets to go on to the final and most exclusive part of the competition at a dog show, which is the Best In Show Competition. Only seven dogs (one from each of the seven groups) out of all the dogs entered at a show compete for Best in Show, and a winner and a reserve winner are picked from those seven by the BIS Judge. Winning a Best in Show is a dream we hope perhaps to achieve one day! Cotons de Tulear are a part of the Non-Sporting Group in AKC. Nina has won over 50 regular Non-Sporting Group placements (as opposed to Owner-Handled group wins, a separate competition described in more detail on the "News" tab with regard to both Murphy and Nina) to date (as of August 29, 2018), and is also the Number 1 Group Winning Coton (more Group 1 placements than any other coton competing in AKC) for each of the last two years (2017 and 2018 to date). She has won a grand total of TEN Group 1s in her short specials career of just about 15 months. Just a few of photos are shown below; there are a few more on the "News" tab, and quite a few more on my computer that I haven't had time to upload here. We are very proud of this very pretty, sweet little girl and everything she has accomplished thus far!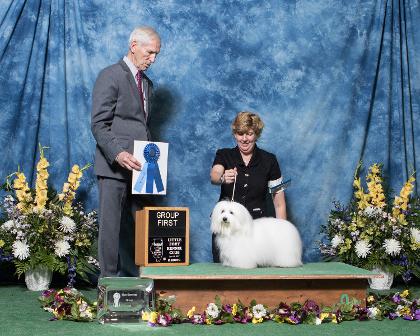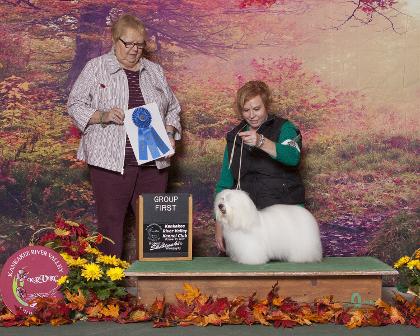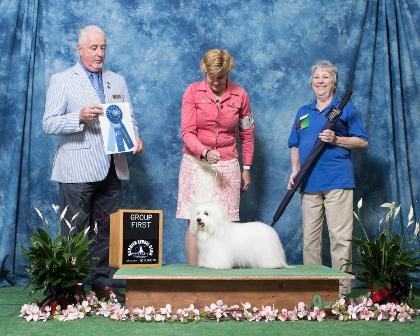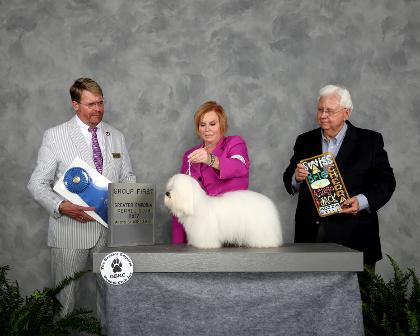 ABOVE CLOCKWISE FROM LEFT, a grouping of Nina's "Group One" or "Group Winning" photos; from Little Fort Kennel Club of Waukegan, IL, on June 16, 2017 (her very first), to Berrien Kennel Club (South Bend, IN) on July 23, 2017, to The Greater Emporia Kennel Club (Topeka, KS) on August 18, 2017 to the Kankakee River Valley Kennel Club (IL) on October 15, 2017. Many thanks to Nina's handlers and good buddies, Laura King and Robin Novack of Daybreak Kennels, Inc. for the great job they do with her, and of course to Judges Mr. Joseph Gregory, Dr. Steve Keating, Mr. Randy Garren, and Ms. Betsy Dale, respectively, for these amazing honors! Nina has another six "Group One" honors; some are scattered elsewhere on this website, and some remain to be posted.
Here is some video of our Nina in the Non-Sporting Group ring at the Key City Kennel Club show in St Peter, MN over Memorial Day weekend, 2017. Nina received a Group 3 placement from Judge Luc Boileau for this performance. A lady who follows me on Instagram and who was at the show that day realized she was watching a dog that she follows, and was kind enough both to videotape this and to send it to me! You can read more about the exciting show ring wins Nina has recently received and see more photos on the "News" tab! Nina was handled to this win by Laura King.
RUBY
GCH MULTI-CH Spirit Bear Jewel of Versace, CM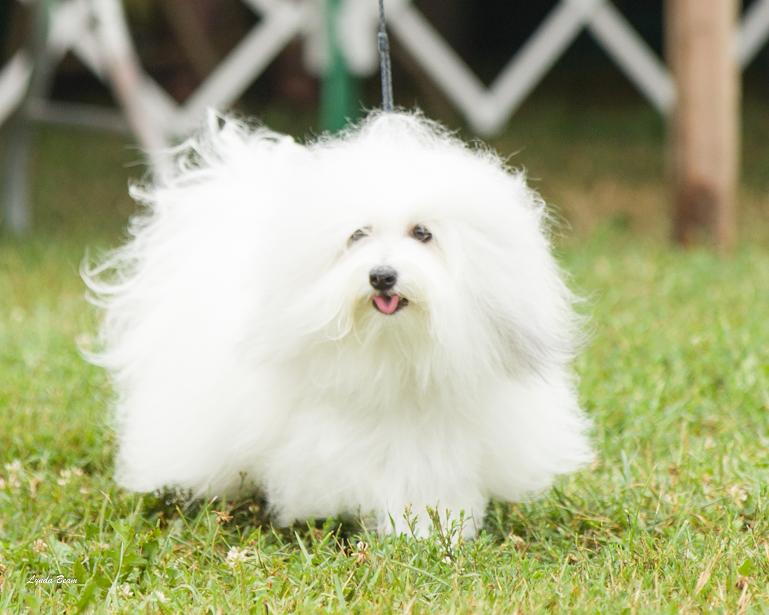 RUBY is our very special international Coton princess, who came to us from British Columbia, Canada. Ruby is the first daughter of both Multi-CH Cotonkiss Versace, a 2010 Crufts winner, and Canadian CH Spirit Bear Lil' Snow Drop. Ruby won Best of Breed at her very first competitive AKC outing in the show ring, at the prestigious International Kennel Club of Chicago show, in February 2013, the week she turned six months old! She is a striking beauty, with her mom's gorgeous face and the faded tri-color ear shadings of her magnificent father. Ruby LOVES to boss the boys around at home, and to snuggle with us in bed at night. Ruby finished her American Kennel Club (AKC) Championship on August 9, 2014, among the first ten Cotons de Tulear in history to earn such an honor! She is also the very first foreign-born female to finish an AKC Championship!!. At the end of the first month of regular AKC class competition, Ruby was ranked as the Number 7 Coton de Tulear (and Number 3 Coton de Tulear bitch) in the entire country!! Ruby has been a multiple AKC BEST OF BREED and BEST IN MISCELLANEOUS CLASS winner, and successfully completed her AKC Certificate of Merit (CM) title in December, 2013. She is a United Kennel Club Champion, and is almost halfway to her UKC Grand Championship. She is also a USACTC (AKC Parent Breed Club) Champion. We are also pleased to announce that Ruby is a CHIC (Canine Health Information Center)-certified bitch. This means that she has completed all health testing required by the Orthopedic Foundation for Animals for the Coton de Tulear breed. In Ruby's case, we have also performed a great number of additional DNA-based and other health tests. And Ruby has passed them all! Ruby finished her AKC Grand Championship on August 27, 2016, at the Elgin Kennel Club show in St. Charles, IL. She is also the mother to our 2015 "Irish LItter," our 2016 "Hamilton Litter", our 2017 "Chicago Cubs" litter, and her final litter, our 2018 "Camelot Litter" pics of which you can find on our "Puppies" page. She has been an amazing show dog, favorite pet of mine, and wonderful mother to seven little boy puppies and three little girls. Ruby is retiring from active mothering; however, a few of her kids continue to live here with us, and she dotes on them constantly, they can do no wrong! We hope to start Ruby in some other activities and we continue to look forward to great things from her; she never disappoints! She remains the best bed partner any human can ask for, and I love her dearly. You can check out Ruby's very complete health testing here.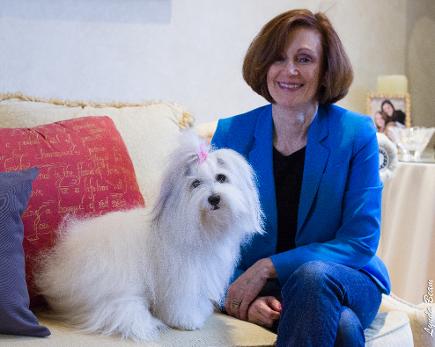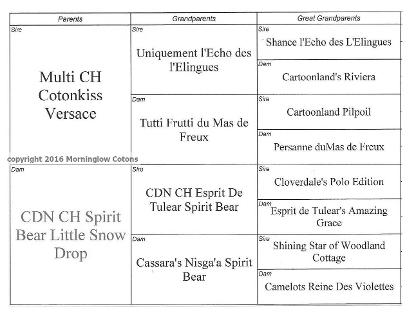 ABOVE, Ruby's 3-generation pedigree.
RIGHT, My absolute favorite Ruby photo, taken at the summer 2014 Canfield, OH cluster later in the day on the day she took Best of Breed over ten other Cotons, including specials (win photo from earlier that day is just below). She just looks so happy and pretty in this photo and the colors are so lovely. Many thanks to pro photographer Krista Droop, who shot this photo for me.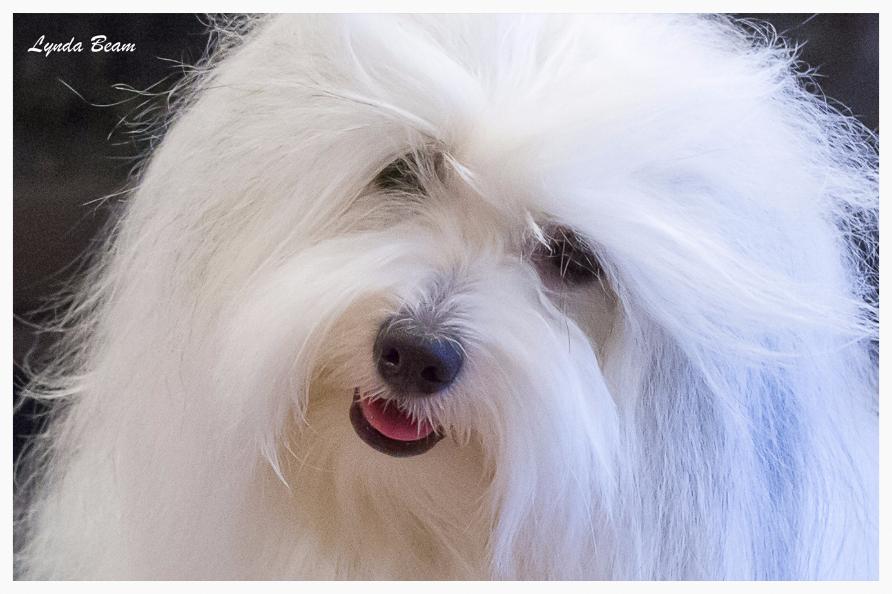 LEFT and RIGHT ABOVE, posing for some professional photos in March, 2014. Thanks to Lynda Beam of Canine Candids by Lynda for her great work!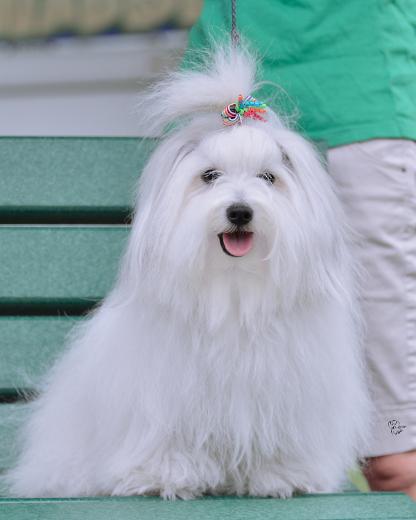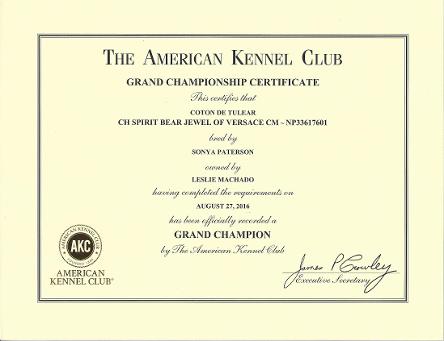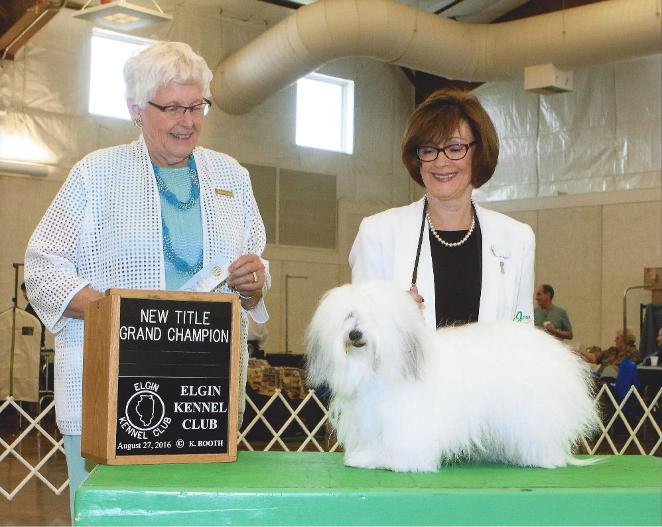 ABOVE, LEFT, Ruby's AKC Grand Championship certificate, and RIGHT, her GCH finishing photo, taken at the Elgin Kennel Club in St. Charles, IL on August 27, 2016. Many, many thanks to Judge Beverly Capstick for awarding my princess the final points to finish this title.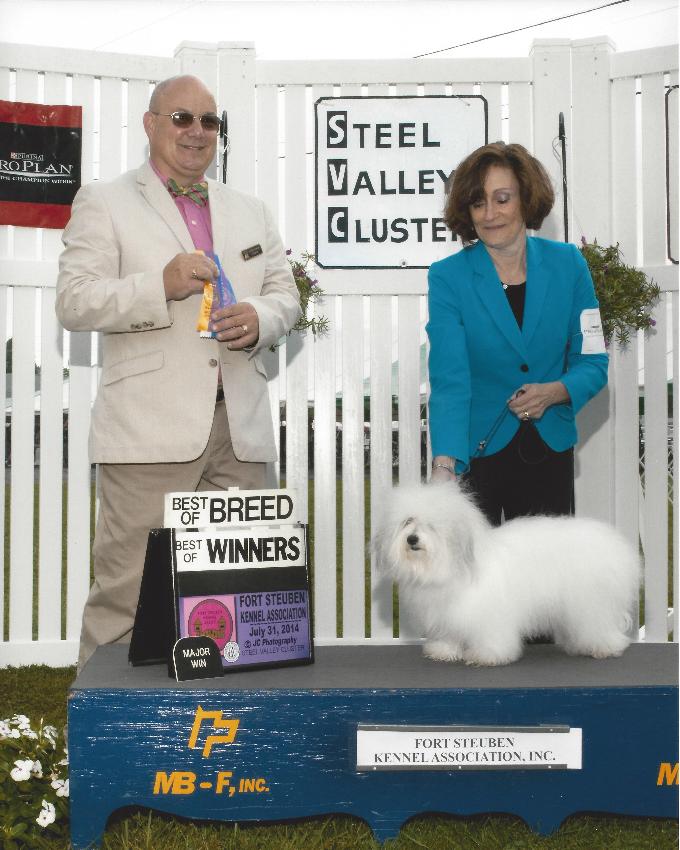 LEFT,
Ruby wins Best of Breed with me on the first day of the Canfield, OH cluster, July 2014, just shy of her second birthday. Many thanks to Judge Bradley Jenkins, who chose her for this honor over ten other Cotons de Tulear who were in the ring with her that day!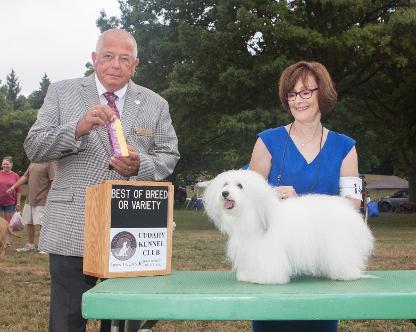 ABOVE, Ruby wins Best of Breed at the Cudahy Kennel Club show in South Milwaukee, WI, in August 2016, the same show where she finished her championship in 2014! She took this award just a few days shy of her fourth birthday, and after having been a two-time mother. I am so proud of the beauty she has become. Thank you to Judge Richard V. Miller for this special award!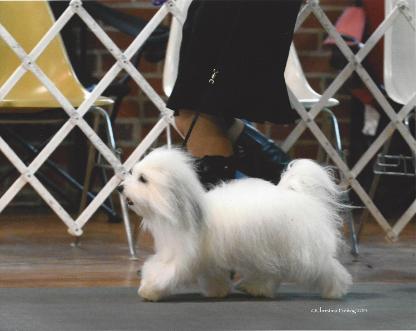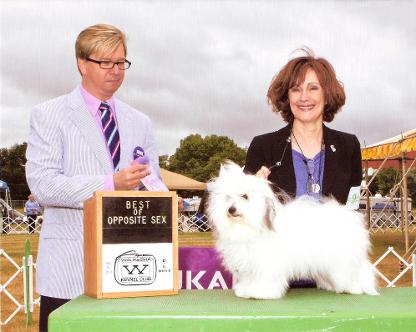 LEFT, Ruby struts her stuff in the ring at Springfield, IL in October, 2014, winning Best of Opposite Sex three out of four days of the cluster!
RIGHT, Ruby wins Best of Opposite Sex with me at the Waukesha, Wisconsin, Kennel Club cluster in July, 2013. Many thanks to Judge Douglas Johnson, who chose her for the honor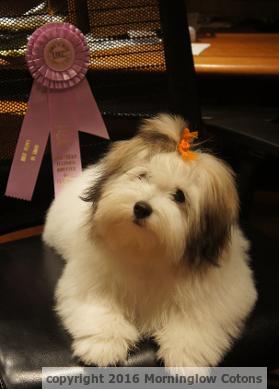 ABOVE, Ruby with her very first ribbon from a novice puppy competition in UKC at the age of four months, in January, 2013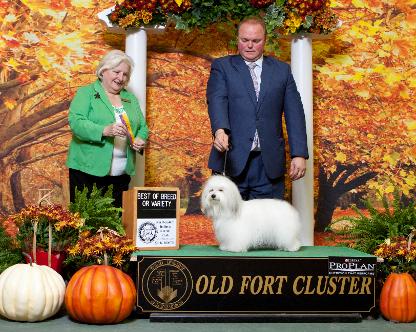 ABOVE, Ruby took Best of Breed for a four-point Grand Champion major win at the Old Fort Cluster in Ft. Wayne, IN, on November 1, 2015. Many thanks to Judge Mrs. Gloria Geringer for selecting Ruby as BOB. Ruby was handled to this victory by Ryan Wolfe.