BESITO
MBISS GCHS MULTI-CH Dior's Besame Mucho Morninglow CM 2 CGC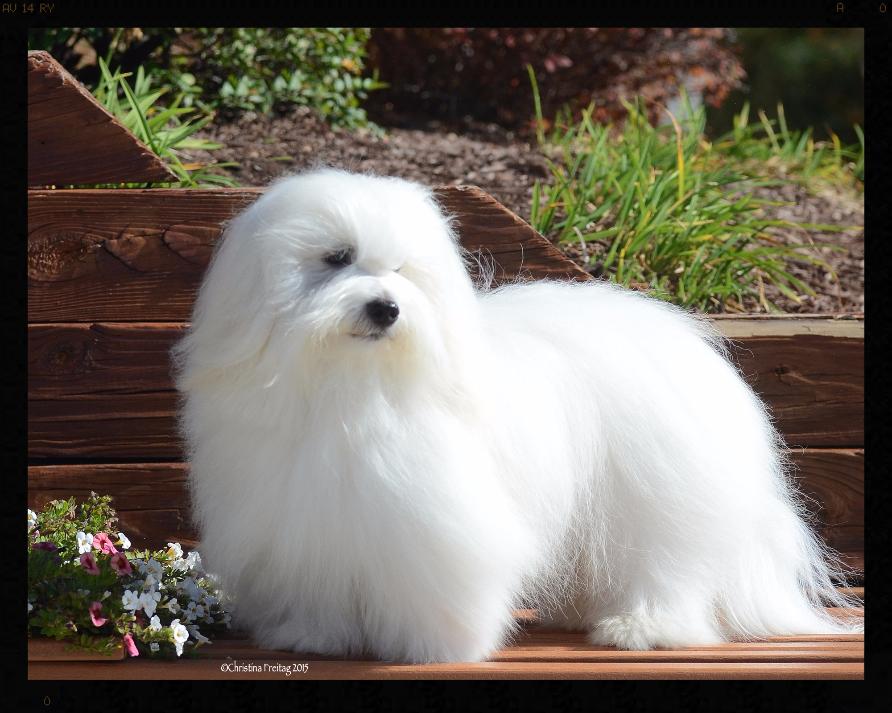 BESITO came to Morninglow Cotons in Summer 2013 as a puppy from Dior Cotons, in Cape Coral, Florida. "Besito" means "little kiss" in Spanish, and is the perfect name for this adorable little guy, who is busy giving kisses all day long! Besito is the son of GCH CH Cowboy's Buffalo Hunter, CM and GCH CH Dior's Alegria, CM. Besito is a mellow little guy who has just fit in perfectly with our family, both human and canine. Besito turned out to be a big deal in the show ring in very little time. He was a multiple Best of Breed and Best in Miscellaneous Group winner back when Cotons were only allowed to compete in the AKC Miscellaneous Group, earning that honor for the first time in only his second trip into the show ring!! In December 2013, Besito took Best of Breed over more than 20 other Cotons de Tulear at the United States of America Coton de Tulear Club (AKC Parent Breed Club) 2013 National Specialty Show in Orlando, Florida, as part of Eukanuba National Championship week! And he was the youngest coton entered in the show! He also took Reserve Best in Miscellaneous Group in the larger show of which the National Specialty was a part, and in which close to 100 Miscellaneous Class animals participated. You can see some of the very exciting swag that Besito and Leslie brought home from that very first Eukanuba if you scroll back to 2013 on our "News" page. Besito earned his first "Certificate of Merit" (the only title a dog could earn in the MIscellaneous Group, and the "CM" after his name above) at the tender age of 10 months, and accumulated a second CM title soon after. Besito continued his winning ways once Cotons were allowed to enter the AKC Non-Sporting Group in July, 2014, He became the fourth coton in history (third male) to earn a regular American Kennel Club Championship (CH). At the end of the first month of regular competition, Besito was ranked as the NUMBER ONE Coton de Tulear in the entire country!! Besito also completed his AKC Grand Championship before 2014 was out, and received an invitation to the very first Westminster Kennel Club Dog Show that Cotons were allowed to compete in (February 2015) by ranking in the top five in the breed in the country (#2 in 2014). You can read about Besito's adventures at Westminster--he has now been invited, participated and awarded three times!--on the "News" tab. Besito is also a USACTC (AKC Parent Breed Club for the Coton de Tulear) Champion. In August 2016, Besito made more AKC history by becoming only the second coton in history to achieve SILVER Grand Champion status, at the Elgin Kennel Club Dog Show in St. Charles, IL!! Besito has also participated in and been recognized at numerous AKC National Championship Shows over the course of his career. Photos can be found on the "News" page. After the 2017 Westminster show, we decided it was time to give "Cito" a break from the show ring. He has spent most of 2017 hanging around the house, enjoying being a house dog, has fathered our July 2017 "Chicago Cubs" litter (see "Puppies page) as well as a litter of pups in Canada, and also earned himself a AKC Canine Good Citizen title. He is a great, happy show dog who loves to shine in the ring, and a great, happy housepet who is a joy to have at home. We adore him!
Besito is a CHIC-certified dog and you can check out all of his health testing on record with the Orthopedic Foundation for Animals here.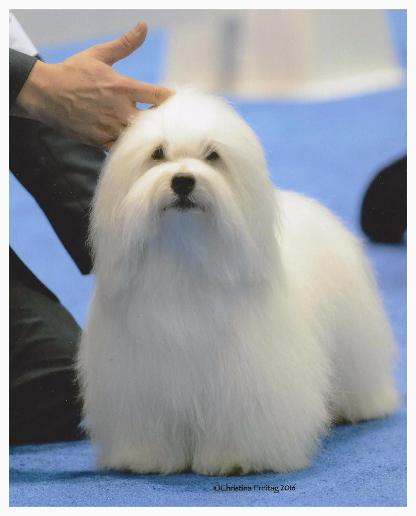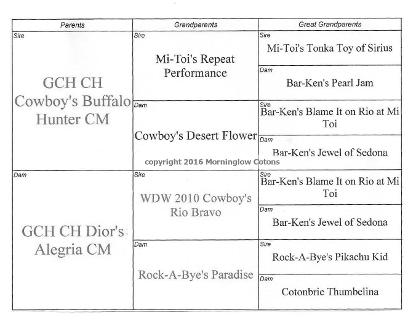 LEFT, MY BEAUTIFUL BESITO IN THE RING AT THE AKC/EUKANUBA NATIONAL CHAMPIONSHIP, ORLANDO, FLORIDA, DECEBMER 2015.
ABOVE, Besito's three-generation pedigree.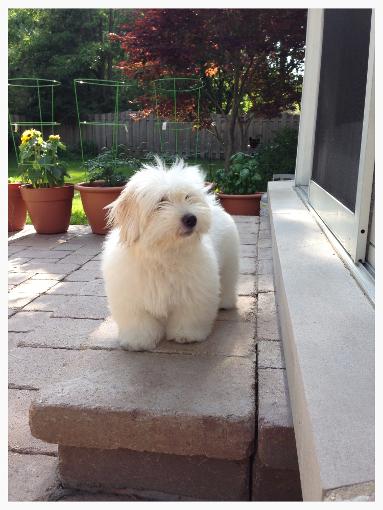 ABOVE , Besito at 3 months of age in our backyard.
ABOVE (right), Besito at 10 months of age, January, 2014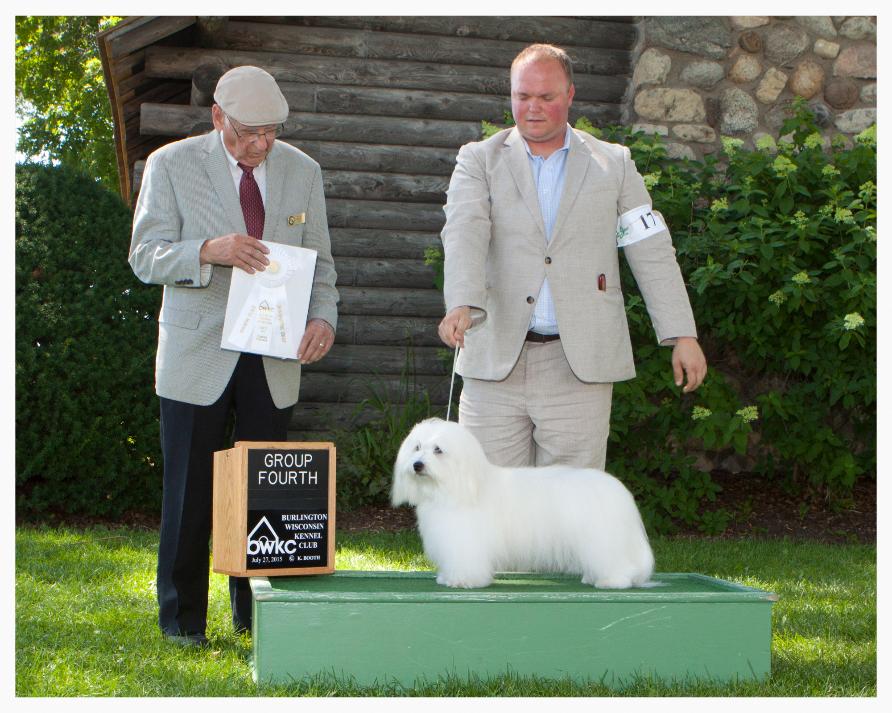 ABOVE, Besito swept Best of Breed for four 5-point majors all four days of the Waukesha/Burlington Kennel Club Cluster (WI) in July 2015, and on the third day of the cluster, also took a Group Placement under Judge Wayne Bousek. Besito was handled to this fantastic group win by his good buddy, Ryan Wolfe, and we just LOVE this picture!!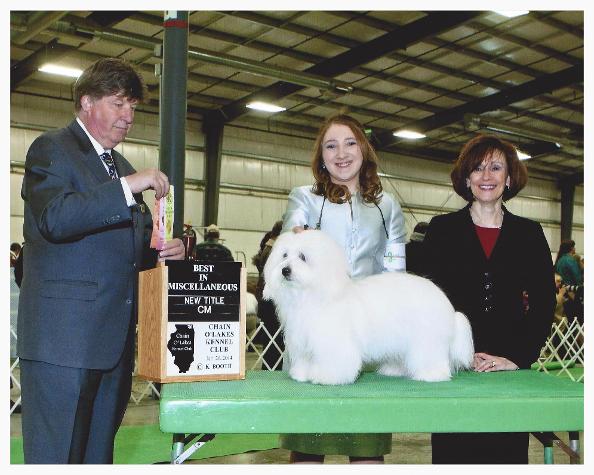 ABOVE, Besito finished his American Kennel Club Certificate of Merit on January 25, 2014, at the Chain O'Lakes Kennel Club Show in Grayslake, Illinois, winning Best of Breed AND Best in Miscellaneous Group! He is our second coton to finish his CM, after Ruby, and we are super proud of him. He was handled on his finish day by my friend, Corinne.
BELOW, a few more photos of Besito strutting his stuff!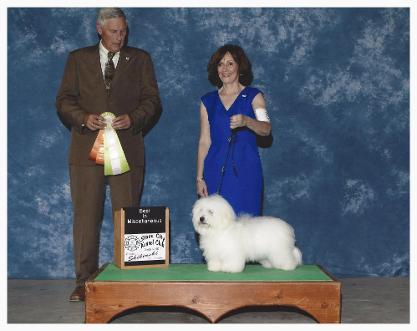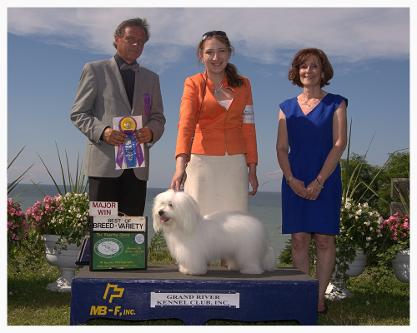 BESITO'S TITLE CERTIFICATES
Besito has earned a number of very pretty title certificates; here are a few of them.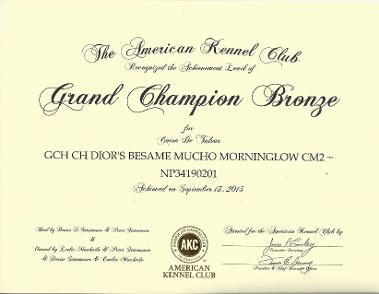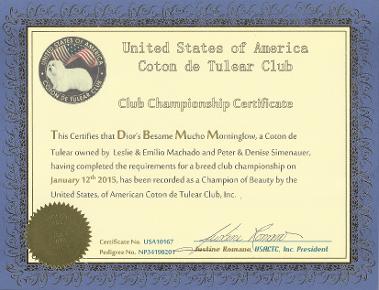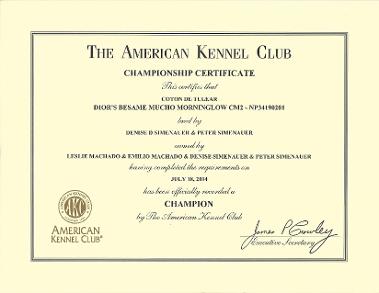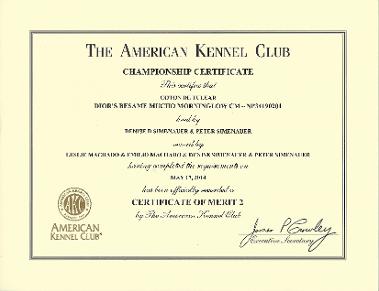 MURPHY
CH Morninglow's Irish Lullaby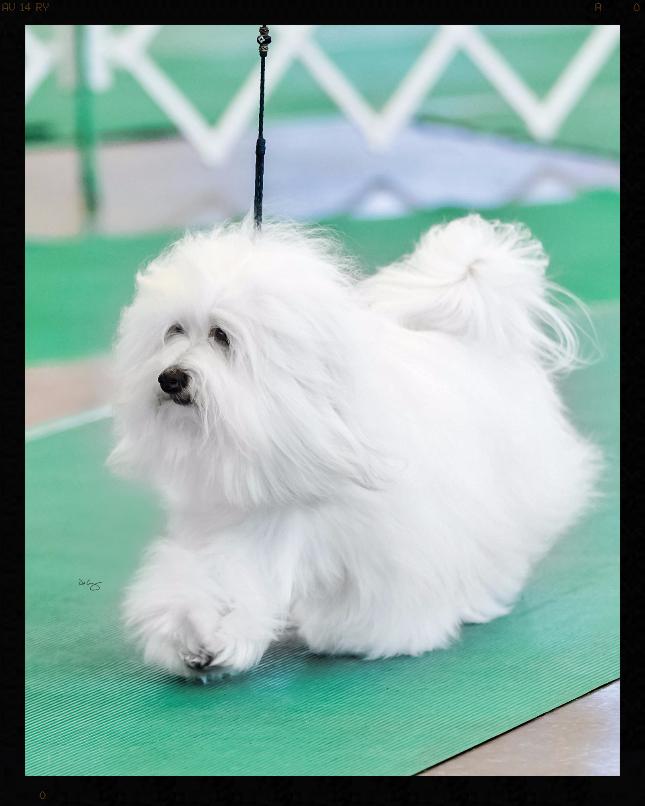 MURPHY is the youngest son of our "Irish Litter" (Besito x Ruby), born March 17, 2015, in our own home! We evaluated all of our puppies and decided on Murphy as our pick for the show ring. Murphy was born both with color AND the famous Coton dilute gene, which has changed him from a dog with the very dark grey markings he was born with into the almost completely white dog that he is today (13 months in early May, 2016). Murphy premiered in the show ring at Sheboygan, WI, on September 19, 2015, two days after he turned six months old (same show that his Daddy Besito premiered at two years earlier) and took both the 6-9 month puppy class and Winners Dog for his first AKC point! Murphy is a happy little guy with great movement and a beautiful face and a loving, sweet disposition. I cannot wait to see his career in the ring progress as he grows! Murphy took the Winners Dog award for a three-point major at the AKC/Eukanuba National Championship in December, 2015, in Orlando, Florida, the youngest dog entered in the show, over both adult class males and a couple of professional handlers. I was thrilled to handle Murphy to this victory myself, as he is very special to me. Murphy finished his AKC Championship on April 30, 2016 at the Fort St. Clair Kennel Club Show in Eaton, OH, win photo below. Many thanks to Judge Robert Hutton for the win! Murphy is loved and co-owned by me and my friend, Eileen Hurley. If you look at the Puppies tab, you can find many photos of Murphy's litter as little guys and you can compare them with the photo above to see the tremendous amount of color fade that has occurred thus far. The Coton "dilute" or "fade" process is actually quite a fascinating thing to watch!! You can also click here to see the health testing that has been performed on Murphy to date.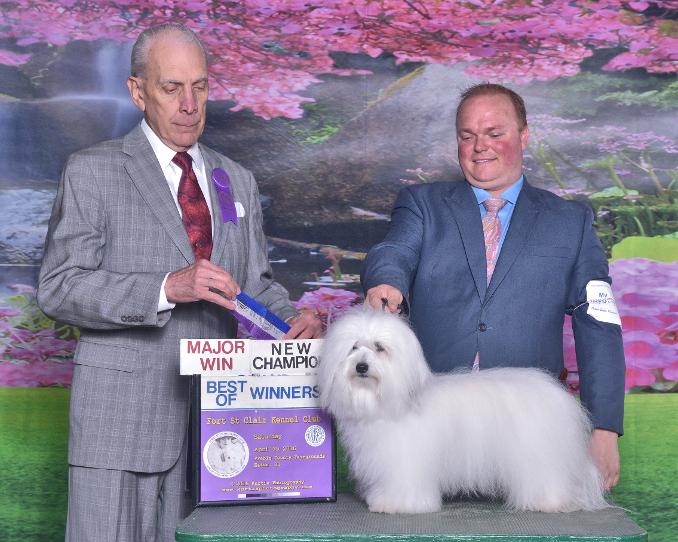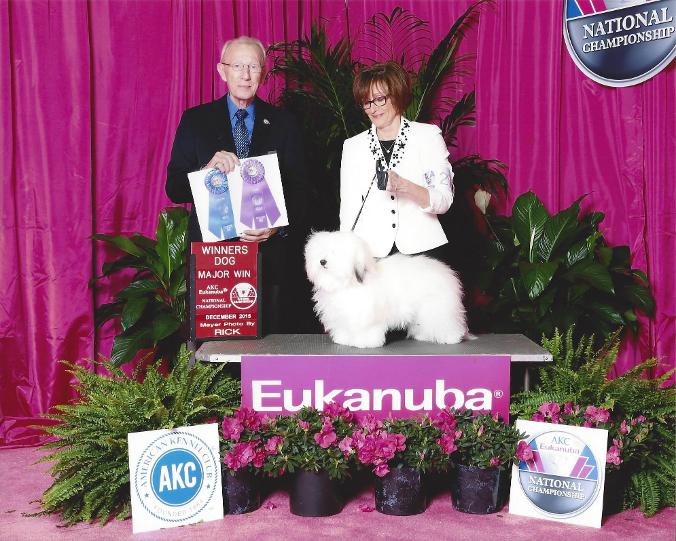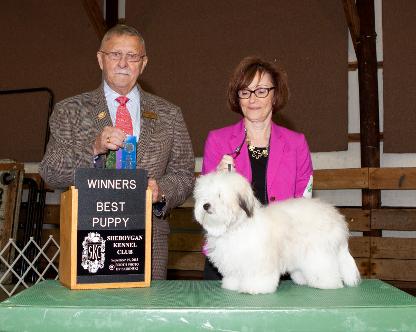 ABOVE LEFT, Murphy's official Eukanuba National Championship win photo. I had the pleasure of handling him to this major win myself!! He took this win from the 6-9 month puppy class! I was over the moon!! Many thanks to Judge Dr. Anthony DiNardo for selecting Murphy for this honor!
ABOVE RIGHT, Murphy's very first win photo from the Sheboygan, WI show where I handled him to his first AKC Championship point in September, 2015. Many thanks to Judge Luc Boileau for choosing Murphy for this honor. You can see more of his amazing color transformation by clicking on the "Puppies" tab above.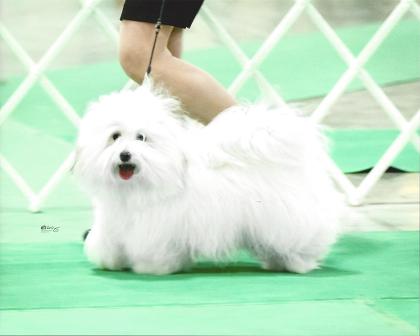 ABOVE, LEFT, Murphy (and me) in the Owner-Handled Best in Show ring at the International Kennel Club of Chicago, in January, 2016.
ABOVE, RIGHT, Murphy's 3-generation pedigree.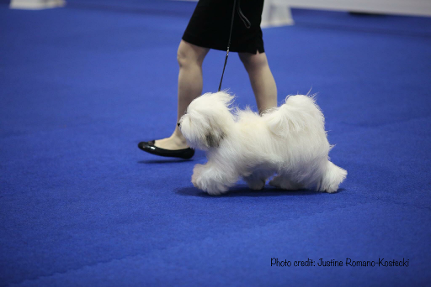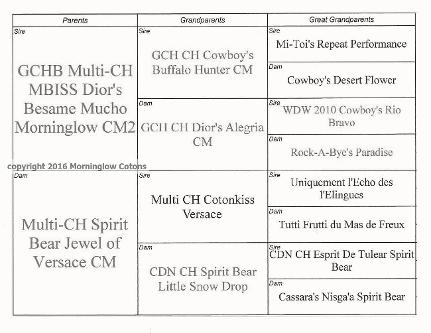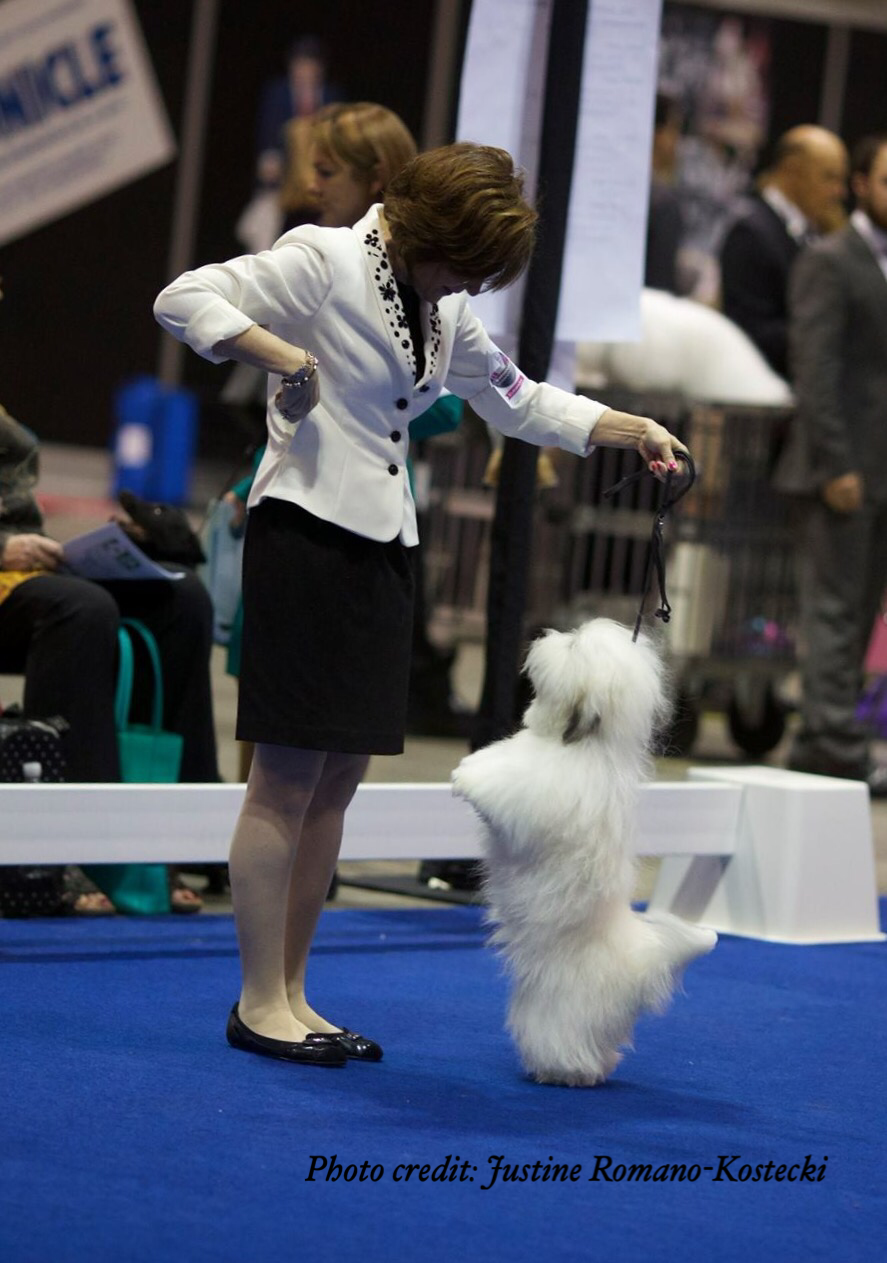 ABOVE, LEFT and RIGHT, MURPHY and me in the ring at Eukanuba, December 2015.
OUR NEWEST AKC GRAND CHAMPION!!
HAMILTON
GCH CH Morninglow's New York Man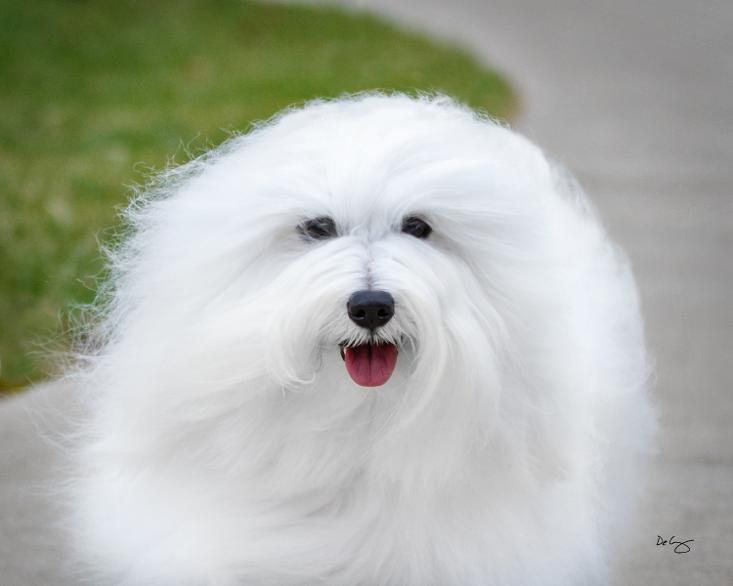 HAMILTON
is our newest addition to the Morninglow Cotons family! He is our own breeding, from our "Hamilton Litter" born to Beringer and Ruby in March 2016. Please check the "Puppies" page for several early photos of Hammie. We evaluated our two beautiful puppies closely and ended up deciding that we would keep Hammie and grow him out to see how he does in the show ring. So far, we have not been disappointed in him in any way! He is a strong, sturdy little dog, with the sweet, happy temperament that Cotons should be known for. He is active and loves to play, run and JUMP high into the air with his half-brother, Murphy, and his good friend and housemate, Nina. We put Hammie into the show ring for the first time in December 2016, just as he was about to turn nine months old, and in his first competitive outing, he took both Winner's Dog AND Best of Winners (meaning that the judge picked him as the top class (non-champion) animal, over the female Winners Bitch), to get his very first championship points! I don't think Hammie looks too much like his momma, Ruby, but I think he is a beautiful, very masculine-looking male (like his daddy, GCH CH Sugar Bay's Beringer CM) and he just gets cuter and sweeter every day! Look at that beautiful coat!! Hammie completed his AKC Championship on 9.10.17 under Judge Patricia Lanctot in Kenosha, WI. He completed his AKC Grand Championship on 01.26.18 in Grayslake, IL under Judge Debbie Campbell-Freeman. Looking forward to more fun with Hammie in 2018!! Hammie has now completed and passed all of his health testing and has been granted a "CHIC" certification from the Orthopedic Foundation for Animals. You can click
here
to see the extensive testing we have performed on Hamilton. We are super proud of what he has accomplished in the show ring and also even prouder to have bred a healthy boy with a loving disposition!! Looking forward to seeing what else Hammie has in store for us as he grows and matures!
ABOVE LEFT
, Hamilton (on the right) and his momma, Ruby, sharing secrets on my back porch in summer 2016, when he was about five months old.
ABOVE RIGHT, Hamilton's 3-generation pedigree.
RIGHT, Hammie just after his grooming session at about 8 months of age.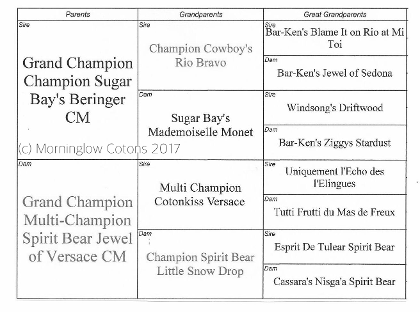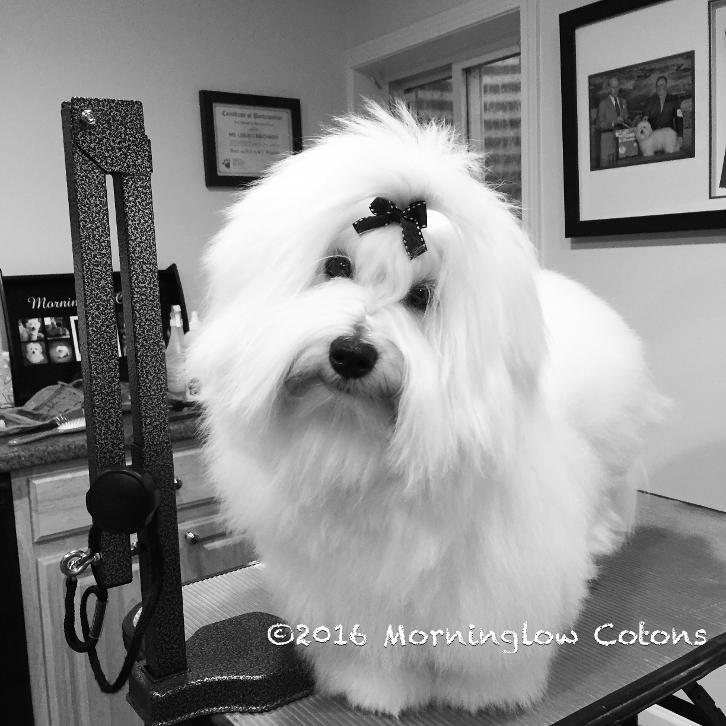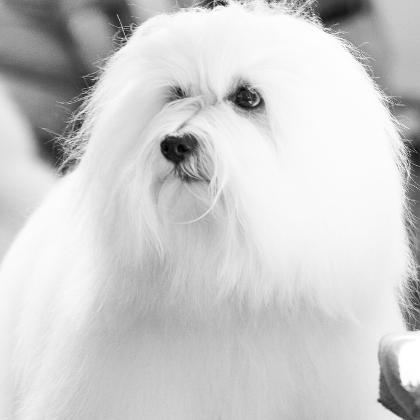 ABOVE LEFT,
Hammie in the show ring with me in September, 2017 in St. Louis, the very first time he went in as a "special" (dog show speak for "Champion"). He was awarded his first major win towards his AKC Grand Championship that day.
ABOVE RIGHT, Hammie in the ring in August, 2017, as captured by an outstanding photographer friend of mine who came to see him in the show. I love how this photo shows off his beautiful soulful eyes, one of many things I really like about him.
HAMILTON IN THE SHOW RING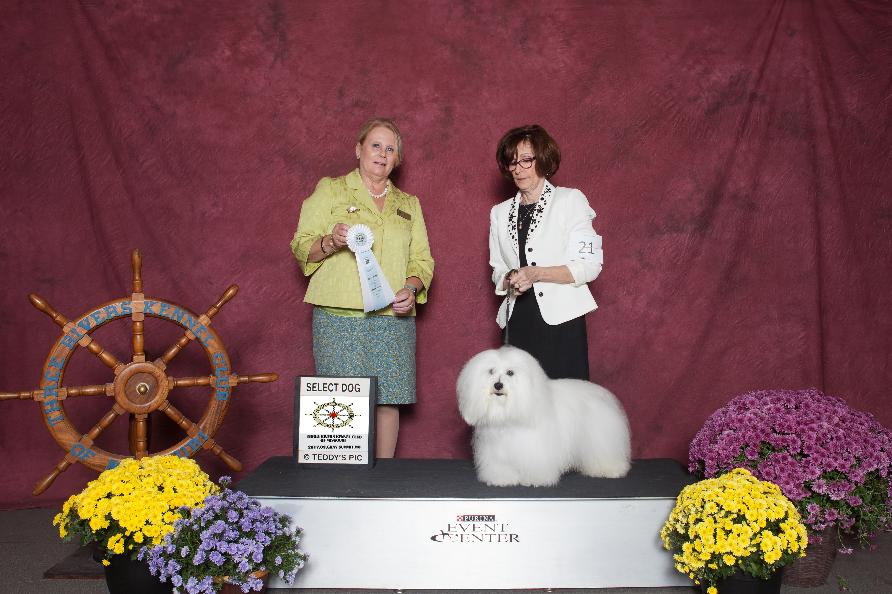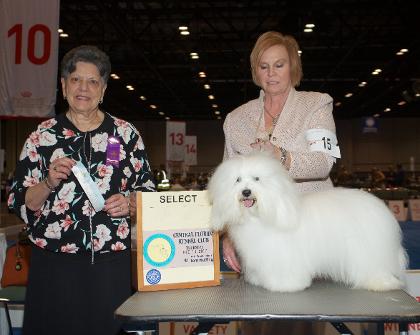 LEFT, Hammie's win photo from the day in St. Louis pictured just above, where I piloted him myself to his first Grand Champion major, September 2017. RIGHT, Hammie in the 2017 AKC National Championship Royal Canin cluster, December 2017. Hammie placed every day of that three-day cluster, taking two Bests of Opposite Sex, and the Select Dog win pictured here. Hammie was handled to all three of these wins (in the biggest coton entry of the year) by Robin Novack. This was his third Grand Champion major win in as many days, and his fourth overall at that point.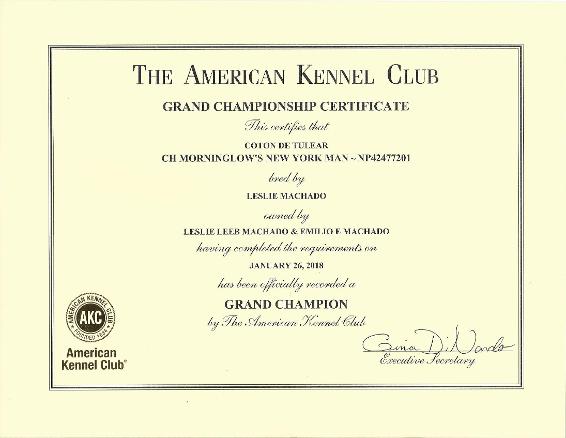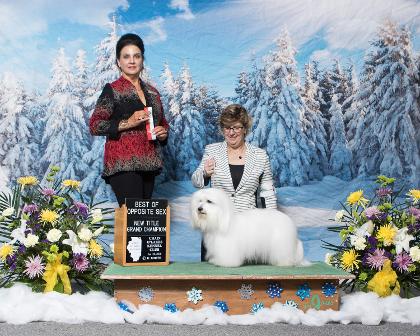 LEFT, Hamilton's AKC Grand Championship title certificate; RIGHT, win photo from his Grand Champion finish.