RETIRED FROM CONFORMATION SHOW RING,
BUT STILL HAVING FUN!
PIPPIN
UKC CH Fluffy Acres' Morning Glow, CA
PIPPIN was the inspiration behind our kennel name--our second coton, whose name we agonized over for weeks. It had to be just perfect. We went to see him every week from the time he was born and got to know both him and all of his littermates. In the end, we named him for the Broadway show, which is in the middle of a successful revival right now--"Pippin", which is the story of the son of the Holy Roman Emperor, Charlemagne, as he learns about life and love and to make his way in the world. His kennel name, Morning Glow, is a reference to a song in the show of the same name, a beautiful, rousing, hopeful song that concludes the first act. He fits the name perfectly--beautiful, rousing, and always hopeful he will have a chance to run and chase a bunny across our backyard, no matter what the weather. Pippin is a United Kennel Club Champion, and is mulitple Best of Breed winner in the American Kennel Club (AKC), and a multiple Best in Show Miscellaneous Group winner. Pippin is CHIC-certified dog, a fabulous family dog, and when not running, can be found strewn out across somebody's lap, staring into their eyes! Pippin is my super-athlete, and just finished his AKC Coursing Ability (CA) title! You can read more about it, and see his pretty ribbon on the "News" page.
You can check out Pippin's health testing
here.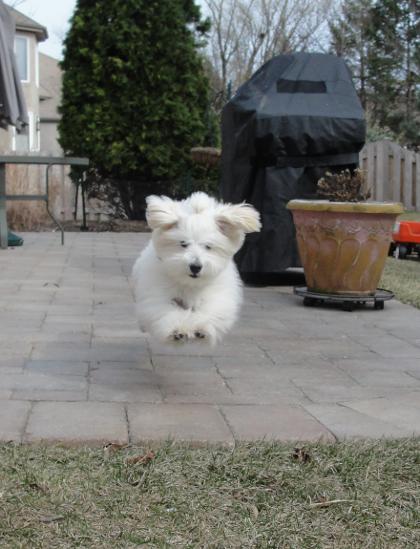 ABOVE LEFT, Pippin flying across our backyard at seven months old.
ABOVE RIGHT (TOP), Pippin looking clean and pretty after his bath.
ABOVE RIGHT (BOTTOM), Pippin at the age of five weeks.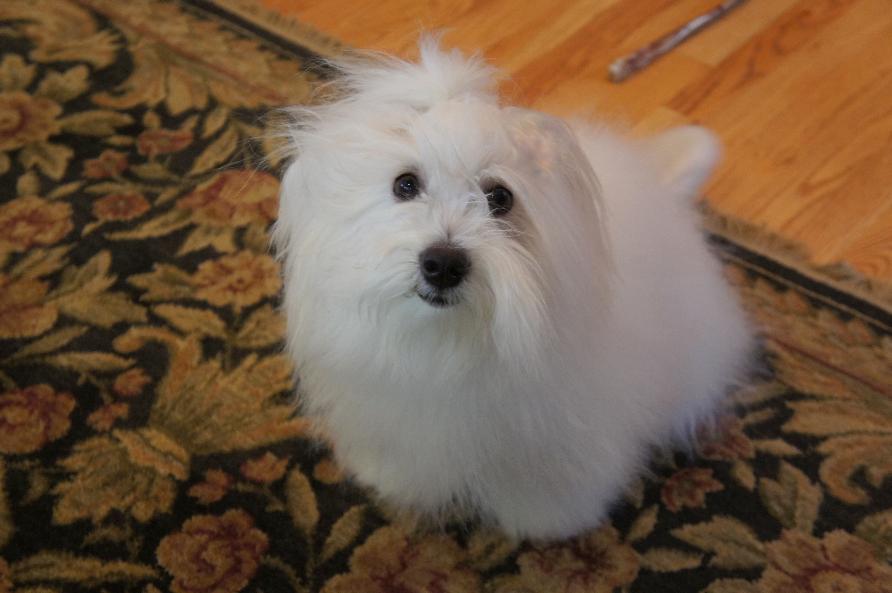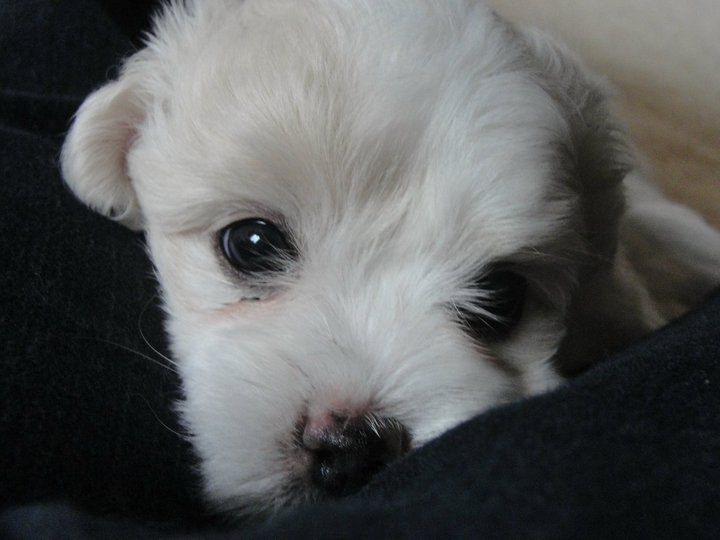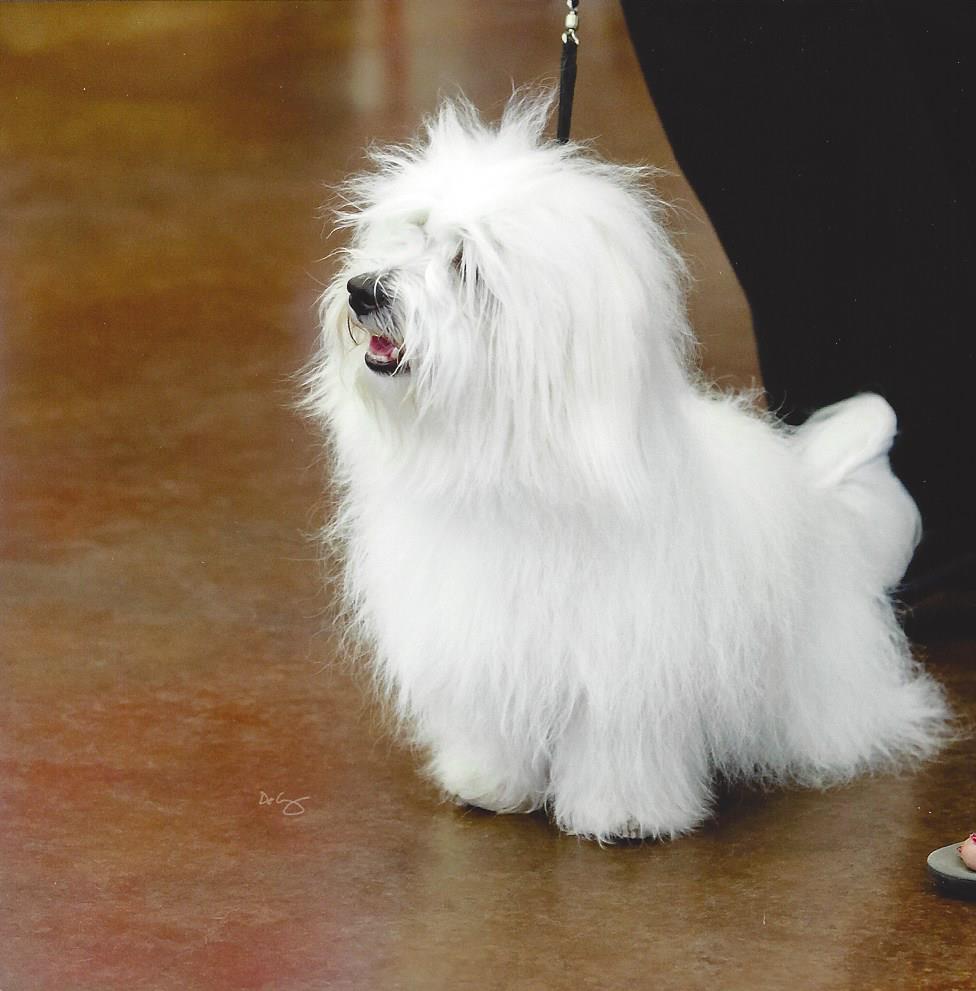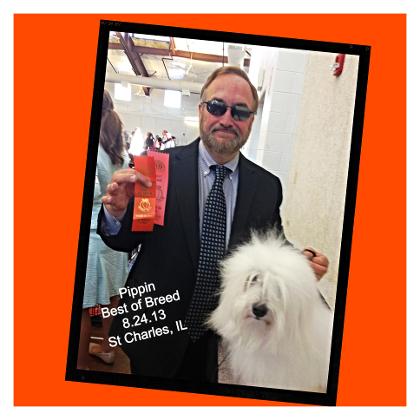 ABOVE (LEFT), Pippin is ready and waiting his turn to enter the ring
ABOVE (RIGHT), My husband showed Pippin to a Best of Breed at the Geneva Kennel Club cluster in St. Charles, IL in August, 2013.
Sammie
UKC GRCH Fluffy Acres' Sammie Napoleon
SAMMIE is the very first coton we fell in love with, back in 2009! One look at this beautiful little guy was all it took to fall in love for life. Sammie trained ME to be a show handler, and together we earned a United Kennel Club Championship and then a Grand Championship. He is now retired from the show ring, but lives the life of a prince, supervising and settling domestic disputes among his brothers and sister!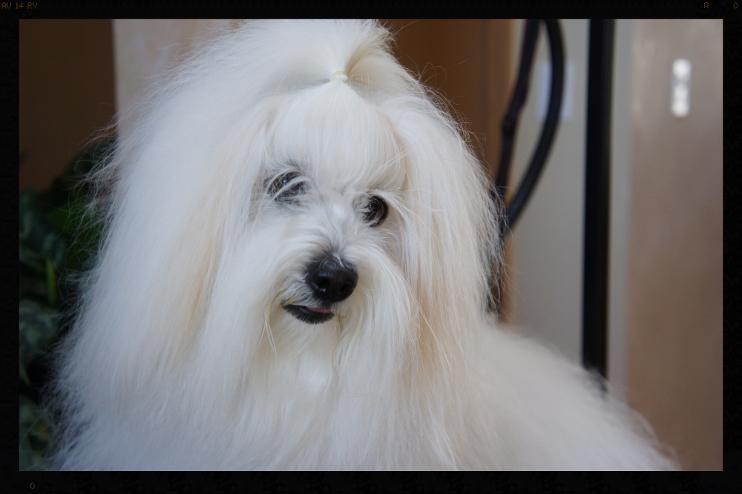 ABOVE, Sammie just after his bath, looking smashing, as always!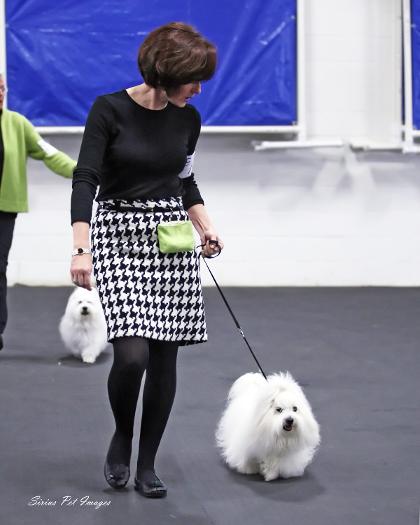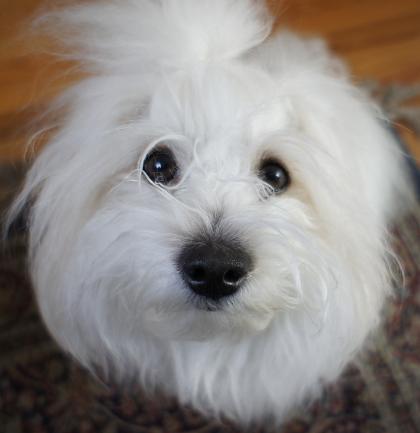 ABOVE (LEFT), a photo of Sammie on the day he won his United Kennel Club Grand Championship with Leslie
ABOVE (RIGHT), Just LOOK at those eyes!